The ninth annual Appalachian State Old-Time Fiddlers Convention took place Saturday, featuring traditional Appalachian music competitions, a handmade market and a luthiers' gathering among other events.
The Fiddlers Convention is held in Plemmons Student Union from 10 a.m. – 5 p.m. each year and is organized by the Appalachian Heritage Council, a part of the Appalachian Popular Programming Society. It is the biggest event that APPS hosts each year, drawing over 400 people from across North Carolina as well as other states, including Tennessee, Virginia and Florida.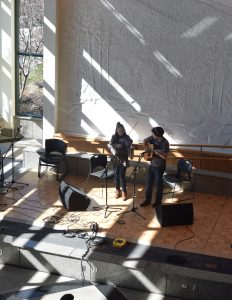 Adult competitions in guitar, mandolin, fiddle, banjo, string band and dance were held in the Solarium throughout the day. Performers play a chosen song- usually traditional Appalachian folk and bluegrass songs such as "Cumberland Gap" on the Solarium stage in front of the audience and a table of judges. The winners for all competitions were announced at the end of the day.
Upstairs in the Linville Falls room, youth competitions in guitar, fiddle, banjo and dance took place, as well as a competition for best original folk song open to anyone. The youth competitions are for children ages 16 and under. However, youth can also compete in the adult competitions if they want to, and if they won first place in a youth competition the previous year, they have to compete in the adult competition, Mallory Vannoy, chairperson of the Appalachian Heritage Council and senior hospitality and tourism management major, said.
The atmosphere of the convention was casual, lighthearted and fun, with impromptu jam sessions popping up throughout the student union and onlookers allowed to wander in and out of competitions and events throughout the day.
"There's definitely a solid returning group of people that come each year," Paige Spell, member of the Appalachian Heritage Council and junior mathematics major, said. "But there's also a bunch of new people who have never been to something like this before."
Besides the competitions, Fiddlers Convention also features a Handmade Market in the international hallway of the student union. People from across North Carolina, as well as students at App State, reserved tables to sell their homemade goods and crafts during the convention, from handmade soap and jewelry to woodwork and barbecue sauce.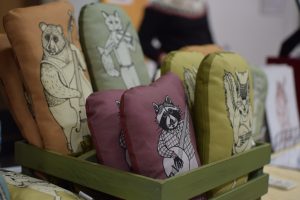 Elizabeth Nolen and Erica Baker, both senior communication sciences and disorders majors, were selling potted succulents, embroidery and artwork at their table in the Handmade Market. They said that the crafts were a hobby of theirs, and that it was their second year with a table at the Fiddlers Convention.
Another table featured soap and lotion made of goats' milk from Dancing Goat Farms, owned by Jerry Letterman and Vicki Church in Bakersville, North Carolina. They said that they make all of their products by hand, at the farm with their 20 goats.
Upstairs in the Blue Ridge Ballroom was the luthiers' gathering, where luthiers, or instrument makers, set up tables to display their handcrafted banjos, fiddles, guitars and more.
"As you can see, most people don't come here to sell things," said Everrette "Buddy" Snotherly, a luthier from Todd, North Carolina. "We just enjoy talking to people, meeting the public, because most people don't know what goes into making instruments."
This was Snotherly's third year at the Fiddlers Convention. He had been working with wood since he was four years old, he said, but he started making guitars about five years ago because his grandson was into music and playing guitar. Snotherly ordered a guitar-making kit to get started.
"It was probably the crappiest guitar in the world," he said. "But I was hooked, and I started doing it seriously."
Now, Snotherly is working on his 25th guitar, which will be sent to a client in Dallas after it is finished. Snotherly said he had been working with the client for weeks about designs to engrave on the guitar. While he sells some of his guitars, Snotherly donates others; so far he has donated three handcrafted guitars to App State's classical guitar program, which are loaned to students who don't have their own guitars.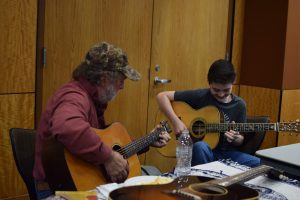 Snotherly said he makes only three or four guitars a year, but that "Wayne over there can do the woodwork in a week," referring to Wayne Henderson, a renowned guitar maker based in Grayson County, Virginia, who has made instruments for the likes of Doc Watson, Gillian Welch and Eric Clapton.
The Appalachian Heritage Council had been preparing for the Fiddlers Convention since fall semester, Spell said, and preparation includes a lot of promotion, networking and referring to previous years for guidance. The council was divided into committees in charge of different aspects of the convention, such as reaching out to the media, recruiting luthiers and getting in touch with potential judges.
"A lot of people in the area are very invested in Appalachian culture," said Lyndee Weaver, member of the Appalachian Heritage Council and junior global studies major. "We have the Appalachian Studies program here, where people can learn about the culture and even how to play the banjo or guitar, so it's surrounding us at all times. I think that helps draw people to the convention."
Photos By: Adrienne Fouts