First Friday kicks off Boone's Christmas season
King Street was transformed into a winter wonderland on Friday night for the annual Festive First Friday event, hosting activities from a Christmas tree lighting to special art and ceramics exhibits.
Local businesses, nonprofits and Appalachian State University organizations all participated, providing opportunities for everyone to celebrate the Christmas season.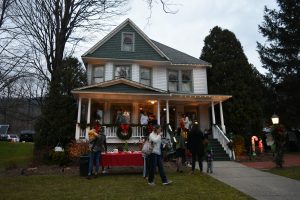 For families with younger children, there was a presentation of "How the Grinch Stole Christmas" at Watauga County Public Library, photos with Santa at Mast General Store and a chance to write letters to Santa with Mrs. Claus at the post office.
For adults, there was a chocolate and wine tasting at Wine to Water, a local nonprofit; a variety of pottery and jewelry exhibits all across King Street; and wine tasting and open art galleries at the Turchin Center.
A variety of businesses such as Footsloggers and Mast General Store also served Christmas treats such as cookies, s'mores and hot apple cider for everyone.
"It's straight out of a Hallmark movie," Kayla Bounce, an attendee of Festive First Friday, said. She said she had enjoyed exploring the events that night with her friends.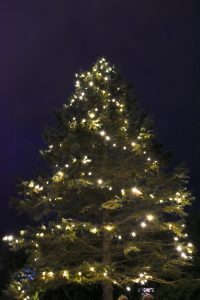 The most popular event of the night was the Christmas tree lighting at the Jones House. The tree lighting has been a tradition for over 20 years and always attracts a large crowd, including the mayor and many of the town's board members.
Pilar Fotta, cultural resources director for the town of Boone, said she loves being a part of the event.
"The thing that I love most is being a part of tradition here," Fotta said. "It's wonderful to see so many people gather to celebrate our town and our traditions."
With a mix of families and students, the lawn of the Jones House was packed and the atmosphere was joyful, with free hot chocolate and light refreshments. After the tree lighting, students from the Split Rail Records label performed inside the Jones House, and galleries were opened for browsing.
"It's extremely cute and community oriented," Hunter Midkiff, a sophomore international business student, said. Her friend Esnarda Torres, a sophomore marketing major, said it was refreshing to see the local community of Boone and not just students from the university.
At the end of the day, having a place to celebrate traditions and make memories is something that Fotta said she values most.
"I am proud to be able to provide families with traditions they know, and having something to look forward to … making the Jones House a place they want to gather," Fotta said. "I love it here and want people to love it too."
Story by: Macon Atkinson, A&E Reporter
Photos by: Lindsay Vaughn, Senior Photographer
Featured Photo Caption: A Christmas tree rings in the holiday season inside the Jones House.