Foggy Pine Books offers a haven for book lovers
Foggy Pine Books offers more than books to its patrons. Large windows, coffee, cozy reading corners, and cats makes Foggy Pine unique. Located just off campus on King Street next to the Turchin Center for the Visual Arts, it is run by App State alumna, Mary Ruthless.
Foggy Pine is one of the independent bookstores in Boone and offers both new and used books. It was established in 2016 after Ruthless bought Black Bear Books from Karen Walker. Karen helped finance Ruthless' transition to Foggy Pine Books and provided some decorations. Ruthless bought the bookstore because she said she felt it was important for the community to continue having a bookstore.
"A community without a bookstore is missing something valuable," Ruthless said.
Most patrons to the store agree.
"It's kind of a struggle since Black Bear books closed down. It's nice to have a local bookstore," biology major Aidan McDonald said.
Foggy Pine is a general bookstore that focuses on building a collection of books written by southern and local authors. It showcases Southern Bestsellers and Okra Picks instead of the New York Times Best Sellers. It also includes a large selection of local history books.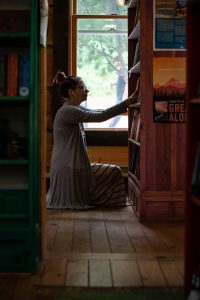 The bookstore is a part of the Southern Independent Bookstore Alliance and American Booksellers Association. These organizations help Ruthless connect with other booksellers and authors and provides Foggy Pine with resources to improve the store.
However, there are more than just southern authors at the store. There are books for all ages and interests ranging from pictures books to classics to fantasy.
"This store has a really good selection of sci-fi and that's not common in a lot of bookstores because they tend to go more towards calling things like vampire books and zombie books sci-fi," Boone resident Jason Reagan said. "If space is not involved, it's not sci-fi."
He and his wife have been patrons of Foggy Pine for over a year now.
Unusual for a bookstore, Foggy Pine has two resident cats named Jane and Oscar. Both are older cats adopted from the Watauga Humane Society and are friendly to customers.
"We specifically wanted to adopt these older cats so that they would have at least some time in their life when they were cared for and loved and had a safe, happy place," Ruthless said. "I can't imagine being old like that and not having a home."
Unfortunately, Oscar is currently out of the store and may not be back. He is 15 years old and has fallen ill.
Jane, a younger Russian Blue, still provides company to patrons. If it is the case that Oscar does not come back, Ruthless said she will be adopting another cat to accompany her and the store.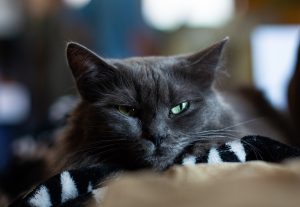 Foggy Pine Books places a heavy emphasis on community engagement and giving back.
"We think it's important to work with the community and do what you can to engage with other businesses," Ruthless said.
Foggy Pine partners with other local businesses, such as Noble Kava and Hatchet Coffee, for events. Some of these events include a variety of book clubs and a community swap shop that collects donations for local charities.
Long term plans for Foggy Pine include a literary festival, which will focus on local and southern authors, according to Ruthless. Ruthless hopes that it will help Boone become a southern literary hub.
"We wanted something not just for Watauga County, but something that draws bigger name authors," Ruthless said.
It would be something that not just benefits the bookstore, but also the local community. However, this event will be several years out if all goes well, Ruthless said.
In order for Ruthless' plans to happen, she needs support from the local community, including App State students.
Ruthless said although it may be more convenient to order things on Amazon, it is important for people to consider using an independent bookstore.
"Without that support, we won't be here," Ruthless said.
For students, the proximity to campus and book availability makes many of the books cheaper than buying on Amazon as Foggy Pine does not add shipping costs onto regular prices. English majors have an extra benefit of a whole shelf of books needed for their classes being available.
Foggy Pine offers a number of benefits to more than just the App State community, as well. It has a free loyalty program for patrons that offers a 25 percent discount on a purchase after spending $75. This can be used multiple times.
Used books can be exchanged for in-store credit that does not expire. Credit can then be used to pay for up to 50 percent of a book purchase.
The staff at Foggy Pine offers book recommendations and can order books for patrons that are not in stock.
Everyone is invited to visit Foggy Pine and to participate in events, whether that means coming in to browse the books, pet the cats or work on homework.
Story by: Nyctea Martell, A&E Reporter
Photos by: Brendan Hoekstra, Intern Photographer