Fiddler and seed saver William Ritter grew up reluctantly helping his parents in the yard and begrudgingly listening to regional Appalachian music.
He disliked working outside with his hands and listening to the sounds of mountain music until he left his hometown. Yet, at the Food Summit on Saturday in Plemmons Student Union, Rittler stated that food sustainability is not a lost cause for a younger generation, and that children need to be given time to appreciate Appalachian culture and food like he came to do.
The second annual Food Summit, hosted by Appalachian State University and Blue Ridge Women in Agriculture, aimed to form a connection between the Appalachian community and the foods they consume.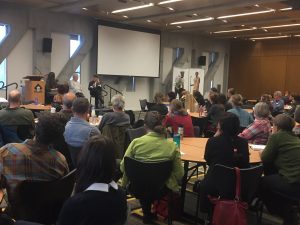 This year's Food Summit's theme, "Dynamic Traditions, Resourceful Communities," featured conversations about food in Appalachia, stereotypes about Appalachian food, creating and taking advantage of seed libraries and learning about the importance of eating locally-grown food.
"I tell my students, 'Try organic food, or as our grandparents called it: food,'" English professor Jessica Martell said.
Martell was the facilitator for the foodways conversation between author Ronni Lundi and chef Shelley Cooper at the Food Summit event. Martell said that the food we consider "normal" now, is not normal.
Lundi, author of James Beard Award-winning book "Victuals: An Appalachian Journey, With Recipes," said that she viewed food as a way to understand her Appalachian background without the cultural stereotypes of being "hillbilly food" or "poor people food."
F.A.R.M. Cafe, a donation-based restaurant, drew inspiration from Lundi's book and used local food at Food Summit.
Renee Boughman, F.A.R.M. Cafe's executive chef, said that she and F.A.R.M. Cafe roasted root vegetables from Lenoir, North Carolina, and used Faith Mountain Farm granola on an apple crisp she made using local apples, among other local foods the cafe used to provide lunch for the attendees.
Alternatively, chef Shelley Cooper said her food is a combination of drawing inspiration from her world travels and using homegrown food, just as how she was taught where she grew up in Tennessee.
Cooper said that it means a lot to her to cook food from the Appalachian region rather than pursuing something like French cuisine, which is not necessarily sustainable everywhere. She said she appreciated her upbringing, in which she was encouraged to use the foods her family grew and transform them into delicious meals.
Both Cooper and Lundi said that despite the stereotypes of Appalachian cooking being compared to "hillbilly food," they believe that the region's cuisine is constantly evolving. Appalachian food is not antiquated or dying off, Lundi said.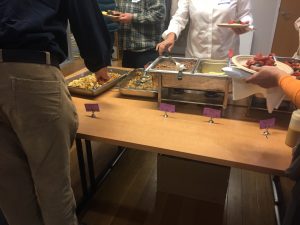 Marissa Schneider, senior sustainable development major and Food Summit volunteer, said that people should care about food sustainability since this is their community, and that food provides relationships to strengthen the community.
"We all eat," Schneider said. "We all need to take care of ourselves."
Blue Ridge Women in Agriculture Program Manager Dave Walker said that the Food Summit is vital in telling the community's food story. Walker said he hopes everyone is able to find something in food that is exciting to them. That could translate into gardening or becoming fascinated with a specific vegetable variety.
Walker said that the Food Summit is important in providing a space for farmers, scholars, chefs and food lovers to talk about the importance of food in the community.
Storytelling is another important aspect of the Food Summit to Walker. He recalled a story from the first Food Summit in 2016, when he learned that 46 percent of App State students are food insecure.
Later that same year, the Office of Sustainability built a food pantry on campus. Additionally, Watauga and Ashe counties opened seed libraries in April, which allow community members to share seeds to cultivate their own food.
Walker said he hoped that attendees left the Food Summit feeling a closer connection with their food and with their community.
Story and Photos By: Sydney Wolford, A&E Reporter