Many fans know that the App State defense was pivotal in the team's success in 2016. As a whole, they finished 17th in the country in total yards allowed per game and ninth in points allowed, holding teams to 10 or less on six separate occasions.
A huge reason for this was the linebacker core, and this season, the Mountaineers return seven members of their 2016 squad, including impact players in senior linebackers Eric Boggs and Devan Stringer.
The Mountaineers did lose some key pieces from 2016, including four-year starter John Law, who finished fourth on the team in tackles with 57, and standout Kennan Gilchrist, who finished second in tackles with 89 and made appearances in the 2017 NFL preseason with the Dallas Cowboys as an undrafted free agent.
However, App State's defensive coordinator Nate Woody is confident this year's team can be just as strong.
"I look at the linebacker core, Eric Boggs is a guy that has played an awful lot of snaps for us, he's a great leader," Woody said. "Devan Stringer, a guy that has played an awful lot of snaps for us once again, leading not just vocally but with what he does on the field, by example."
App State will return their 2016 tackles leader in inside linebacker with Boggs, who had 98 tackles and also recorded four and a half tackles for a loss, three sacks and three interceptions. Boggs has been a starter since his freshman year, and was named second-team All-Sun Belt for his 2016 efforts and landed a spot on the first-team defense for the 2017 all-Sun Belt preseason.
"I try to never be satisfied with what I do. I feel like I can always take bigger steps and as a team, definitely go win the Sun Belt again, that's my biggest goal," Boggs said. "I want to come out and be one of the best defensive players in the Sun Belt and that's what I'm going to strive to do."
Stringer was no slouch for the Mountaineers either, finishing third in tackles with 71 and adding three and a half tackles for a loss. He appeared on the second-team defense for the 2017 All-Sun Belt preseason. Posting four tackles, including one for a loss in App State's 2017 season opener against the Georgia Bulldogs, Stringer does not take his role as a senior leader lightly.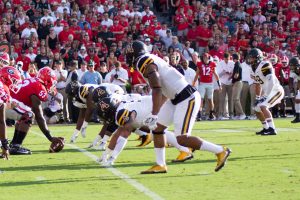 "We have to get the younger guys to understand that just because we're seniors, and we're going to lead, they also have to step up and play their role," Stringer said. "We're working on our depth on defense, getting everybody to play fast and be confident in their scheme of the defense."
App State returns several players who made appearances at linebacker in 2016, including junior Anthony Flory, who finished the season with 10 tackles, but recorded six in the season opener against Georgia. Also on the list are sophomore Akeem Davis, who finished 2016 with 16 tackles, two and a half for a loss, sophomore Noel Cook, who played in nine games in 2016 and senior Rashaad Townes, who rebounded with 14 tackles and a pass breakup last season after sitting out 2015 with an injury.
The Mountaineers have also added some key freshmen to the roster for the 2017 season. Jermaine McDaniel, Jr., an outside linebacker who comes to Boone by way of Dillon, South Carolina, was an early-enrollee along with defensive back D'Andre Hicks. While in high school, McDaniel earned All-State honors three times and appeared in the Carolina Shrine Bowl after posting 201 tackles, 11 sacks and an interception in his career.
Tim Frizzell, an inside linebacker from Knoxville, Tennessee, was a two-way star for Hardin Valley Academy, rushing for over 1,000 yards and 10 touchdowns in his career, while also putting up more than 20 career tackles and two interceptions on the defensive side. He was selected as all-region three times and had an appearance on the all-state roster.
D'Marco Jackson from Spartanburg is another two-way player, who was a finalist for the South Carolina Mr. Football Award and was named the Herald Journal Defensive Player of the Year in 2016. He recorded over 400 tackles, 27 tackles for a loss, 15 sacks and eight interceptions at Broome High School, while also rushing for over 3,000 yards. Like McDaniel, he played in the 2016 Carolina Shrine Bowl.
"They're coming along well. The good thing about them is that they know how to play fast, so that's not something we have to hawk on everyday," Stringer said. "We can really focus more on their scheme of the defense and their job. We're just getting everybody on one accord and moving to the ball at the same speed."
Frizzell was the only one who recorded a tackle in the season opener, but expect all three of them to see time on the field in 2017. The App State linebackers may be able to rely heavily on Boggs and Stringer, but they will need solid production from their younger players to earn success.
App State will face some stout offenses in 2017, including Troy, who boast senior quarterback Brandon Silvers, a 2017 preseason All-Sun Belt first-team selection, and senior running back Jordan Chunn, who was named to the 2017 Doak Walker Award watch list, which honors the nation's top back.
The linebackers will surely be one of the Mountaineers strongest position groups for this season, but this label also brings pressure. Without excellent production from them, App State may find themselves with a huge problem defensively. They will have to work hard to match their production from 2016.
Story By: Brooks Maynard, Senior Sports Reporter
Photos By: Halle Keighton and Lindsay Vaughn