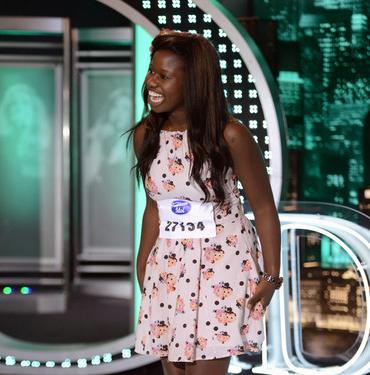 Some Appalachian State University students may recognize a familiar face on "American Idol" this season.
Appalachian's own former vocal performance major Roseline "CiCi" Kromah has decided to take her musical talents from Boone to Charlotte, and is now on her way to Hollywood.
After playing mainly small shows, fundraisers and parties in Boone, Kromah has now made it through the "American Idol" qualifying rounds in Charlotte and is participating in competitions in Hollywood.
"I just hope that I leave someone with a smile on their face when they hear my music," Kromah said. "The best music is the kind that leaves you smiling."
After disputing host Randy Jackson over his opinion that her voice was not suited for the competition, Kromah received her "golden ticket" to Hollywood, a feat that only 10-60 individuals from each city are qualified for.
"I have something different that I think America needs to hear," Kromah said in an "Idol" "Road to Hollywood" interview.
Her desire and drive to be successful comes in part from her family history. Her parents immigrated to America from Liberia, West Africa, as war broke out in the country.
"My parents wanted me to be in a country where I would have a lot of opportunities, and that's why they chose America," Kromah said.
Kromah started playing piano at the age of six, but only became serious about her singing senior year of high school when she tore her ACL playing soccer, preventing her from participating in many physical activities and giving her time to work on her singing.
Since coming to Appalachian, Kromah has auditioned a total of three times for American "Idol" – in Newark, N.J., in 2010 and again in Charleston, S.C., in 2011. After being turned down by judges, Kromah participated in "The Glee Project 2," earning a spot as one of the top 40 girls to compete in Los Angeles, but was ultimately cut from the competition.
Discouraged but still intent on singing, Kromah decided she would only audition again if she did not have to travel. The next year, "Idol" auditions came to her hometown of Charlotte and Kromah is now on her way to Hollywood.
"The process was extremely exciting, but it was also really long and exhausting," Kromah said. "I'm glad I did it though, and I'm going to cherish the memories I made with this group of people forever."
"American Idol" airs Wednesdays and Thursdays at 8 p.m. on FOX.
Story: LOVEY COOPER, Senior A&E Reporter
Photo Courtesy: AMERICAN IDOL