Former Mountaineers impress on Pro Day
After having defensive end Ronald Blair drafted by the San Francisco 49ers, and five other players signing undrafted free agent contracts with NFL teams in 2016, the App State Mountaineers football team showcased 13 former student-athletes at pro day on March 27 in front of 22 pro teams.
Exactly one month away from the NFL draft, winter training was noticeable with impressive performances from the future NFL hopefuls.
Defensive back Mondo Williams gained more attention from scouts, running a 4.44 and 4.37 40-yard dash, linebacker Kennan Gilchrist, who has put on 15-pounds over the offseason, ran a 4.53 40-yard and jumped a 35-inch vertical, safety Alex Gray ran a 4.51 40-yard and jumped a 35-inch vertical and App State's career rushing leader Marcus Cox put a 4.58 40-yard and 10-foot broad jump.
"I think Parker, AG [Alex Gray], Marcus, and Kennan all had good workouts today, and Mondo ran really fast," strength and conditioning coach Mike Sirignano said. "App State is a tradition rich program, and it's something that coach Moore and now coach Satterfield have built. That's just the culture up here, and that winning attitude is something we preach everyday."
Gilchrist and Gray are two Mountaineers projected to be drafted in late rounds of the NFL draft. Gilchrist ranks 27 out of 227 draft declared outside linebackers, and 334 out of 3025 total players declared according to nfldraftscout.com.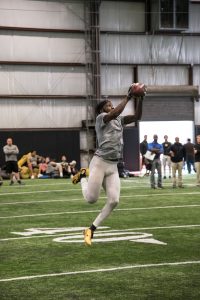 "The majority of teams like me at outside linebacker, but some teams have talked to me, such as the Cardinals at the NFLPA bowl in California, to do some reps at inside linebacker," Gilchrist said. "I think it'll just depend on the scheme of the team I end up with."
In addition, Gilchrist weighed in at 230, after setting goals to gain more weight in the offseason.
"I did a little more backing out of coverage, and wanted scouts to see how my speed looks with putting weight on," Gilchrist said. "Can I move with it and am I comfortable with it? It was good for them to see it."
Gilchrist also hit 26 reps in the morning weight room workouts.
Gray currently ranks 50 out of 168 safeties declared for the draft, and did nothing but boost his stock at Pro Day. In addition to his 35-inch vertical and fast 40-yard time, Gray jumped 10'3 feet in the broad jump, the longest of the day.
Defensive lineman Dezmin Reed ran a 12.4 60-yard shuttle, linebacker Toronto Thomas had a 29 vertical jump and offensive lineman Jamie Collmar put up 25 reps on the 225-pound bench.
Dealing with injuries throughout the season, linebacker John Law was especially motivated to prove to scouts that he still has the skills needed to play at the next level. Law jumped for a 35-inch vertical, tied for highest on the day, and ran a 4.7 40-yard dash.
"I knew coming in that the outlook was everyone thought I would run slower and not know how quick I would be," Law said. "I knew I had gained a lot of speed during my training, and people would not really expect that from me. I was pleased with my speed and agility today."
On the strength side, defensive lineman Tyson Fernandez and offensive lineman Parker Collins showed scouts in the weight room why they can be valuable NFL players. Both said they hit 27 reps in the bench press if it weren't for locking their arms, but Fernandez officially was marked at 24 reps and Collins at 25.
"I really like individual work. That's football. Everything else is shirts and shorts," Collins said. "Individual is pretty important honestly. I was hoping to show my effort and that I am a finisher by finishing blocks, getting in people's place and stuff like that."
Fernandez had the chance through his career to play on both sides of the ball, and proved to scouts he can fit anywhere on an NFL roster.
"It was fun, and it was definitely a day I've been thinking a lot about. I personally started training on January 19, and every single day when I got up I've thought about this day," Fernandez said. "It's two months work for hours, and now to know it's over and I can't do anything about it anymore is a relief. Now I move forward for whatever happens next."
Defensive lineman Nate Norwood also hit 25 reps on the bench, tied with Gilchrist and Collmar.
On the offense side of the ball, Cox continued to put up impressive marks with his 40-yard dash and broad jump.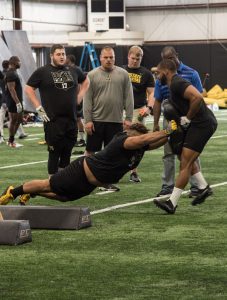 "Coaches and scouts liked how I caught the ball, and that was a big thing for me," Cox said. "I showed how I got it out of the backfield and not putting any balls on the ground. But scouts said I needed to keep working on being quick and explosive out of my cuts."
Tight end Barrett Burns showed his own speed with a 4.93 40-yard, and more of his receiving abilities.
However, Cox and Burns had the opportunity to receive from punter Bentlee Critcher, who was told he would be playing quarterback the morning of for Pro Day.
"Last night I they told me it was going to be me or a scout throwing, so when they told me I was throwing this morning, I was just trying to help out my teammates," Critcher said. "After punting and throwing, I was a little tired, since I haven't thrown since the last game of season, so my arm was a little sore."
In addition, Critcher worked out for scouts in the morning with punting drills, and said his leg strength was good, and wanted to show his accuracy.
"It went really well. I had started off with about 10 kickoffs and 15 punts all together, with directional kicks, and pooch punts," Critcher said. "I felt very pleased with how that went. The biggest thing is they want to see if you have a big enough leg for the NFL power wise, and then they wanted to see the control of the football and then punts to see if you place outside the numbers, on the hash tags and kick a ball backwards on the five and things like that."
But the star of the day was Williams, who put up a stellar 40-yard dash time, a 35-inch vertical jump and a 10-foot broad jump, leading to a meeting with a Lion's representative after the workouts.
"We did a lot of football homework on the chalkboard. He said I looked pretty good, and that I should be expecting a call from some team," Williams said. "The scouts talked about a couple of small things to improve, but the main thing is to just add a couple pounds on before the draft, and that would be good."
With 10 former Mountaineers in the NFL including Blair, and last year's undrafted free agent signee Doug Middleton, all 13 Mountaineer Pro Day participants now wait until draft day on April 27 hoping to be drafted or signed by a team.
Story By: Jason Huber, Sports Editor 
Photos By: Halle Keighton, Photo Editor 
Full Pro Day results here:
2017 APPALACHIAN STATE FOOTBALL PRO DAY
PLAYER NAME
40 YARD
VJ
BROAD
PRO
3-CONE
60
BENCH

Barrett Burns

4.93

4.95

28.5

8'7

4.5

7.19

12.23

19

Parker Collins

5.08

5.17

28

8'8

4.6

8.19

25

Jamie Collmar

5.24

5.20

28

8'4

4.52

7.81

25

25

Marcus Cox

4.58

4.62

30.5

10′

4.5

7.5

11.97

13

Tyson Fernandez

5.37

5.38

24.5

7'8

4.75

7.87

24

Kennan Gilchrist

4.57

4.6

35

9'9

4.47

7.55

11.84

26

Alex Gray

4.51

4.57

35

10'3

4.4

7.4

11.84

15

John Law

4.7

4.71

35

9'11

4.17

7

11.83

19

Nate Norwood

5.17

5.23

27

8'5

4.49

7.31

12.20

25

Dezmin Reed

5

5.02

27.5

8'4

4.6

7.3

12.4

8

Toronto Thomas

5.01

5.07

29

9'2

4.4

7.4

12.64

20

Mondo Williams

4.44

4.37

35

10

4.2

7.1

11.46

8