On Wednesday, App State unveiled the new Founders Plaza honoring B.B. Dougherty, D.D. Dougherty and Lillie Shull Dougherty, founders of the university.
The Founders Plaza features a new double-sided sign made of granite and seating areas throughout. Administrators, faculty members and students were all in attendance, as well as Boone Mayor Rennie Brantz and several members of the Dougherty family.
"We are steadfast in continuing the mission of B.B., D.D. and Lillie Shull Dougherty to foster vibrant educational opportunities and change lives throughout North Carolina," Chancellor Sheri Everts said.
Doris Stam, the great-great-granddaughter of D.D. Dougherty and Lillie Dougherty spoke at the event.
"Every time I come to Boone, I see new construction at Appalachian, and this was once the Dougherty and Hardin Family Farms," Stam said, gesturing toward the Founders Plaza. "It's exciting to see new life as students and faculty are bustling about."
Stam continued to share prominent locations on App's campus that once were the Dougherty's grade school or the original Watauga Academy building.
The Dougherty brothers used to walk on foot from Boone to Lenoir to their high school, so it was unsurprising that the Boone community rallied around the brothers when they wanted to start a school for higher education, Stam said.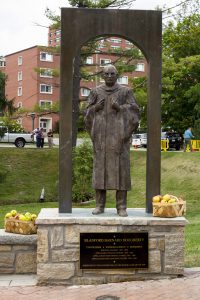 "Together, they cut the trees from right where we're standing and they sawed the lumber and they together hammered the planks and built the Watauga Academy," Stam said.
Wednesday was chosen to commemorate the first day of classes at App State in 1899 when it was "Watauga Academy," one building holding 53 students.
The Dougherty brothers' father supported their mission, as he believed that the Boone community, which was behind other places in North Carolina growth-wise, would never grow out of poverty without more education, Stam said.
The brothers were also supported by D.D. Dougherty's wife as she acted as treasurer and business manager after his death in 1903.
"This Founders Plaza will help us remember three people whose devotion to helping others was the foundation for the vibrant Appalachian State University we see today. May their three lives inspire all of us," Stam said.
The welcome sign is a popular place for visitors, students and visitors to take photos.
"It's very popular for students to come up to Durham Park to take pictures with the sign and I think it's really important just to know where it originated and how we got the sign," Kiera Massi, junior electronic media and broadcasting major, said. "It's also really cool that we have the statue of B.B. Dougherty here to commemorate all of the work he and his brother did because I know that a lot of students come to App and they aren't really sure how it all started."
The new space is also the new home for the statue of B.B. Dougherty that used to be between Sanford Hall and I.G. Greer Hall. The statue was relocated to provide a more prominent location to honor B.B. Dougherty, Chancellor Everts said.
The development of Founders Plaza also inspired new recognition of the history of App State by now displaying the original Academy Bell that was housed in Watauga Academy, D.D. Dougherty's portrait and diploma as well as B.B. Dougherty's diplomas and the alma mater.
App State also has a new university committee on history, chaired by Karl Campbell, an associate professor in the department of history.
"Our history must be more than just celebratory, it must include our successes as well as our challenges and our failures," Campbell said. "Our history must be inclusive. The voices of all must be heard. There are so many stories that we know and so many that we still need to know."
"That is why earlier this year, Chancellor Everts began a new committee to encourage the collection, studying and the dissemination of ASU history. We plan to support historical projects already underway and to launch new initiatives in our classrooms," Campbell said.
Story by Jackie Park 
Photos by Lynette Files
Featured photo caption: The audience at Wednesday's Founder's Day celebration at Durham Park. In addition to recognizing the history of App State, onlookers witnessed the unveiling of the new "Founder's Plaza" where the Appalachian State University sign once was.