Fourteenth Annual Dance Marathon raises funds for high country youth
Appalachian State's annual dance marathon raised over $39,000 for local nonprofits last Saturday.
Several groups performed during the 15-hour Dance Marathon and participants were taught group dances so that they could participate in a dance by the end of the night. Proceeds went to Western Youth Network and Parent to Parent Family Support Network.
Parent to Parent Support Network is a nonprofit organization providing support to families with children with all ranges of special needs in the High Country. Western Youth Network provides mentoring and after school programs for children in the High Country.
Western Youth Network is meaningful to WYN's director of development Wes Berry because when he started to fall behind in middle school his guidance counselor took extra time to make sure he succeeded, he said. Her impact is what motivated him to help other kids.
"I never forgot what her extra investment meant, so years later to be able to promote an organization that invests in local youth the way Western Youth Network does really means something to me," Berry said.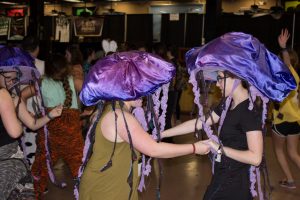 Participants sported many creative and vibrant costumes inspired by the themes planned by the committee such as "Animal Kingdom" and "I love the 2000s."
Families and members from Parent to Parent attended Dance Marathon as well to have fun and raise awareness for children with special needs. At lunchtime, dancers and families were divided into smaller groups where they shared stories and got to know each other better.
Alyson Graham, a senior psychology major and Dance Marathon committee member, said getting to see the impact of Dance Marathon by directly interacting with members of Parent to Parent is the most meaningful part for her.
"I think the impact is my favorite part. It's really cool to experience all the hard work and see it produce something so wonderful," Graham said. "Getting to interact with them and directly see some of the people that we are impacting is really meaningful."
Haley Patton, a senior public relations major and Dance Marathon committee member, said spending time getting to know those from Parent to Parent is one of the reasons Dance Marathon has continued to be successful for 14 years.
"That's probably why a lot of the people in this room come back," Patton said. "They see the kids, they see the families that they help and that's always very nice to see."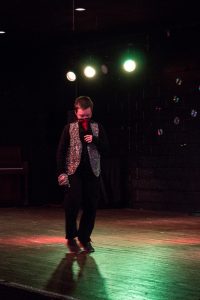 The Dance Marathon has been Western Youth Network's longest running fundraiser. Berry said he appreciates App students' dedication of time and money to help raise money for those in need.
"It's just a beautiful thing to see hundreds of college students sacrifice their Saturday, a Saturday in which they've raised their own money to invest in our next generation," Berry said. "That's the thing that should be promoted, the good that's happening today."
Kirby Rose, a junior communication science and disorders major and Dance Marathon committee member, said Dance Marathon is an exciting event where students can enjoy time with friends and help the community surrounding Boone.
"It's super fun, so why not spend the day with some of your favorite friends and just make new friends," Rose said. "Just dress up in themes and have fun, and while you're having fun just benefit so many people."
Story by: Rachel Brown, News Reporter