Just west of St. Louis, Missouri, 684 miles away from Boone, sits Holt High School, home to App State freshmen wrestlers Colby Smith and Gavin Londoff.
The two men from Missouri have emerged on the scene this season quicker than most freshmen competing in Division 1. The two have combined for 32 wins on the season and started nearly every match for the No. 16 ranked Mountaineers.
Smith and Londoff first met at a junior wrestling club in Missouri, the one Smith's dad was the head coach. Smith, Londoff and a few other friends began getting really close with each other through wrestling together.
"Our families are really close," Smith said. "We've been like brothers since seventh or eighth grade."
Had it not been for the Smith family, Londoff explains that he probably wouldn't be the nearly wrestler that he is today.
"Colby's dad was the coach at the pee wee club where I first started," Londoff said. "I usually wrestled Colby a lot. He's probably the main reason I'm where I am today. Because he's always been good and I was just starting out and he just kept pushing me."
Londoff and Smith became dynamic wrestlers and went on to excel on the mat as they went through high school.
Smith tallied a 193-11 high school record on his way to earning three 4A state championships and Missouri's most valuable wrestler in 2016. Londoff managed to earn all-American honors during his junior and senior season.
Head coach John Mark Bentley first discovered the two when he went on a recruiting trip to a super 32 tournament looking for a 149-157 pound wrestler.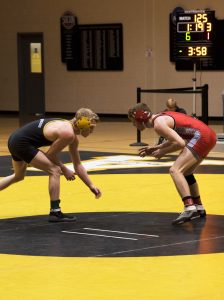 "We saw Gavin wrestle and really liked what we saw," Bentley said. "As we were looking into him we found out that he had a teammate who was also at the tournament. Both of them placed."
Receiving looks from a couple other schools, Londoff took interest in Appalachian State. Shortly after Bentley showed interest, he and Smith came on a visit to Boone.
"I was looking at a couple different schools but they convinced me to take a visit here and I immediately fell in love with it," Londoff said.
Despite the attention from App State, Smith was showing interest in Grand Canyon University, located in Phoenix, Arizona.
"We talked to Colby's dad for a brief moment but at that point Colby had already taken a visit to Grand Canyon University," Bentley said. "We got a commitment from Gavin and brought both of them out for visits. After their visit, we signed Gavin, but Colby committed to GCU."
Around March of last year, Grand Canyon dropped their wrestling program due to financial losses. After hearing the news, Bentley instantly extended his invitation back out to Smith.
"After he got a release we immediately reached out to him," Bentley said. "We kind of got him on a rebound but having that connection with both of them is kind of how it all went down."
Smith has posted a dominant 22-7 record during his freshman season on the mat, leading the team in the win column while climbing up the rankings to No. 21 in the nation in the 133 pound division.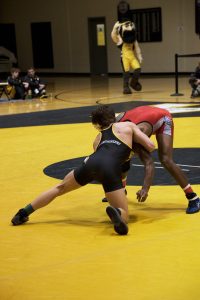 Londoff is wrestling at the 157-pound weight class, facing some of the nation's toughest wrestlers. He showcased his talents when No. 16 nationally ranked Joey Moon of North Carolina visited Varsity Gym. Londoff earned the 5-2 decision over the ranked senior in perhaps one of the biggest upsets of the season.
"These guys have been huge for us and they have played integral parts in our dual meet wins," Bentley said. "As true freshmen, to be able to step into a Division 1 line up, especially as tough as our schedule is and be competitive. I think that is a testament to the kind of young men they are."
The two standout freshman are playing a huge role in the record-breaking season that the Mountaineers are in the midst of. The Black and Gold are 12-2 as a team and 6-0 in conference. They have managed to take down three "Power 5" opponents and two nationally ranked schools.
The bond being shared by the undefeated Mountaineers is playing a huge part of their success. With the variety of freshmen, sophomores, juniors and seniors on the team, their chemistry is impressive.
Smith and Londoff have been two pieces to the puzzle all season, fitting in better than they imagined. They have grown closer with each other since they have been in college, found a home in Boone and family amongst the team.
"We were close in high school but since we've got to college, it's been a whole new level," Londoff said. "The bond on the team is incredible and I consider these guys my brothers. I don't think there is another team like this on any other campus and I consider this my home as much as I do my home back in Missouri."
Story By: John Robertson, Sports Reporter
Photos By: Halle Keighton, Photo Editor