Gaijin Noodle Bar brings unique Japanese cuisine to Boone
Along Blowing Rock Road, one can see many of Boone's restaurants. From Daniel Boone Inn to TApp Room, there are several different options for food. Now, however, there is a new player in the game, this one a little bit more unfamiliar than others.
Monday marked the grand opening of the new Gaijin Noodle Bar, a restaurant with a menu filled with various Japanese cuisines, including ramen, bao buns and various original cocktails.
Students and locals alike flocked to the restaurant as Gaijin finally opened its doors to the general public at 5 p.m.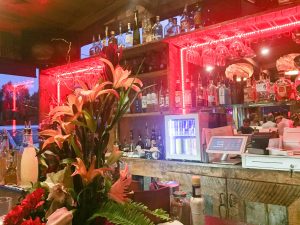 This final step in opening the store was a breath of excitement for the owners, restaurant owner Shelly Parsons said. The process of getting the restaurant up and running was a process starting from the beginning of July.
Parsons, an Appalachian State employee who runs both of the school coffee shops, noticed a vacant restaurant where  Tank's Tacos used to be. Her husband, an executive chef with a long career in fine dining, had always wanted to open his own place and the two felt like it was an ample opportunity, Parsons said.
Although Parson's husband, Stan Chamberlain, had mostly experience in southern fine dining, the two decided they wanted to have a noodle bar for their restaurant.
"It's like fine dining cooking at a budget price," Parsons said.
The two felt that since there was nothing like a noodle bar in the town, they would "fill the void," Parsons said.
One of the restaurant's employees, Lea Vosberg, joined the process early enough to watch the couple dive into the noodle bar making process.
"I've known Shelly and Stan for a couple years and I've known that Stan is a really talented chef, kind of just waiting for his opportunity to do something big in Boone," Vosberg said.
The owners have spared no expense on making the noodle bar experience as authentic as possible. In fact, Chamberlain even went up to New York and studied under a Japanese ramen chef, Vosberg said.
It is not only ramen that is on the menu, however. Another of the more popular items is the bao bun, which they were able to gain inspiration from a friend who ran a food truck in Asheville called Bun Intended, Vosberg said.
These bao buns are made with a fluffy white bread and filled with various meats and coleslaws, Parsons said.
In fact, the restaurant even has a special on Mondays involving these bao buns.
"We're going to do something called Bunday Monday which the buns will be on special," Parsons said. "Normally they will come two together, but you can buy individual buns all day that day."
Although this Japanese-inspired cuisine isn't very familiar in this part of the world, there are some more local flavors hidden in the menu.
"We wanted to put some spins on slightly southern, but certainly not fusion," Parsons said.
One such example is their Gaijin Ramen filled with smoked pork broth, smoked pork, black eyed peas, collard greens and noodles with grits.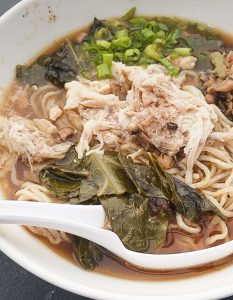 The Japanese cuisine was praised by junior computer science major Ryan Shiel and his sister, Maggie Shiel.
"I think the menu is really cool and it's served in somewhat of a Japanese style," Ryan Shiel said.
The effort to make Japanese cuisine appeal to the Boone area is not only seen in the food, but also in the efforts to make it acceptable to eat with a fork, something not traditional to the typical ramen experience.
"We wanted to make incredible classic delicious ramen, but not have people off put by the intimidation of the chopsticks," Parsons said. "We just decided to say 'Hey don't worry about it! Use a fork if you want.'"
This acceptance of fork usage can also be seen by a giant wall decoration prompting customers to use forks if they choose. The message can even be seen in the Gaijin's logo of a bowl, connected to a fork with chopsticks on top, Parsons said.
Although the food is one of the main highlights of Gaijin, another aspect that the restaurant hopes to push is their extensive drink menu filled with special cocktails and signature shots that are also inspired by Japanese flavors.
Some of the cocktails on the menu include drinks like the Mister Miyagi Mojito, Kafir Lime Ginger Kamikaze and the Cherry Blossom.
"I would say that the cocktail menu was very unique and very cool," Maggie Shiel said.
According to Parsons, there will be several specials on drinks as well.
As if the novelty of Japanese cuisine wasn't enough, the restaurant also hopes to have a ricksha with the restaurant's logo on it that picks people up from surrounding parking lots to avoid issues with lack of parking, Parsons said.
With the variety of food and drinks, this restaurant hopes to pull in both college students and Boone locals, Vosberg said.
Overall, the restaurant hopes to become a staple in Boone life.
"We're just super hoping for the support," Parsons said. "We're excited to serve the community something they haven't had before."
Gaijin Noodle Bar is open from 5 p.m. to 10 p.m. Sunday through Wednesday and 5 p.m. to 2 a.m. Thursday through Saturday.
Story By: Mariah Reneau, A&E Reporter
Photos By: Caroline Moss, Intern Photographer