Game Day Grades: App State vs. Coastal Carolina
Game: App State (4-2, 3-0 Sun Belt) vs. Coastal Carolina (1-5, 0-3 Sun Belt)
Final score: App State 37 Coastal Carolina 29
GRADES:
Quarterback: A+
Breaking the career record for touchdown passes and also almost overtaking the single game passing yards record in the same game, it's hard not to say that senior Taylor Lamb didn't deserve an A+. From the beginning, Lamb was dialed in, making massive throws down the field and key intermediate passes across the middle of the field. Lamb's 83-yard strike to a wide-open Jalen Virgil broke Armanti Edwards' previous record of 74 career touchdown passes. Coming up just seven yards short of breaking Edwards' record for most passing yards in a single game, Lamb also eclipsed his own career high with 427 passing yards on the day.
Running Backs: C
App State fans know that Halloween is just around the corner, but the terror has already started, possibly losing another member of Mountaineers' backfield for an extended period of time. Senior Terrence Upshaw announced earlier this week that his App State career was finished due to injury, and junior Jalin Moore made it only through one quarter before leaving the game. Freshman Marcus Williams Jr. played well in Moore's absence, rushing for 72 yards on 15 carries and scoring his first two career touchdowns. Even with the freshman's strong performance, App only mustered 3.5 yards per carry and continues to see depth get thinner and thinner.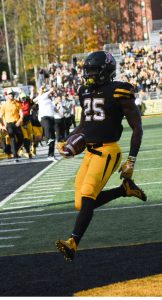 Wide Receivers: A  
Fueling Lamb's massive day through the air, App State's wideouts had their best game of the season. Accounting for 417 of Lamb's 427 passing yards, six Mountaineer wide receivers found their way into the game's stat sheet. Freshman Jalen Virgil highlighted the afternoon, hauling in five passes for 186 yards and two touchdowns. Most impressive was his 53-yard touchdown in the third quarter, putting App State in the lead for good. Senior Ike Lewis pushed forward from a standout game against Idaho last week, going for over 100 yards in consecutive games for the first time in his career.
Tight Ends: C-
Catching only one pass for ten yards, sophomore Collin Reed was the only Mountaineers' tight end to catch a pass on the day. While App's wide receivers were finding holes in the Chanticleers' secondary, the Mountaineers' tight ends struggled to get some catches of their own. Yet, they helped protect Lamb well in the pocket, combining with the offensive line to allow only one sack.
Defensive Line: B+
App State's defensive line had some ups and downs on the afternoon, recovering two of Coastal Carolina's four fumbles while also at times struggling to generate a consistent pass rush. Junior defensive lineman Okon Godwin and sophomore defensive lineman Caleb Spurlin fell on the Chanticleers' fumbles, making it back-to-back games with fumble recoveries for the Mountaineers. App's defensive line also was the key to slowing down Coastal's spread option offense, giving up just 3.4 yards per carry. It wasn't perfect, but without this level of performance, the Mountaineers may be looking at their first conference loss of the season.
Linebackers: B
Upperclassmen led the way for the Mountaineers' linebacking corps. Senior Eric Boggs and junior Anthony Flory totaled a combined 12 tackles while also recording one pass breakup each. Allowing some big plays across the middle of the field, App's linebackers were partially to blame for Coastal's 73-yard touchdown reception in the second quarter. Yet, even with allowing some big plays, they helped stifle Coastal's powerful rushing attack.
Secondary: C
Whenever a team that specializes in the triple-option throws for 332 yards, there will be some questions that follow for the opposing defense. App's defense has given up over 300 yards through the air only once this season, which was against New Mexico State's air-raid offense. While App's secondary was shredded for some big plays, most of which on third-downs, they still created some momentum shifting plays, such as junior Tae Hayes' sack-strip fumble in the first quarter.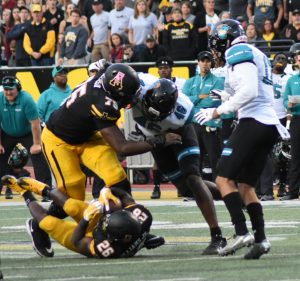 Offensive Line: C+
The offensive line struggled to open up holes for the running game, but it did only allow one sack. App's offensive line has now given up only five sacks this entire season, a staggering statistic that is the fewest in the Sun Belt Conference.
Special Teams: D
The boo birds were out for a particular App State player, and sadly for sophomore Michael Rubino, he was once again the center of attention in the worst of ways. Rubino missed three field goals, failing to connect from 30, 38 and 41 yards out. Near the end of the game, Rubino was replaced on an extra point attempt, rubbing some salt in the wounds of the second-year kicker. A small bright spot was the punting game, which averaged 37.7 yards per punt.
Player of the Game: Taylor Lamb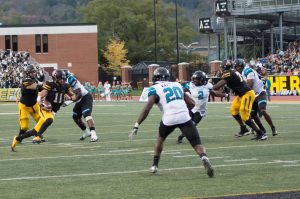 Breaking a record and coming up one play short of breaking another earns Lamb today's player of the game. Averaging 18.6 yards per completion, the App State passing game found some new life in the signal-caller's final year as a Mountaineer.
Overall team Grade: B
App State failed to put together a complete game, but they showed off how dominant they could be in conference in the first quarter. Showing flashes of brilliance, the Mountaineers are getting closer to firing on all cylinders.
Story By: Tyler Hotz, In-Depth Editor
Photos By: Lindsay Vaughn, Senior Staff Photographer