Game: App State (6-4, 5-1 Sun Belt) vs. Georgia Southern (0-9, 0-5 Sun Belt)
Final score: App State 27  Georgia Southern 6
GRADES:
Quarterback: B+
Senior quarterback Taylor had a very solid game. He didn't get very many opportunities since the Mountaineers decided to run the ball more than pass, but Lamb went 7/13 for 161 yards and two touchdowns. Lamb moved to fifth in total offense in Sun Belt conference history and he finished the game with a 208.6 passer rating. Lamb continued to connect with senior wide receiver Ike Lewis and even got junior tight end Collin Reed involved with an early touchdown. If Lamb were able to get the ball in the air a little bit more, he would probably have an A+.
Running Backs: B+
Star junior running back Jalin Moore did not suit up with a nagging injury, and backup freshman running back Marcus Williams once again filled in having a career game with 130 yards rushing on 28 attempts. Williams started the game off slow with some short runs, but he began racking up needed yards in the second half. Freshman Daetrich Harrington also had a breakthrough game with 11 carries for 41 yards and a touchdown. The Mountaineers did fail to convert a fourth and one rushing attempt, though in the second quarter. A surprise rusher on the day was senior defensive end Caleb Fuller rushing for 23 yards on a fake punting attempt in the third quarter.
Wide Receivers: B
Once again, the passing game mainly consisted of Lewis. Lewis caught his seventh touchdown in the last four games and has 67 receiving yards on three receptions. Freshman receiver Thomas Hennigan caught a 51-yard pass to open up the second half. Once again, there was not much passing that took place, but when involved, Lewis and Hennigan did their job.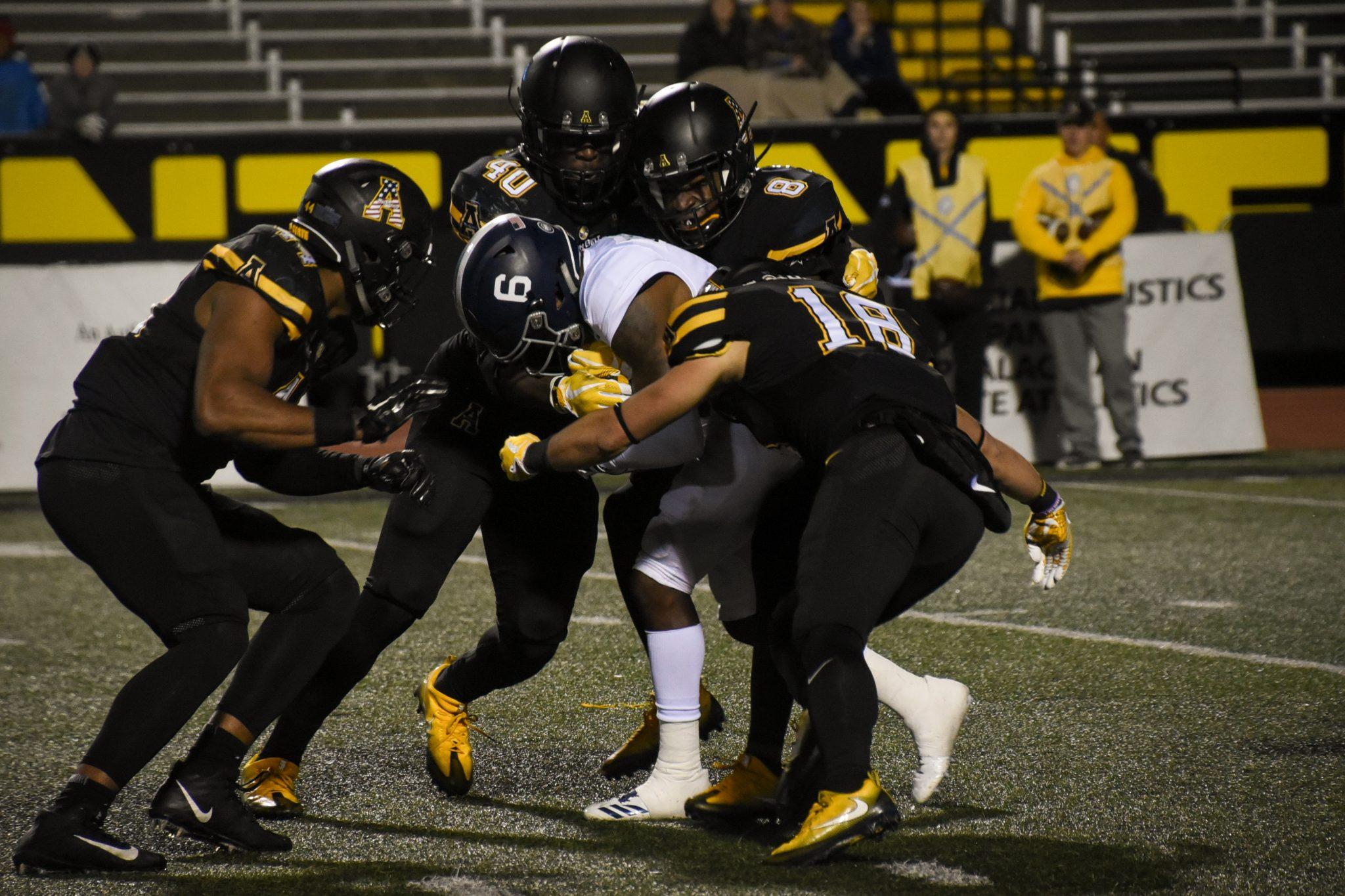 Tight Ends: B+
Tight ends haven't been too involved since App's second game of the season against Savannah State, but Lamb got Reed involved early with a 23-yard touchdown to put App on the board 7-3. Reed did pick up a critical penalty in the second quarter, but with tight ends not playing a critical role in the game, his touchdown on his one reception was important.
Defensive Line: A-
Rushing the pass has been a huge problem for the Mountaineers over the last three games, and it looked, as the problems would continue to occur in the first quarter, but the defensive line stepped up behind junior defensive end Tee Sims and finished the night with three sacks. While stats didn't show the true impact because of the lack of passing, pressure kept the Eagles from getting any true opportunities to get the ball in the air, and the Mountaineers held their offense to only 191 total yards.
Linebackers: A-
Led by senior Eric Boggs and junior Anthony Flory, the linebacker corps helped limit the leading rushing team in the Sun Belt averaging 235 yards per game, to only 111 total yards on the ground. Flory has a key tackle for loss and five total tackles, and Boggs had five tackles along with senior Rashaad Townes contributing with four tackles and a sack.
Secondary: B
Georgia Southern only threw 18 times, so the secondary didn't have many opportunities, but senior safety A.J. Howard led the team with seven tackles and sophomore Austin Exford contributed with four tackles and a tackle for loss. Both quarterbacks that played for Georgia Southern were held to 40-yards passing. It was a quiet game for sophomore Clifton Duck and junior Tae Hayes who each had three tackles, but they contributed when they needed to.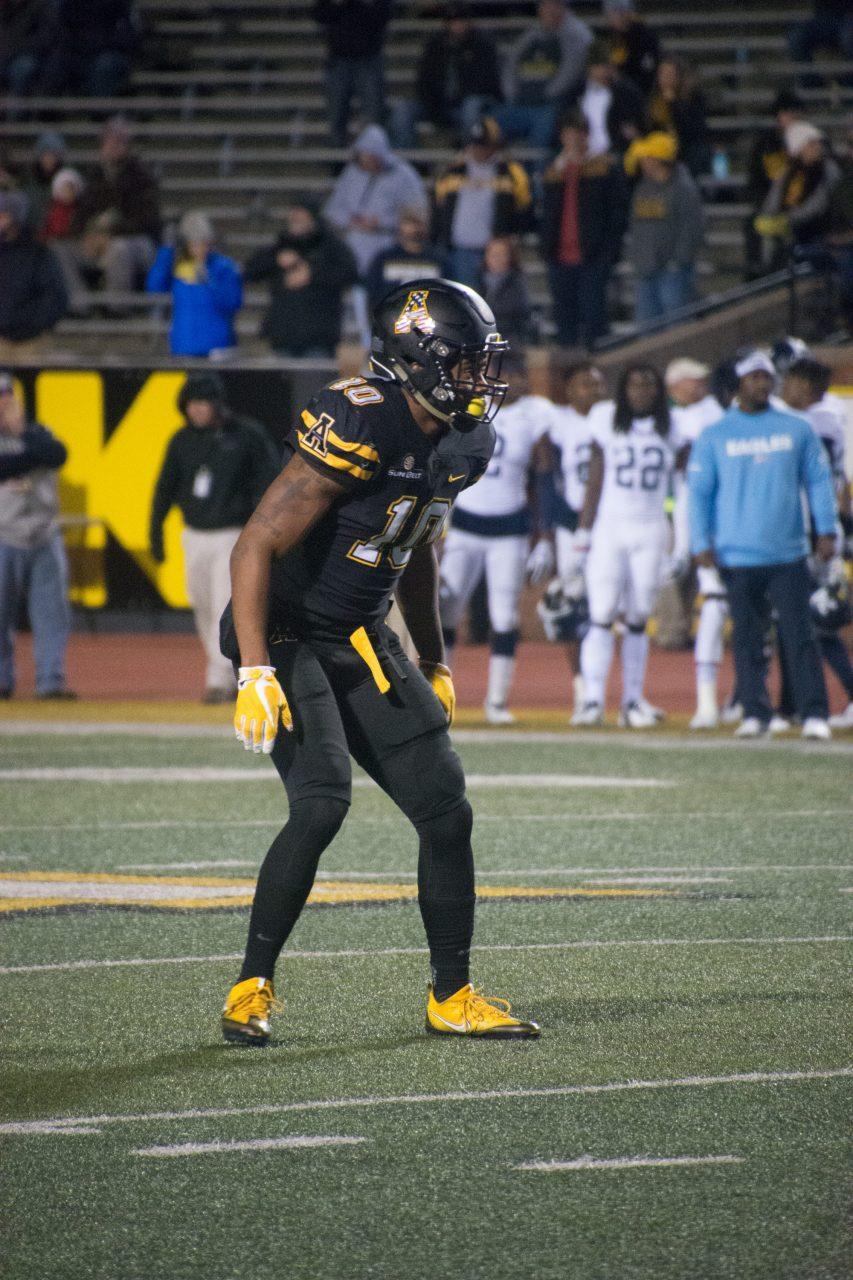 Offensive Line: A-
The offensive line protected Taylor Lamb and set up some big holes for Marcus Williams. Lamb was able to find a hole for a 44-yard rush and Williams had a long of 21 yards on the ground.
Special Teams: A+
It looks like the Mountaineers have finally found their kicker. With many App State fans upset with sophomore Michael Rubino throughout the season, redshirt freshman Chandler Staton started his third straight game and made a 53-yard field goal to end the first half. The field goal is the sixth longest in App State history. In addition, Staton made a 28-yarder in the third quarter and made all three extra points. Freshman punter Xavier Subotsch only punted twice, with one going inside the 20-yard line, but the Mountaineers completed a fake punt with Caleb Fuller rushing for 23-yards for the first down.
Player of the Game: Ike Lewis
Lewis now has seven touchdowns in his last four games, and seems to have found a deep connection with Lamb. Lewis finished the game with 67 yards on three receptions and long of 30. Lewis' touchdown and long pass on the 1-yard line helped seal the game for the Mountaineers.
Overall team Grade: B
Luckily, Georgia Southern isn't a good team. They haven't won a game this season. But App State did what they needed to do. They struggled in the first half offensively, but scored when they needed to picking up their sixth win of the season to become bowl eligible.
Story By: Jason Huber, Sports Editor
Photos By: Emily Nance and Stephanie Lee