Game Day Grades: App State vs. Savannah State
This season, The Appalachian will be writing a new piece called Game Day Grades. After every App State football game our sports editor will be breaking down each position group for the Mountaineers with grades on their performance and a summary.
Game: App State (1-1) vs. Savannah State (0-1)
Final Score: App State- 45, Savannah State- 0
GRADES:
Quarterback: A
Senior quarterback Taylor Lamb had arguably the best the game of his career. And he only played the first half. Lamb threw for a career high five touchdown passes, tying App State's school record of four other quarterbacks. Lamb's first touchdown was a 57-yard pass to tight end Levi Duffield, and he then tied his career high long with a 68-yard touchdown pass to tight end Collin Reed. Lamb bounced back after a below average game against Georgia last week in which he threw for 128 yards on 18/27 attempts. On Saturday in the first half, Lamb went 12/15 for 327 total yards and a 373.1 quarterback rating. However, Lamb was sacked once and failed to convert in the end zone once leading to App kicking a field goal. Backup redshirt freshman and possible quarterback of the future Zac Thomas entered the game in the second half and completed three of five passes for 13 yards. Because of the backups below average play, I give the quarterbacks an A, not an A+. Four total quarterbacks played for the Mountaineers.
Running Backs: B-
I am giving the running back corps a B- not because they played poorly, but because they did not have a lot of opportunities to make any big plays with the Mountaineers focusing on the passing game. With junior starting running back Jalin Moore and backup Terrence Upshaw only playing in the first half, the two combined for 16 carries and 89 rushing yards. Upshaw ended up coming back in the game due to backup De'Vonta Smith getting injured and ran for a fourth quarter 50-yard touchdown. In total, the Mountaineers had 47 attempts for 279 rushing yards. Moore broke loose for an 11-yard rush early in the first quarter to set him up for a two-yard touchdown, giving App the first score of the game. In the second half, many receivers were the ones running the ball to chip time off the clock. Also in the second half, Smith fumbled the ball that was recovered for a Savannah State touchdown and the only points scored by the Tigers.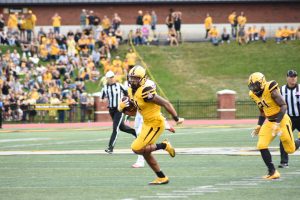 Wide Receivers: B+
As a team, the Mountaineers were excellent in the passing game. Five wide receivers caught receptions for a combined 175 yards. Redshirt freshman Jalen Virgil caught his first career touchdown with a 56-yard pass from Lamb, and senior Zy Letman pulled in his second career touchdown in the first half. True freshmen Thomas Hennigan and Malik Williams combined for 38 total yards. There were still a few missed passes the Mountaineers made giving them a B+.
Tight Ends: A+
Last week against Georgia the tight ends only combined for -1 total yards. This week, sophomore Collin Reed and senior Levi Duffield combined for 163 total yards and three touchdowns. Duffield caught a 58-yard touchdown pass in the first quarter, the longest since Ben Jorden in 2008, but then Reed broke that record with his 68-yard touchdown pass. Before this game, Reed only had one career touchdown. He had two against Savannah State. Duffield and Reed did all of their work with only four combined receptions. Reed had three of those for 106 yards.
Defensive Line: B-
The defensive line shutout the Tigers, but there were still plenty of missed tackles and lack of aggression that took place. Obviously the Mountaineers probably did not go full out having such a large lead, but a few missed tackles in the first half really hurt their grade. Junior defensive end Okon Godwin made his first career start in place of Tee Sims and was unable to rack up any tackles. App's defense as a whole only had 50 tackles while Savannah State's had 61. Senior defensive end Caleb Fuller played well with two tackles and a tackle for loss. The Mountaineers only allowed 77 rushing yards.
Linebackers: A-
The linebacker group stayed in check throughout the game. Senior Eric Boggs led the team with six tackles and two solo, and the Mountaineers did a good job pressuring Savannah State. Outside linebacker Devan Stringer was second on the team with four tackles. While the group also had some missed tackles, you can't knock on them as they allowed zero points.
Secondary: B+
Once again, I am not giving the secondary an average grade because they played poorly, but more because they didn't have many opportunities to make any plays. Savannah State's quarterback TJ Bell went 3/13 with 21 total yards. In total, the Tigers only threw for 37 yards. There were really no opportunities for the secondary to have any big plays, but they prevented Savannah State from making big throws. The Tigers had no big passes to break up, but players such AJ Howard, Tae Hayes, Desmond Franklin and Jordan Fehr made big tackles and kept the App defense intact.
Offensive Line: B
It is hard to argue that the offensive line could do a bad job when their starting quarterback threw for five touchdowns. However, they did allow a sack and plenty of tackles. Freshman center Noah Hannon picked up a penalty in the first half, and later with reserves coming into the second half, the Mountaineers struggled with penalties. With no stats to define the offensive line really well, they played solid in the first half, but backups brought the grade down in the second half with some sloppy plays and penalties. The O-line also was unable to stop the Tigers when they recovered an App State fumble that was returned 45 yards for a Tiger's touchdown.
Special Teams: A
Special teams did not get much work due to the offense staying on the field, but when they had chances, they made the most of it. Freshman punter Xavier Subotsch punted three balls for 115 yards with an average of 38.3 yards per punt. Subotsch's long was 49 yards and punted all three balls into the 20-yard line. Kicker Michael Rubino hit all of his extra points and converted on a 38-yard field goal.
Coaching: A+
When a team takes as big as a lead as the Mountaineers did, coaches can just sit back and relax. Head coach Scott Satterfield was able to sit back and let his players do what they had to. Reserves had the opportunity to play in the second half and Satterfield made sure none of his keys players were injured during garbage time.
Player of the game: Taylor Lamb
Throwing career high five touchdowns with a long of 68 yards, it is an easy decision who the player of the game was. Oh, and he only played the first half.
Overall team grade: A
Great game by the Mountaineers before they head into their first conference game against Texas State
Story By: Jason Huber, Sports Editor
Photos By: Lindsay Vaughn, Senior Staff Photographer