Gary's career high not enough as Appalachian falls to Chattanooga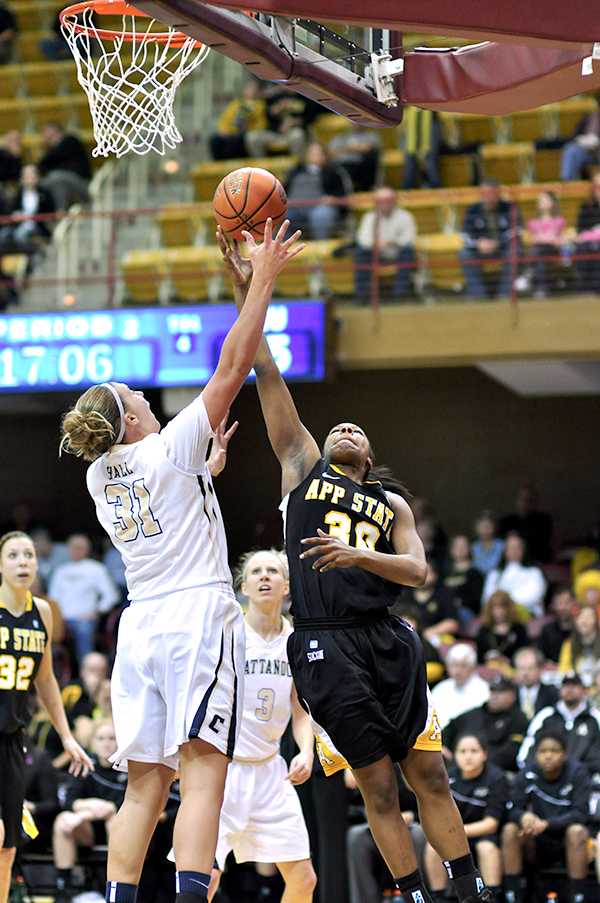 In a grueling 40-minute battle, Appalachian State women's basketball team fell one game short shy of advancing to the championship game, losing 72-67 to Chattanooga.
The Mountaineers found themselves down 68-64 before Maryah Sydnor hit a 3-pointer to bring it within one. They would run the same play for Sydnor the next time down, however the shot didn't fall.
Point guard Raven Gary said Chattanooga changed the way they defended the play, which caused a different outcome.
"When [Sydnor] came off the screen, Meghan Downes came across the top and tried to trap her," Gary said. "The first time no one came across the top, the second time they tried to trap her."
In a game that was tied 16 times with 12 lead changes, there wasn't a single second that one team had control.
The competitive game didn't bode well for fouls on App State, however, as they accumulated 21 to the Lady Mocs' 10.
Anna Freeman, once again, had to fight through foul trouble early, but Gary, Courtney Freeman and Sydnor stepped up their point production to help in her absence.
Gary led the Mountaineers with a career-high 19 points, four rebounds and four assists. Courtney Freeman had a double-double with 12 points and 10 rebounds, while Sydnor scored 10.
Katie Mallow also stepped up big for the Mountaineers, ending her shooting slump at just the right time. She ended the game with 10 points but gave them another 3-point shooter to battle Chattanooga's hot shooting early in the second half.
App State head coach Darcie Vincent said that she was extremely proud of her players' effort.
"Last year I said that we were the more talented team, we lost the game because we didn't fight," Vincent said. "It's an honor and I'm very proud. I'm not going to sit here and tell you that today. These kids gave every ounce, every minute of every second of every sweat. We left everything on that court and I'm so proud of our effort."
Notwithstanding a possible Women's Basketball Invitational or Women's National Invitational Tournament bid, this was the final game for Anna Freeman, Gary, Courtney Freeman and Kelsey Sharkey.
"I don't think anyone is kind of ready to move on yet," Anna Freeman said. "We need to kind of reflect on stuff, but what it has been these four years, regardless, I don't think anyone would change."
Gary said the end was tough.
"This one hurt a little bit," Gary said. "I don't think I'm going to be looking forward for a couple of days."
Vincent said that she was very said that this era was ending.
"At the end of it all, this long journey, with these kids for four years, and where we are," Vincent said. "I'm very, very sad that it is ending, but I'm so proud of how we defended in this tournament."
If the WBI or WNIT invites the Mountaineers and they choose to accept, the first round will be held March 20-22 for both tournaments.
Story: ANDREW CLAUSEN, Sports Editor
Photo: JUSTIN PERRY, Staff Photographer