Hall Council Adds Eco-Rep Position
The fall is an exciting time for residence halls. The silence of summertime is replaced with the bustle of move-in day and the never-ending icebreakers and social programs of Appalachian State's annual Welcome Weekend.
As per usual, Hall Council used the excitement of the weekend to promote its upcoming election season, manning info booths in the lobbies of residence halls and advertising an interest meeting later in the week. This year, however, Hall Council made a small change to its usual elevator pitch when it added a new executive position to its flyers: Eco-Rep.
The position was initially created by the Office of Sustainability in the spring of 2016. Originally, the Eco-Rep program recruited volunteers to incite peer-to-peer education about sustainable living on campus. As the program evolved, the Office of Sustainability designed a supplementing class, "GreenApps: Eco-Reps Leadership and Engagement," to incentivize the position with academic credit.
This year, Eco-Reps have gone a step further. By partnering with Hall Council, the Office of Sustainability hopes to bring an Eco-Rep to every residence hall. Through sustainability education and outreach efforts, the Eco-Reps will essentially serve as a liaison between the Office of Sustainability and residence hall students.
Just like other elected Hall Council members, Eco-Reps attend regular Hall Council meetings, plan educational programs for their halls and vote on residence life issues. By participating in Hall Council, the Office of Sustainability hopes, the Eco-Reps will work to better integrate campus sustainability into residence halls.
Director of Sustainability Lee Ball expressed that residence halls, thanks to their sheer population size and importance on campus, were the next big step in making sustainability campus-wide.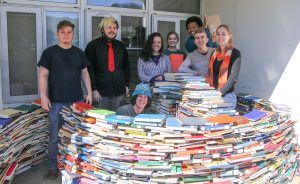 "It's not just our office trying to tell people what to do better," Ball said. "It's a part of the regular process of the university, whether it's residence life or the physical plant or athletics, it's just the way we do things. Sustainability is a part of everything."
University Sustainability Program Specialist Jennifer Maxwell has high hopes for the Eco-Rep position on Hall Council. Freshman dorms, Maxwell predicted, may benefit especially from sustainability education. Because many of those students are still learning how to take care of themselves and what habits are best for their routines, helping them to modify and adopt sustainable habits can be especially easy.
"Most of the time, this is the first time students have left home and lived on their own," Maxwell said. "So this is a really good opportunity to create positive behavior change and good, sustainable habits."
The Office of Sustainability has slowly worked to introduce a number of green opportunities into residence hall settings, whether through recycling bins in every room or the experimental compost bins placed outside of the LLC, Frank and Belk residence halls.
Beyond providing the tools necessary to adopt sustainable living habits, the Office of Sustainability is striving to educate students about why eco-friendly living is so valuable. Through social programming and educational flyers and tables, the Office's Eco-Reps' job is to get residents excited about going green.
In some cases, Eco-Reps can help promote resources and events that the Office of Sustainability already offers. Advertising resources like the food pantry and encouraging peers to get involved in No Impact Week can help shed light on pre-existing programming that often times goes unnoticed.
"We want to spread the word about our existing programs and help people understand that a big part of the Appalachian experience is sustainability," Ball said. "And when you live here and work here and are a student here, you're going to learn about sustainability and you're going to live sustainability."
In other cases, Eco-Reps would be tasked with creating their own educational opportunities to share with their peers. With Eco-Reps making education more enjoyable and approachable, sustainable practices may be more likely to stick, Maxwell predicted.
"Peer-to-peer education is so powerful and beneficial," Maxwell said. "Young students don't want to hear from 40 to 50-year-old talking heads. They want to hear from their peers and be positively influenced by them. It's a really good way to do education."
And while the Eco-Reps educate their peers, they gain valuable knowledge in the process. The Eco-Reps' course, which rewards the representatives with three academic credits, provides leadership training specializing in sustainability and opportunity for hands-on, interactive discourse.
"Part of the course is a sustainability leadership and engagement course," Maxwell said. "The goal is really to develop them as leaders and give them the opportunity to not only develop community within their residence hall and create friendships and connections there but to also learn how to engage in different programming that allows them to become a leader."
Initially, the Office of Sustainability had reservations about making Eco-Reps a position under Hall Council. While Hall Council only required executive members to hold a couple of programs per semester, the Office of Sustainability was looking to create a more in-depth and challenging position.
"Hall Council only requires you to do so much," Ball said, "but when they're in the class in the spring semester, we will require them to do quite a bit more because it's part of the class. It's a very active learning environment, hands-on, service-oriented class."
Through critical discussion, community service opportunities and coordination and planning of residence hall programs, Eco-Reps will learn about sustainability education and its practical use beyond the university setting.
Meanwhile, Hall Council will grow and learn as well. Already, previous and returning Hall Council members are considering ways in which their discussions and programming will be influenced and encouraged by the increased focus on sustainability.
Kenzie Matthews, a junior communication studies major, served as president of Eggers Hall Council her freshman year, and last year she took on the position of resident assistant liaison for Bowie Hall Council. Matthews always felt concern over her hall's use of Styrofoam cups and plates for social programs; though the products were much cheaper, they weren't biodegradable and had a negative impact on the environment. Now, however, Matthews hopes that the influence of the Eco-Rep will educate the actions of fellow Hall Council members and residents alike.
"I feel like if we have an Eco-Rep this year who really takes sustainability as a priority, it will end up influencing the rest of the campus and making people in the residence halls more sustainable because that's what they'll be seeing in the programs they come to," Matthews said.
Anna Wheeler, a sophomore biology major, served as vice president of Bowie Hall Council last year and is already planning green-themed events for her building this year in anticipation of the new sustainability focus. Right now, Wheeler is working to set in motion a recycling competition between floors of her residence hall.
"I think it'll be really fun and bring a very Appalachian vibe to Hall Council," Wheeler said.
Eco-Rep positions, among other Hall Council executive positions, will be elected on Aug. 30 and 31.
Story By: Ashley Goodman, A&E Reporter
Photo courtesy of Leila Jackson