Senior pitcher Tristan Helms has had a journey to remember at Appalachian State because he did not quit when he was cut, and he continued to push forward and earn a spot on the team.
Helms was recently nominated for the Senior CLASS Award which, according to seniorclassaward.com honors, "the attributes of NCAA Division 1 senior student-athletes in four areas: community, classroom, character and compeition."
"I base my college career by trying to make Appalachian State well known and great," Helms said. "I try to do a lot of things in the community to make the baseball program stand out more off the field than on the field."
While juggling being a student and athlete Helms is also involved in SAC (Student Advisor Committee). Being in SAC, Helms acts a mediator between the athletic department and the baseball team.
"I am the vice president of SAC, and I help a lot with the money where I try and find the budget where we can help out in the community," Helms said. "Our newest thing is trying to break the stigma on mental health. We have been doing a huge fundraiser selling wristbands, and we will donate the money to a mental health program."
Pitching coach Justin Aspegren was at a loss of words when describing the type person and leader The Mountaineers have in Helms.
"Pretty plain and simple, he's the kind of person you want in your program," Aspegren said. "I don't know how you break down a guy like Tristan into come category. He comes in, he knows his role, to get left-handed batters out, which is not that big but he relishes it."
Being cut from a collegiate team can be devastating to most players giving them a reason to quit the sport, but most players do not have the heart like Helms.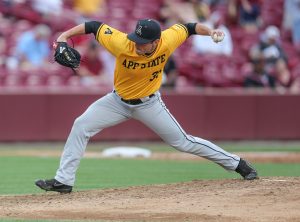 "Last year I went from the kid who was just trying to earn a spot to one of the leaders on this team," Helms said. "I try to use my experiences to help my teammates, especially the freshman, because I remember being in their shoes."
Knowing that he is not going to go pro after college, Helms tries to find different areas where he can impact the lives for his fellow Mountaineers.
"Helms is a special person. He is the kind of person you always want to be around," Aspegren said. "I bet Helms' teammates can guarantee they are going to have at least one teammate the rest of their life, that is the kind of person he is."
Helms also excels in the classroom and he has a job lined up with Prudential Financial in Charlotte for after his graduation this spring. He said the lessons he learned as a college athlete will help him survive in the real world.
"Being cut I had that no quit mentality, so if I'm not successful my first year at my job I'm not just going to walkout," Helms said. "I think I showed that on the field my first two years were not successful but I kept with it and had a great last two years, and I believe I can apply that to my job."  
With all that being said the baseball season is far from over, with the Mountaineers starting up conference play, and for Helms he wants to make a it a memorable spring.
"With my role being small I want to go out there every time I get a chance and complete my role," Helms said. "Being a left-handed pitcher I usually face off against left-handed batters, so whether that is one batter or eight batters I want to get the job done."
The Mountaineers have started off slow, but with conference play opening up it is a fresh start, and Helms is ready to help contribute.
"As a team we need to get some momentum," Helms said. "We have had a lot of adversity this year with travel and weather and even not playing up to our capability. Our goal is to win the conference championship so we need to take it one game at a time."
With the Mountaineers knowing that every game counts from here on out, they must play some of their best baseball to give them a chance to succeed.
"The beauty of baseball is that we get to play a lot of games," Aspegren said. "It's a thirty game World Series in the Sun Belt, and we're only nine in, so we have seven weekends to move forward and get where we need to be."
Story By: Michael Pigg, Sports Reporter
Photos: Courtesy of Chris Lang and App State Athletics