The annual High Country Beer Fest will celebrate its 10th anniversary on August 26 at the High Country Fairgrounds, with a day filled with craft beer tastings, local food, live music and educational seminars.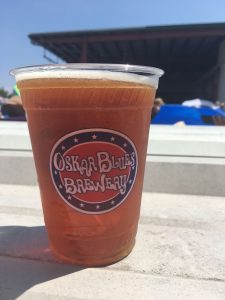 This year, 60 breweries are represented at the festival, including Boone's own Appalachian Mountain Brewery, Booneshine Brewing Company and Lost Province Brewing Company. Most of the breweries are from North Carolina, but several others come from all around the U.S., from neighboring Southeastern states to states as far away as Massachusetts and Oregon.
High Country Beer Fest is mainly a fundraiser for Appalachian State's fermentation sciences department, although some funds from the entirely non-profit event go to other local charities, including High Country Local First, Mountain Alliance and Blue Ridge Conservancy-Middle Fork Greenway Association.
The idea for Beer Fest was born from a group of beer enthusiasts who wanted to bring awareness of the growing craft beer industry to the High Country. That group included Brett Taubman, a faculty member in the chemistry and fermentation sciences departments at Appalachian State.
"It's grown from a cozy little indoor gathering with a couple dozen breweries and a few hundred attendees to one of the premiere outdoor events in the High Country," Taubman said.
Taubman is the lead organizer of the festival, and is also the president of Ivory Tower, Inc., a non-profit organization that he started along with other fermentation sciences faculty. Ivory Tower's purpose is to support student scholarships and academic research in fermentation sciences, and it hosts Beer Fest each year as a benefit.
So far, Taubman said, Beer Fest has raised about a quarter million dollars for the fermentation sciences department and tens of thousands of dollars for local charities. This year, the festival is bigger than ever.
"We have the most breweries we've ever had, Flow Tribe is headlining the music this year, we've got more food than ever, a shade tent with a games area and more space in general," Taubman said.
During Beer Fest, which takes place from 3 p.m. to 7 p.m., festival-goers wander between the different breweries' tents to sample their craft beer. In between, they can grab a bite to eat, enjoy the live music and even attend seminars where they can learn about beer and food pairing.
Several restaurants and food trucks come out to provide the beer tasters with delicious local food. Farm to Flame, Hatchet Coffee, The Cardinal and Appalachia Cookie Company are among the food vendors at this year's Beer Fest. Live music will be provided by Earleine, a local Americana singer; Mission in the Rain, a Boone-based band celebrating the music of the Grateful Dead and the Jerry Garcia Band; and the headliners, Flow Tribe, a New Orleans funk band.
Festival-goers also have the opportunity to attend seminars throughout the day, where local restaurants and breweries partner to teach about pairing different foods with craft beer. The first is cheese and beer pairing with Heritage Homestead and Ivory Tower Brewing, a brewery run by Appalachian State fermentation sciences students and faculty. There will also be pizza and beer pairing with Mellow Mushroom and Appalachian Mountain Brewery, and cookie and beer pairing with Appalachia Cookie Company and Booneshine Brewing Company.
One important piece of advice for those attending Beer Fest?
"Don't drink every beer," Joe Cameron, who works at Peabody's Beer & Wine Merchants, said. "That's what I did when I went, and it did not end up well."
Kevin Burnette, the general manager at Peabody's, agrees that it's good to have a game plan going into the festival.
"With anything like this, you wanna be super selective; you don't have to try everything," Burnette said. "There will be a map or list of breweries; just go through them and see who you want to check out. Make a game plan, and that's the responsible plan, too."
Getting people home safely after the event is a priority for festival organizers. Mountain Alliance and River and Earth Adventures will be running buses from Raley Lot on App State's campus to the festival and back from 2 p.m. until 9 p.m. In addition, Bill's Garage will tow vehicles with up to four passengers for free within the Boone city limits until 9 p.m. Designated drivers can also buy special tickets to the festival for only $10.
General admission tickets to High Country Beer Fest are $40, and include unlimited access to the breweries, seminars and music. VIP tickets are also available for $80, with perks including one hour early entry and free food and merchandise. Tickets are available online at hcbeerfest.com and in person at Peabody's, located on Highway 105 in Boone. Cameron said that the festival will likely sell out close to the event day.
Beer Fest is not only a place for crowds of people to have fun and drink beer, but it is also a chance for people to appreciate the art of craft beer and help support fermentation sciences research.
"Think of it as a fun and educational experience where you'll get out of it what the fermentation sciences guys want you to get out of it," Burnette said. "These breweries put their hearts and souls into what they do; it's a craft, and you can learn a lot from an event like this."
Story By: Adrienne Fouts, A&E Editor
Photo By: Adrienne Fouts, A&E Editor