Watauga Residential College is an integrative learning experience for students who are looking to get a little more out of their educational careers here at App State. Watauga is a place for students to come together and learn more about themselves, their spirituality, the environment and pretty much anything one may look for in Boone. Students in Watauga who live on-campus live at the Living Learning Center, a dorm at one of the highest points on campus. However, those not associated with Watauga may wonder what is actually happening up the hill.
Watauga is the oldest and largest residential college at App State, with 310 occupancy in total, 111 of them being freshmen. It was designed to be an experiential learning community, where all the students live and learn through personal accounts and experience. Members of the residential college take classes that other students may not typically be able to take, classes that prove to have more discussion and reflection based on readings assigned throughout their classes.
One class, "Food, Community, and Place," goes through the in and outs of how food affects our lives and the economy. The course includes self-reflections and readings of the approaches toward food in society.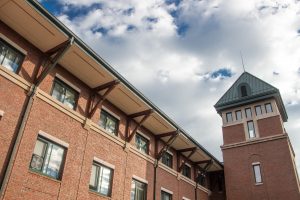 "The book 'Hunger' by Roxane Gay has definitely been my favorite to read so far. It depicts the true story of a woman who, after a sexual assault, eats continuously in hopes of making herself look repulsive," Hannah Hagler, a freshman art education major, said. "It was an extremely powerful book and the in-class discussion provided a lot of insight into how the media portrays food and body image."
Unlike many classes, in which students go to class, learn and then leave, Wataugan classes provide students with a look into the deeper meaning of how these topics affect people's everyday lives. From the discussion of gender roles in society, portrayals of male and female bodies in the media and even to classes discussing witchcraft, Watauga offers a wide array of courses dedicated to helping students learn more about themselves, discover the purpose of human existence and learn about the impact humans have on society and the environment.
One of the common themes within the Watauga community is their general sense and care for knowledge and environmental issues. A lot of residents are environmentally aware, with some being vegetarians, vegans and promoters of more environmentally-friendly products. The Living Learning Center also happens to be the only hall on campus that has gardens, a greenhouse and even a compost area for the students to use.
"Wataugans are supposed to be a collection of people who are extremely diverse, well-rounded and academically aware," Jenna Lipa, a freshman nursing major and member of the Watauga college, said. "Unlike most residential learning communities at App, Watauga doesn't hold a common theme except for the fact that we all love learning. We love to be more aware of global issues and current events."
Wataugans also have to complete at least 20 hours of service during their first two years. Many students complete service learning experiences in their classes, working with organizations including local animal shelters; Opposing Abuse with Service, Information and Shelter, a nonprofit that serves survivors of domestic and sexual violence; and Hospitality House. Wataugans also spend 8 hours doing service during the first week of move-in on a day called "Trail Day." On Trail Day, Wataugans work with the Tennessee Eastman Hiking Club to help remove vegetation and create a walking trail in Tennessee.
In order to apply to Watauga, an entrance essay must be provided. The entrance essay this year asked students to describe a time in which they were a leader, an extremely valued factor for the residential community.
Carson Rainey, a freshman art and visual culture major, provided an outside perspective on the Watauga community.
"I go up to Watauga a lot to visit some of my friends, and the vibe there is always so interesting. You can definitely tell that everyone there is really in tune with themselves," Rainey said. "Everyone always looks so peaceful and happy, it's an easy place to make friends when you're first starting out at college. They are a very accepting community and everyone is always so nice. I can imagine it's an amazing thing to be a part of."
Story by: Amber Grant, Intern A&E Reporter
Photos by: Sarah Billings, Intern Photographer
Featured image: The Watauga Residential College is located in the LLC residence hall, which is on the west side of campus behind the music building.