App State Athletics hosted a press conference on Friday afternoon announcing their new addition to the Mountaineer coaching family with the hiring of new softball head coach Shelly Hoerner.
The Mountaineers' head coaching position became available in May after Janice Savage was released after three years with the program.
"I am thankful and excited for this day," App State athletic director Doug Gillin said. "[We've] hired the most experienced and most successful head coach that's ever coached our softball program."
Hoerner arrives to App State by way of Georgia Tech, where she spent four seasons as head coach and amassed an 80-125 record and a 32-67 ACC record before being released from her contract by the Yellow Jackets.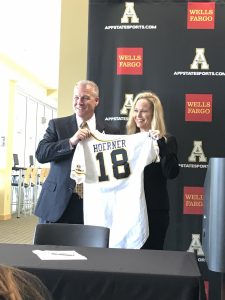 At Georgia Tech, Hoerner acquired her 500th career win during the 2016 season.
Prior to Georgia Tech, Hoerner spent time at the College of Charleston, producing a 254-206 record. Her time in the Southern Conference makes her fairly familiar with App State softball and she was coaching in the opposing dugout when the Mountaineers' Sywassink/Lloyd Family Stadium opened for competition in 2007 against the Cougars.
Hoerner was also the head coach at Barry University in Florida from 2000-2005 and was an assistant coach at N.C. State in 2005.
Hoerner emphasized how much she wanted a winning mindset and stated several times her desire to rebuild the program.
"We will not be at the bottom of the Sun Belt," Hoerner said. "We will be a winning program. We will have a winning mentality on the field, in the classroom and off the field."
With the Mountaineers compiling a 39-114 and 5-66 Sun Belt record over the last three season, Hoerner used her time at the podium to speak to the players about her philosophy as well.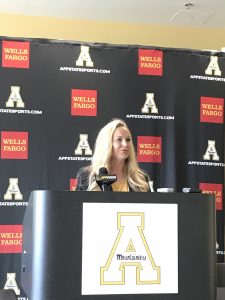 "We will do this together. It's not about me, it's not just about you, it's about the entire program," Hoerner said. "From the support staff to the players, we will be blue-collar, we will have integrity and we will be purposeful in everything we do."
Wasting no time, Hoerner is heading out on the recruiting trail on Saturday and getting familiar with Sun Belt competition. The Mountaineers are hoping for a quick and impactful turnaround to revive the program.
Story and Photos By: Brooks Maynard, Senior Sports Reporter