Hoops Grades: App State MBB vs. Western Michigan (Puerto Rico Tip-Off at Myrtle Beach)
After every men's and women's basketball games, The Appalachian will be breaking down the Mountaineers' positions for grades.
Game: App State men (2-2) vs. Western Michigan (2-2) (Game two of Puerto Rico Tournament at Myrtle Beach)
November 17 at 5:00 p.m.
Final Score: Western Michigan 86 App State 67
Guards: B-
Looking to capitalize on a 32-point night from junior guard Ronshad Shabazz and freshman Justin Forrest, Western Michigan was much more prepared with strong perimeter defense. Relying on the 3-ball and constant movement at the top of the key against Iowa State on Thursday with 14 assists and one turnover, the Mountaineer guards were called for five fouls, six turnovers and only had five assists. Shabazz led the group with 25 points on 9/19 shooting and Forrest had 13 points and four 3-pointers. App State also allowed 31 points on 9/16 shooting to Bronco's star guard Thomas Wilder. Sophomore O'Showen Williams struggled to get up the court with pressure defense, and the slow perimeter pace forced App to play inside.
Forwards: C-
Used as a three-point threat against Iowa State, the Mountaineer forwards lacked aggression, speed and ball movement against the Broncos. Sophomore Isaac Johnson, juniors Tyrell Johnson and Bennett Holley and senior Craig Hinton showed a combined 3/13 from the field, and were almost nonexistent offensively in the second half. Three-point specialists Bennett Holley and Craig Hinton were unable to score and were also called for a few illegal screens. Isaac ultimately led the group with 12 points and nine rebounds, but Tyrell struggled, only playing 11 minutes. In total, the four forwards picked up 12 fouls, even though some were questionable.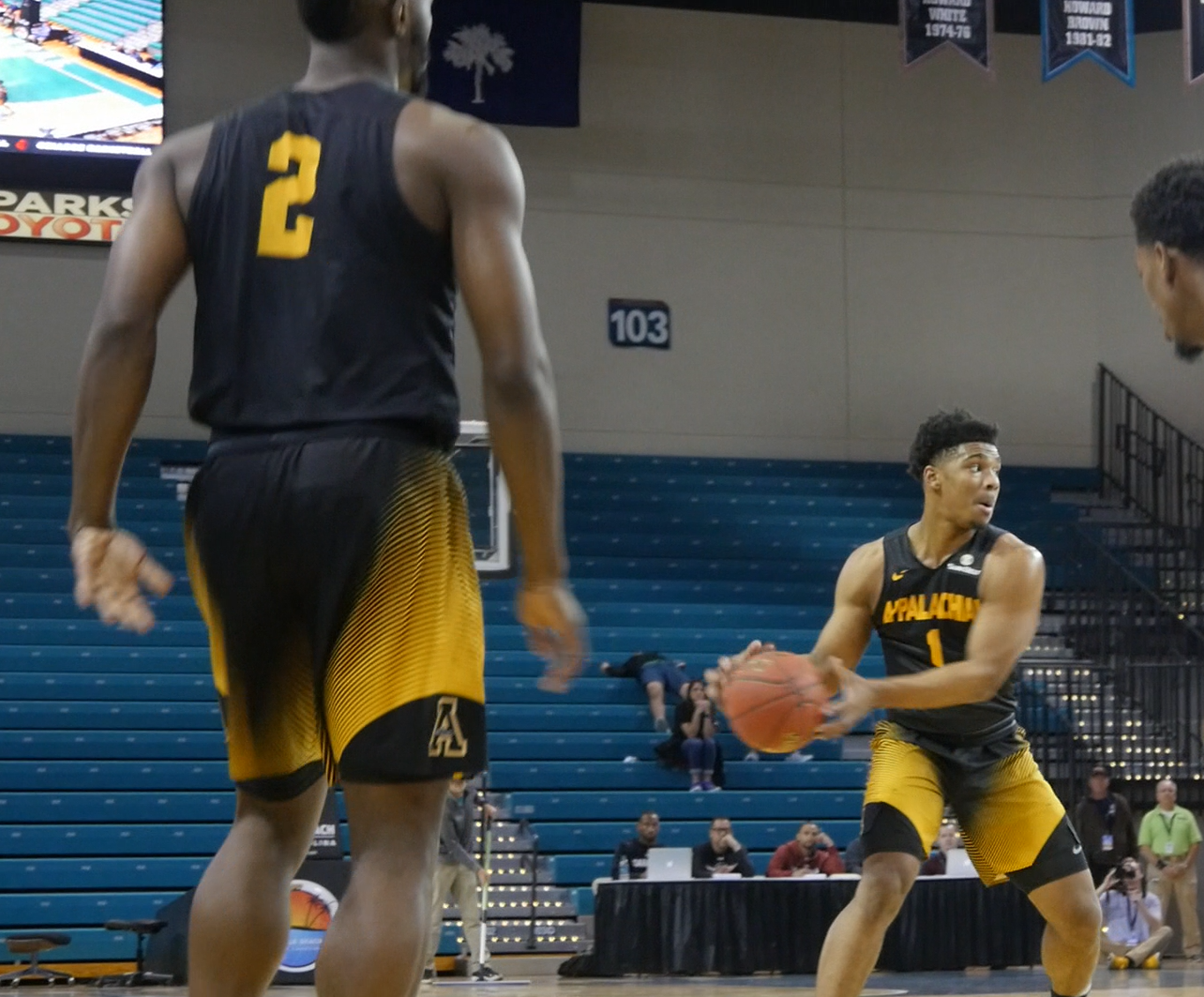 Centers: C
After a tough night against Iowa State on Thursday, senior Griffin Kinney and sophomore Jake Wilson played a much bigger role against Western Michigan. Kinney struggled with fouls once again but was one of four double-digit scorers for the Apps with 10 points, and he hauled in five rebounds. Wilson played 11 minutes contributing with strong defense and five rebounds. With the perimeter play slowed down by the Broncos, App was forced to get the ball inside to Kinney and Wilson. Both helped limit the Broncos center to four points and four fouls. However, Kinney missed some key free throws late in the game and had four turnovers. In total, the Broncos scored 20 points off turnovers in comparison to App's two.
Player of game: Ronshad Shabazz
Once again, Shabazz was at the top of the Mountaineers stat sheet. Shooting 9/19 from the field with 25 points, Shabazz kept the Mountaineers in the game throughout the first half. Despite shooting 3/10 from three and being unable to score during App's seven and a half minute scoring drought to start the second half, Shabazz led the Apps with four assists and 36 minutes played. Shabazz has now scored 58 points in the first two games of the Puerto Rico Tip-Off.
Overall: C-
Tied at 40 at halftime, the Mountaineers completely fell apart in the second half and scored less than 98 points for the first time this season. Allowing Western Michigan to go on a 13-0 run to start the second half, App State lost any chance they had of defeating the Broncos. Relying on the 3-point line through the first three games of the season, Western Michigan's tough perimeter defense forced App to play inside, and turnovers caused the Mountaineers to struggle, with Shabazz calling the second half "a lack of focus." The Mountaineers will have to regroup and figure out what can be done when the perimeter offense struggles, and how to refocus in the second half before the season is lost.
Story By: Jason Huber, Sports Editor
Photos By: Jamie Patel, Video Editor