Proving his worth on the national stage against Georgia in the first game of the season, senior wide receiver Ike Lewis is having a breakout year for the Appalachian State Mountaineers football. Out of Greenville, South Carolina, Lewis has blossomed into a star receiver in his last year at App with seven touchdowns in his last four games in a career year.
Lewis started off the season slowly, recording only 11 receptions for 113 yards in the five games to start the year. But in the previous five games, the star wideout has been playing with a chip on his shoulder, recording 27 receptions for 448 yards.
"He's our go-to guy," senior quarterback Taylor Lamb said. "He runs great routes, and catches a lot of balls. We knew coming in that one on one match-ups with No. 2 are going to be dangerous."
The wide receiver's recent play gives Lamb another hard working receiver after losing senior Shaedon Meadors. The coaching staff has extreme confidence in his ability to catch almost any ball thrown his way. Lewis has recorded two 100-yard games over the past few weeks, showing that the coaches want to get him the ball when possible. Overall, the former track runner is a reliable target.
"He is extremely reliable. You see it week in and week out," Lamb said.
Along with his play, Lewis brings experience and a hard working mentality to the field. He is fast and crafty, which makes it easy to produce big plays, but he also will fight hard for his teammates as well.
"I expect complete effort. He brings explosive energy," Lamb said. "He is going to go 100 miles an hour and he is going to do the right things for the team to win."
With the injuries at wide receiver, Lewis was called to fill in the shoes. With his experience, the transition was not too hard to manage, and his experience and play making skills have definitely shown.
"As a senior, Ike has done a good job," wide receiver coach Justin Watts said. "Over the last four weeks he has really began to make plays and become the guy where we know we need to get the ball to."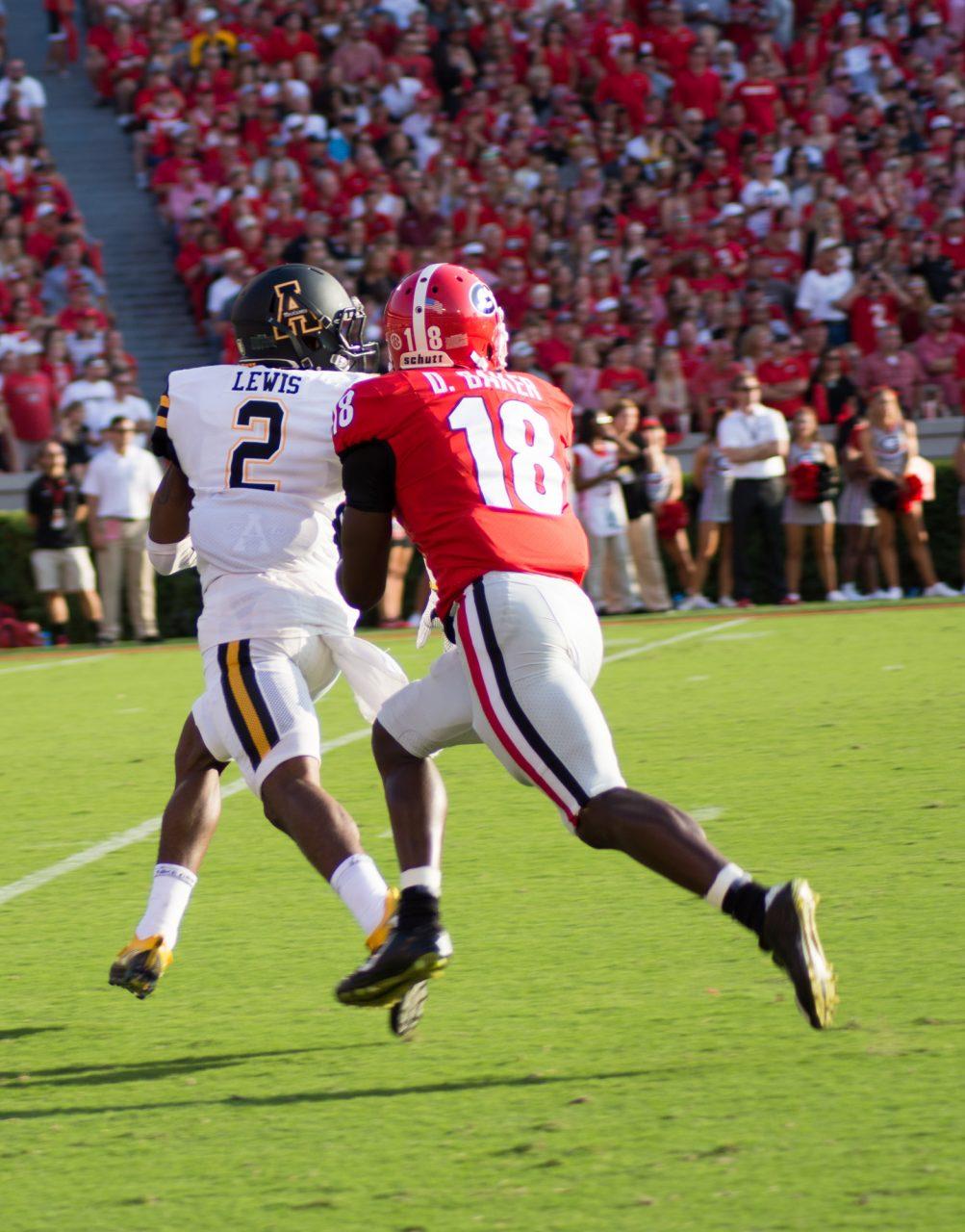 Along with Lewis' skill set at wide receiver, his leadership qualities have rubbed off onto the younger wide receivers. As a senior, he knows how and what needs to be executed for the team to be successful, and this year he has blossomed into that leadership role.
"He is helping some of the younger guys come along and showing some great leadership qualities," Watts said.
Over his four years, the wide out has really progressed. Each year he has grown more familiar to the offense and to the role he knows he needs to play. And in his last year with the Mountaineers, he has completely filled that role.
"He has improved mentally in understanding football," Watts said. "He has evolved because he knows what we want from him offensively and also knows what the other receivers need to be doing."
With his speed, the coaching staff wants to make sure they give him a chance to get the ball in open space. The former high school track star is dangerous with the ball in his hands, and the coaches know he can make the big play.
"We match him up with safeties and linebackers, and that enables us to take the shot downfield," Watts said.
The former basketball player was also recruited by some other major programs that include North Carolina State University, Louisville, Georgia Tech and Georgia Southern. But despite the recognition from those big programs, he decided to attend Appalachian State.
"I came up here and I just wanted to get out of my comfort zone. I love the tradition here," Lewis said.
Lewis has grown confident this year as the season has progressed. He has worked hard to become the star wide receiver. He knows his role each game and wants to go out and execute every time. Even when Lewis is not practicing or playing, he is still thinking about what he can do to execute.
"I am just taking more mental reps," Lewis said. "When I am out at practice, I am just looking at reps and going off what I see, and I try to critique the players to see what their doing."
Being the leader for the wide receivers, Lewis wants to bring a family-like mentality. He wants to make the other wideouts better, so he will give them constructive criticism to help them improve. He does not just want to make himself better, but the whole team as well.
The leader embraces his role as the offense's go-to guy. His explosiveness and mentality brings a spark to the team when they need it and it makes the team as a whole better.
"I just try to help my team and try to make a play," Lewis said. "I want to get a spark for our offense to keep going."
Like every player, Lewis knows he still has areas to work on. He has had a great year, but even the best players need to work on other skills in order to help the team improve.
"I would say I need to work on my strength in blocking and in my transitions in and out of routes more," Lewis said.
For inspiration before every game, Lewis watches Jarvis Landry, a wide receiver for the Miami Dolphins. Earlier in the year against Georgia, Lewis channeled his inner Landry by making a one-handed grab. The catch earned him a spot on Sportscenter's Top 10 plays.
"It was unbelievable," Lewis said. "I never thought I would be on the Top 10 of SportsCenter. I was so hype."
In his final year, Lewis wants to make sure he cements himself as one of App's greatest, on and off the field. For him, impact goes beyond the football field and into life as a whole.
"I wanted to be remembered as a great receiver, but as an even better person," Lewis said.
As time winds down on his career, it is safe to say that Ike Lewis had definitely achieved both of his goals.
Story by: Eric Jackson, Sports Reporter