Appalachian State men's track and field dives into the 2017 indoor season with high hopes and anticipation as they attempt to win a conference championship in a competitive Sun Belt Conference.
Trying to dethrone back-to-back men's Sun Belt Champion UT Arlington, App State is built around a young talented core with a mix of veterans who have been in the program and know the "Appalachian way."
Two of these veterans that anchor the Mountaineers are senior William Buckley, a sprint-relay runner, and junior Ryan Hastings, who is a long sprint runner.
Buckley has high expectations for his team this season, and it stems from the success of the women's cross-country championship in the fall.
"We have seen the girls do it so it's up to us to go out there and do it," Buckley said. "I feel like everyone's expectation for the team is to finally get a ring for the first time in the Sun Belt."
Buckley help set goals for the team, and said he hopes to improve individually.
"I would like at least top three in all of my events," Buckley said. "I've yet to get a top three spot. I've been fourth many times."
Buckley is hoping to improve on a solid season and so is Hastings, who has battled injury but hopes to sustain his place at the top of the Sun Belt after being the indoor champion of the 800m a year ago.
Hastings prefers running outside rather than inside, but health limited him from outdoors this season. He is hoping to regain his excellence in the indoor season that has brought him better luck.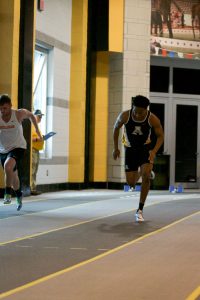 "My goals are try to win conference again which is going to be pretty tough this year with some good competition, especially in the 800," Hastings said.
Competition isn't lacking in this conference with UT Arlington, Texas State and surprise team Arkansas State all on the prowl to win a championship.
Despite the personal and team goals of these two runners, both have made a constant attempt to help their teammates, especially newer teammates, to work hard and motivate them to more success in building up this program.
"I have to show the younger guys, especially the freshmen how everything goes and try to keep them on track at practice and help motivate," Hastings said.
Leadership and holding others accountable is one of the strengths of the team.
"Everyone respects everyone," Buckley said. "We have a leader in each specific group. In our throws we have Nathan Milch, in our jumps we have Cole Finch and in our sprints we have me, Antonio Marcano and a couple of other seniors."
A runner that has been opening eyes is freshman Jabari Johnson.
Since the start of the 2017 season, Johnson finished first in the 200-meter race at JDL College Kick-off Classic on Dec. 3, along with finishing second in 300-meter in the Mountaineer Open Indoor Track Meet in Boone on Jan. 20.
"The Sun Belt is so competitive for sprinting," Hastings said. "You gotta be fast."
In the Mountaineer Open Indoor Track Meet, the Mountaineers men finished in first place with a score of 97.5.
Winning in only the third meet of the season made it a successful weekend for the Mountaineers, but Hastings sees plenty of room for improvement as this team goes forward.
"We have definitely had some highlights but there are some things to work on to get better for conference."
Story By: Adam Hothersall, Sports Reporter