A little bit of everything
In all sports, every player has one role they specialize in. Years of training can be spent on honing a player's skills so that they can be the best at that respected position.
App State baseball's Colin Schmid, a sophomore from New Bern, North Carolina, is already looking to make his mark in his time spent at App State.
After being a part of one of the youngest pitching staffs in the country last year, in which 52 of the 54 games were started by freshmen, Schmid was atop the team in key categories including first in strikeouts, second in ERA, first in games started and second in innings pitched.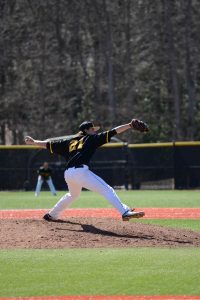 "He stopped being a freshman for his last eight or nine starts last season," assistant and pitching coach Justin Aspegren said. "He didn't pitch like a freshman, so now we're trying to roll with that, now that he's used to the work loads."
Going along with an impressive resume for a freshman pitcher, Schmid was also in the top five on the team in eight key batting statistics. He posted a .285 batting average, good for third on the team, a .401 slugging percentage and 39 hits.
"I'm probably better as a pitcher," Schmid said. "But I still hit and do all the other things other guys do too, but I try to be the best I can at both."
This attitude is something that sets Schmid apart from other collegiate baseball players: a good work ethic that allows him to play two roles and play them well.
"You have to have a superior work ethic," Aspegren said. "He started on opening day in the three hole in the lineup and then he was pitching the Sunday game against Old Dominion."
Collegiate baseball requires a lot more training in throughout the week, and some of the smallest things have to be worked on to keep up a strong, consistent level of baseball.
"The amount of work that's required to be a collegiate starter and then to do it over 54 games as opposed to being a two-way guy in high school and playing 30," Aspegren said. "There's a substantial amount of work that these guys have never done."
Something that is different from last season is an almost entirely new coaching staff headlined by head coach Kermit Smith. With Smith not seeing Schmid play last year, his usage might vary this season.
"He's very gifted on the mound and that's something we have to balance," Smith said. "He has ability and adds some depth in the left-handed spot in the lineup and that's something we're going to look to utilize as much as we can but we have to be careful, especially early on in the season, not to overdo what he's doing."
To try and combat that potential fatigue that might set in over the course of a season, the coaches decided to give Schmid a position change while he is not pitching.
"We moved him to first base to try and eliminate some of that wear and tear," Smith said. "He will have the ability to be a designated hitter for us or pinch hit, but like I said, we don't have many left-handed options at the plate so that's going to give us the ability to utilize him a little bit."
Now with a full year starting under his belt, Schmid looks to bolster the Mountaineers rotation and batting order. Schmid's newfound experience and ability looks to lead App State forward into a great season.
Story By: Taylor Story, Sports Reporter