Howard Street's new restaurant and bar, The Local, has attracted a large crowd of university students, young professionals and local residents since its opening Sept. 13.
The Local replaced Char Restaurant and Bar but remained under the same family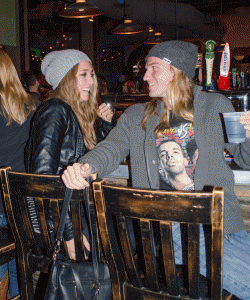 ownership responsible for managing the venue since 2009.
"We think we improved Char, but it was never really our vision," said general manager Colton Lenz, whose family bought Char slightly over five and a half years ago. "Last year we started seriously talking about changing the concept. We wanted to focus a lot more on music, so that's what we did."
The vibe of The Local, Lenz said, is meant to have a groove and soul feel, with continued weekly events like Throwback Thursdays to bring in a feeling of funk. Although Lenz said he does not wish to eradicate the DJ atmosphere completely, The Local's main focus is on live bands.
"We learned a lot from Char where we had fancy dinner, the low cost at lunch and then the club scene [at night]," Lenz said. "We're trying to become thought of as a live music venue, and we want to offer the town of Boone a little bit more variety in terms of what bands they can come see."
Kat Bundy, public relations manager for The Local and double major in communications and English at Appalachian State University, is responsible for reaching out to residents and students about the restaurant's new events and menu.
"We've got a lot of different target audiences," Bundy said. "We have to target the students differently than the older and young professional crowd. We want this to be somewhere where you can have fun and drink, but also somewhere where you can bring your parents for dinner."
Lenz said the restaurant has been very well received for lunch and dinner, while taking an expected downturn in late night revenue due to the new 21-and-over policy. The new menu is drastically different from Char's, with affordable options and an average entree price of $12. The restaurant has a new commitment to buying from local food producers.
"Right now our food is 30 percent local," Lenz said. "We are getting the local farmers involved so that they can get us what we need. Our goal is to eventually have 70 to 75 percent local product down the road."
Bundy said a change in the beers is available to customers as well. Management has a set goal of providing customers with a dozen tap beers coming from local and regional areas, as well as future imports of beer from the Wicked Weed Brewery in Asheville.
Criminal justice major and junior Kenny Dugdell describes his enthusiasm at the restaurant's new vibe.
"I've wanted Wicked Weed [in Boone] for a long time," Dugdell said. "I'm excited that we have another music venue here in Boone – we've needed a larger scene for a while, in my opinion."
So far, The Local as hosted performances from bands like Spiritual Rez, Simplified, Dr. Bacon and Ellis Dyson and the Shambles. The next performance will come from the band Big Something, which will perform at 10 p.m. on Nov. 10.
"[Big Something] is kind of a big deal for us," Lenz said. "Melissa Reeves has performed here and she will perform again in the near future. We are looking at a lot of different bands – some local unknowns but also bigger name bands and that are going to draw a larger crowd."
The Local continues to host favorite weekly events such as wing night, trivia, brunch, drink specials on the weekends and half priced wine on Wednesdays.
Story: Kelsey Hamm, Intern A&E Reporter
Photo: Meredith Warfield, A&E Editor