Local Cat Shelter Providing 'Fur'ever Homes
Love, Bones and Furever Homes is a no-kill, non-profit rescue center operated by Kourtney Wunsch and her husband out of their home in Boone. Wunsch currently has nearly 100 cats in the rescue, aproximately 30 of which live in her house. She started the rescue center in July 2015 after getting married and experiencing some health issues.
"I was really looking for something to do in my own time where I could rest when I got tired, and I'd always wanted to open a rescue," Wunsch said. "I just didn't think we would be able to at our age and where we were in life. We started really, really small and it has just exploded from there."
Her husband encouraged her to start the foster program and turn her dream became a reality. She grew up around animals her whole life and spent time at the University of Alabama volunteering with the local animal shelter.
"My volunteer work was with kids and the animal shelter," Wunsch said. "I just ended up working at the animal shelter instead of volunteering, so it all really started there. That was my first experience with an animal shelter and from there it just hooked me."
Cats were easier for Wunsch to rescue and adopt than dogs, because there are more politics and opposition involved with adopting out the dogs and rescuing them from shelters. There are also many more dog rescue centers in the area than there are cat rescues.
"There's only about eight cat rescues in the state of North Carolina," Wunsch said.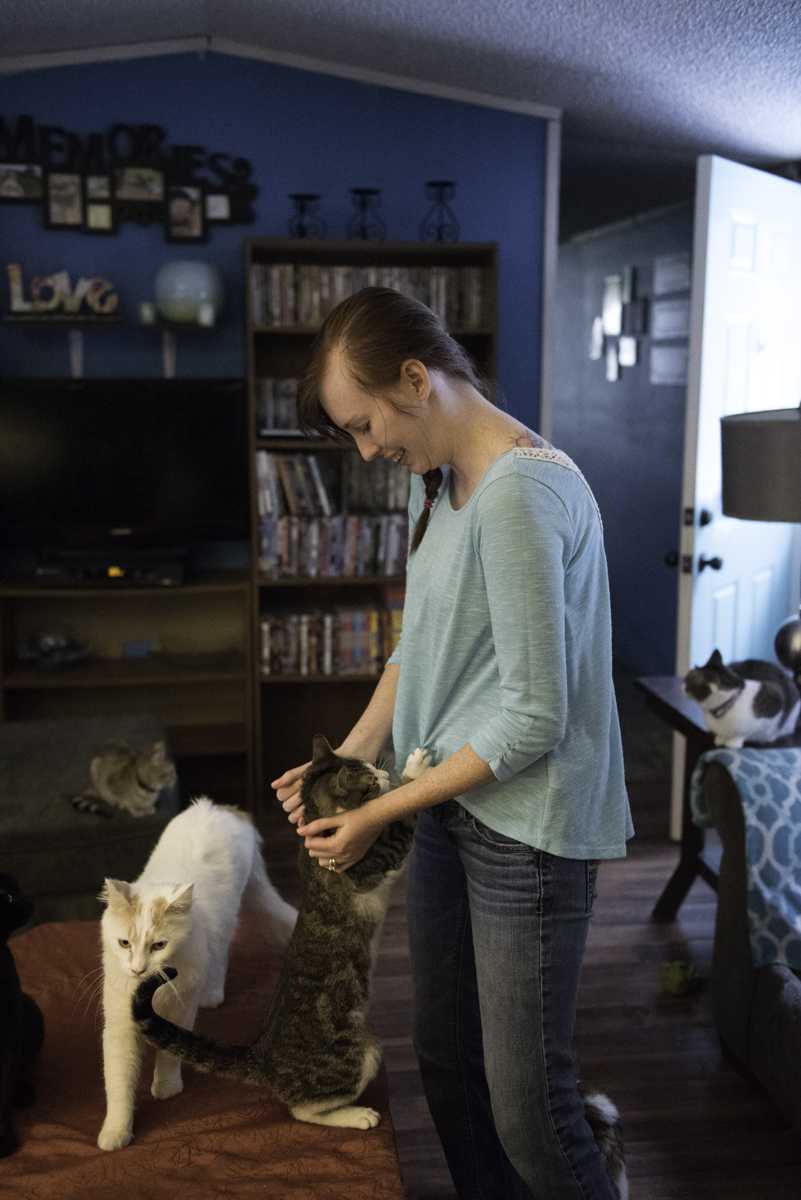 Although it is an all-cat shelter, she will take in other small animals. Wunsch rescues most of the cats through shelters that euthanize a large number of animals each week and she also takes in owner surrenders for people who no longer want their cat, but do not want them to go to an animal shelter.
"The cats that we take in [from the animal shelter] are going to die that very day," Wunsch said.
She is unable to rescue all of them, because sometimes people give her problems and opposing groups may intervene with her.
Cats that do not live in her house are fostered at other people's houses in North Carolina. Wunsch usually only lets people foster a maximum of four cats, but some of her close friends are currently fostering 12 cats.
"[The foster system is] very helpful and it allows us to take in more cats," Wunsch said.
Emily Dinnsen, senior management major, is a volunteer at Love, Bones and Furever Homes. She has been friends with Wunsch for four years and helped her when she started the shelter. Dinnsen became more involved with the organization two months ago. She helps with the contracts and transportation of the cats.
"I currently foster four cats that came from a hoarding situation," Dinnsen said.
Alexandria Fletcher has volunteered with Love, Bones and Furever Homes since October 2015. She helps out with everything from paperwork to administering medicine, depending on the day.
"I heard about it through Craigslist because my boyfriend and I were looking to foster and went to Kourtney's house and fell in love with it," Fletcher said.
She and her boyfriend ended up adopting their 6-month-old kitten, Malcom, through the organization. The couple liked that they were able to interact with the kitten on a personal level before they adopted him.
"I really like getting to know the people who come in who want to adopt the cats," Fletcher said. "I enjoy helping find them a good home."
Wunsch and Fletcher believe that there are many benefits to adopting from Love, Bones and Furever Homes. Since the cats have free reign of Wunsch's house, customers are able to see each cat's true personalities and bond with them before they adopt.
Wunsch also does not put a restraint on the amount of time someone spends with a cat before they decide to adopt.
"With us you are really able to see their personality," Wunsch said, "I do what needs to be done for the cats."
Besides preventing cats from being euthanized, Wunsch wants to help the animal shelters and communities. The Watauga County Humane Society is a no-kill shelter, so she does not rescue from them.
"We want to help the animals, but we also want to help the shelters get on the no-kill bandwagon," Wunsch said.
Although most adoptions at Love, Bones and Furever Homes are run out of Wunsch's house, she holds events around Boone where the cats are out for adoption. She mainly runs adoptions out at the Mast General Store on King Street when it is warm and the Boone Town Mall when it is cooler out.
The adoption fee for Love, Bones and Furever Homes is $50 for all cats. Since Wunsch utilizes online advertising on Facebook and rescueme.org, she also adopts to people out of state. Love, Bones and Furever Homes is on Facebook along with photos and brief blurbs about each cat that is available for adoption or fostering. Those interested in adopting or learning more about the organization can visit the Love, Bones and Furever Homes Facebook page.
Story by: Celia Calhoun, A&E Reporter