The Appalachian State softball team still has under half a season to play, but they have already won more games than they did in all of last year. Despite recent struggles against Sun Belt teams, a large part of the Mountaineers 2017 turnaround and success has been due to the team's 12 freshmen, especially freshman pitcher Kenzie Longanecker.
Longanecker is a freshman pitcher from Sanford, Florida, who has already become a dominant part of the Mountaineers roster. In 23 appearances, Longanecker has already notched eight wins, a 2.01 earned run average, four complete games, 87 strikeouts and a save.
Head coach Janice Savage believes that Longanecker's work ethic and humility have coupled with her tremendous talent to facilitate her fast transition and early success.
"I think the biggest thing that's led to her early success is how she has handled her early playing experience," Savage said. "She's still growing and makes freshman mistakes, but she owns up to them and wants to get better. She's willing to make changes and make adjustments. She understands the importance of weight lifting and condition which has helped her be successful."
Longanecker has played a big role for Mountaineers despite the fact that she is the only freshman on the pitching staff.
"I think there's a lot of diversity within our pitching staff, and Kenzie brings that piece that can help the other players be more effective," Savage said. "If we can get into the later innings, and bring in Kenzie, her drastic change in pitching style makes a big difference."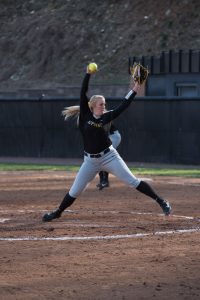 With Longanecker's pitching style, hard work and talent, her transition from high school to college looks to have been seamless, but Longanecker acknowledged that some parts of being a collegiate athlete took some getting used to.
"We have a lot more practice time, and a lot more one-on-one with the coaches and you're always being watched which was overwhelming at first," Longanecker said. "However, overall it's been good, and helped me push myself."
Longanecker struggled some recently, now that the Mountaineers have entered into their difficult conference schedule against the Sun Belt, one of the best softball conferences. However, Appalachian's pitching staff has plenty of veterans and a senior leader to help Longanecker find her groove against the more difficult conference schedule.
"Something I struggled with was the high school to college to transition," senior pitcher Vanessa Ciocatto said. "This year we've tried to help the freshman understand that this is a long season. You have to push through, and if they're not succeeding at the beginning of the season they'll still have plenty of opportunities to improve and succeed this season."
Even though Longanecker hasn't been able to help the Mountaineers get their first conference win, the experience of pitching in Sun Belt conference is very valuable. The Sun Belt conference features Texas State, who played in the college softball world series last year, and Louisiana, who is currently 17th in the nation and advanced to the second round of the college softball world series last year.
As the Mountaineers enter the final stretch of their season, Longanecker has started working with the coaching staff on improving some key aspects of her game to be able to compete and win against the difficult Sun Belt conference.
"I think the biggest thing for Kenzie is that we have to work on conditioning with her, so she can pitch more innings for us," Savage said. "We also are working on precision, so she can hit spots when she gets tired."
The Mountaineers hope that the changes to Longanecker's game will help them to go on a late season conference run and achieve their team goal.
"I want to make a difference every year I'm here," Longanecker said. "I really want to help this year's seniors achieve their goal of making the conference tournament."
The Mountaineers face an uphill climb to reach the conference tournament this year, but with talented freshmen like Longanecker, anything is possible for this year's team.
Story By: Colt Jensen, Sports Reporter
Photos by: Halle Keighton, Photo Editor