After the loss of high-impact seniors Emily Corrigan and Jess Keller from last season, it was easy to tab outside hitter as a problem position for the Mountaineers volleyball this season.
While head coach Matt Ginipro had many options for starters at outside hitter, they were extremely limited in playing experience.
Freshman Emma Longley caught Ginipro's eye and quickly became a regular starter on the court for the Mountaineers. Not too long after, she became one of the most efficient scorers App State has seen in their history.
"I honestly didn't see it coming. I watched Emily [Corrigan] and Jess [Keller] play and I took notes on that before I came here," Longley said. "I saw how they worked and how they moved and I really feed off the energy of the team now to boost my confidence and realize that I can do my job like they did regardless of my age."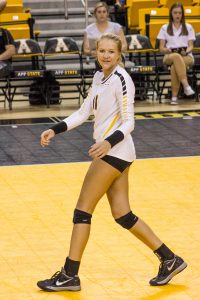 Making a name for herself after being named both the Sun Belt Offensive Student-Athlete of the Week and Freshman of the Week after putting up 30 kills in her first ever collegiate match against Virginia Tech, the second most for App State in a match since 2011.
Longley also recorded a double-double on the match, adding 13 kills, and put up solid numbers against Norfolk State and Siena during the same weekend.
After already astonishing her teammates, coaches and Mountaineer fans with her play, she poured it on even more by breaking the program record for kills in a single match with 37 against Ball State in early September.
"She's an amazing outside hitter that I think was under-recruited. She just made the best decision for her," Ginipro said. "She's really serious about what she wants to do and how to get better and you don't see that a lot out of freshman."
Breaking the record of 36 set by Brittany Zahn in 2007, she put up a career-high 20 digs in the match, earning her sixth double-double on the year.
If that wasn't enough, the performance earned her All-Tournament honors and her second Sun Belt Freshman of the Week nod.
"She's just a special kid. She works her butt off. I mean she's a really nice athlete and volleyball player but I think it's just the way she is mentally," Ginipro said. "She's up in the offices watching film all the time and talking about what she needs to do as a leader. She has a level of maturity that most freshman don't' have."
While being recruited in high school, Longley said that team chemistry and the coaching staff were the biggest factors in her decision.
"I came on my visit and immediately fell in love with it," Longley said. "The coaches were the kind of coaches I wanted to have. I knew I could trust them and when I met the team I could tell our chemistry was really good and I wanted to be a part of it."
Not only has she been playing well, but she has been emerging as one of the team's primary leaders.
"She's not a typical 18-year-old brain. She has that level of maturity," Ginipro said. "She came up to my office with three and a half pages of notes of stuff she wanted to do as a leader. That's how focused she is and how driven she is."
For Longley, everything is still just a learning experience.
"I look up to every single person on this team," Longley said. "I think they all have a role that I look up to."
Ginipro has even tabbed Longley with praise saved for only the favored few saying she has the potential to be the best Mountaineer volleyball player ever.
"She's having a great freshman year but I'm really excited to see what she's going to be like as a junior and a senior," Ginipro said. "If she keeps doing what she's doing, she'll be one of the best that's ever played here."
Story By: Brooks Maynard, Sports Reporter