[column size=one_half position=first ]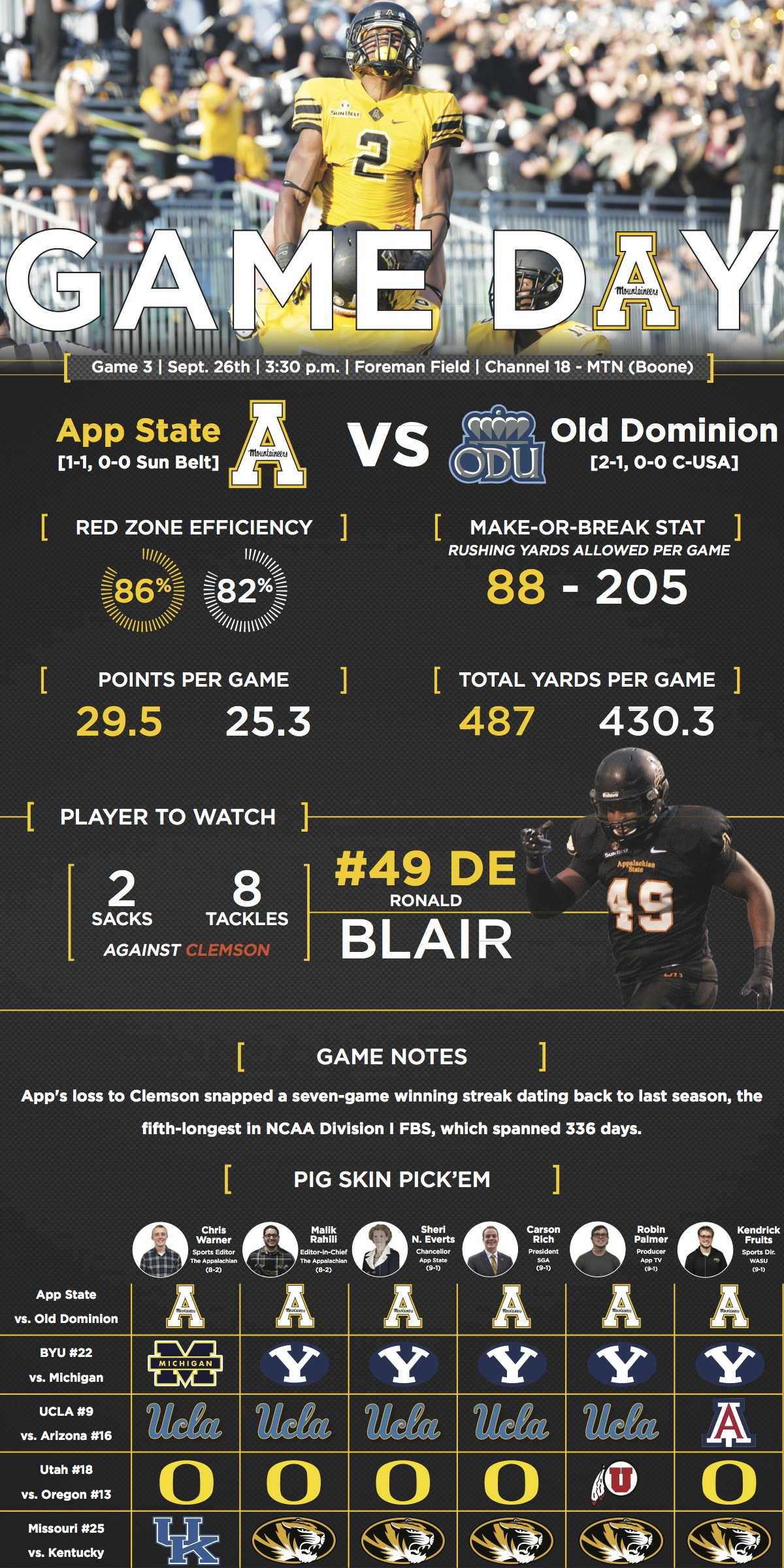 [/column][column size=one_half position=last ]
Limit Lawry:
Despite a poor performance against NC State in which the Monarchs rushed for a whopping negative three yards, Old Dominion has a formidable rushing attack that the Mountaineers must plan for.
Prior to the loss, the Monarchs had the No. 13 rushing game in the nation, averaging 283.5 yards per game, albeit against less talented foes Eastern Michigan and Norfolk State. The team's star running back Ray Lawry has accumulated 453 yards and six touchdowns, while averaging 6.5 yards per carry.
App State enters the game with the No. 13 rush defense in the nation, allowing only 88 rush yards per game. They must rely on their stalwart defensive end Ronald Blair, who had a career performance in his last outing against Clemson, to control the trenches and neutralize Lawry. This will open up free lanes for linebackers Eric Boggs and John Law, both of whom have been tackle machines thus far this season.
Ground and Pound:
Taylor Lamb's poor performance against Clemson showed just how pivotal a functioning run game is to his success.
The team's rushing attack was lackluster in the first half, generating less than 50 yards. Consequently, Lamb attempted to put the game on his shoulders, and threw three interceptions on consecutive drives, which opened up the flood gates for a 28 point second quarter for the Tigers.
In the second half, the offense began clicking thanks to rebound performances by both Marcus Cox and Terrance Upshaw, who finished with 172 yards combined, and the Mountaineers finally found the scoreboard.
I expect the team to return to their ground-and-pound approach on the road, which will open up the play action for Lamb, when he performs his best.
Leave the past behind:
While a loss to any team is a tough pill to swallow, one at the hands of a star-studded Clemson team is a bit easier to get over.
With a bye week to rest and regroup, the Mountaineers should head to Norfolk with renewed confidence, having won eight of their last nine games dating back to last season.
ODU is a much more evenly matched team to App State compared to Clemson and this game will be a real test of what can be expected of the Mountaineers as they head into their conference schedule in October.
[/column]
Story by: Chris Warner, Sports Editor 
Graphic by: Malik Rahili, Editor-in-Chief