Away from the field, senior offensive lineman Parker Collins carries a funny and lighthearted personality. But on a game day or at practice he flips the switch, becoming a loose cannon. His intensity is dialed up and he has the reputation of not only being a blue collar offensive lineman, but a hothead as well.
"I like people to think I'm crazy," Collins said.
Being a hothead on the offensive line can cause problems occasionally, like being flagged for a personal foul on the second play of the season against Tennessee last week, but for the most part, Collins keeps his fire under control.
"We love the intensity and he brings a lot to the table," roommate and right guard junior Colby Gossett said. "He plays harder than most anybody on this field. It's really nice to have out there on game day. He's everything we need on the offensive line as a leader."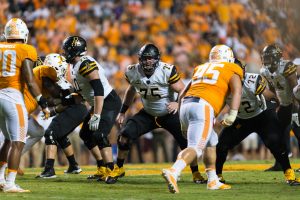 Collins is currently the longest tenured offensive lineman as he began his collegiate career as a true freshman with the Mountaineers in 2013, appearing in 10 games.
"Coming into my freshman year I was really excited to be there and everything, but I knew I wanted to play early and I knew I wanted to contribute," Collins said.
Since then, although never content with his performance, Collins said he's improved leaps and bounds now that he is in his senior season. One of the main differences that comes with the experience is how much easier the game is to read.
"Freshman year you're out there just playing, you don't really know anything, you're just out there going hard," Collins said. "Now you're out there seeing everything is part of a big puzzle and you put it together finally, it's a lot easier and it slows down a lot."
Experience is key for any successful football team. Although this Mountaineers squad is retaining a good bulk from last season, one of the main issues for the offensive line has been depth.
"It all starts with the center for us," offensive line coach Shawn Clark said. "He has to understand the schemes, who we're working to and where the protection is going."
Collins played left guard for three years prior to this season, but his experience and leadership contribution had a part in making him the designated starting center. Being the anchor of the O-line is a role that requires more leadership, a challenge Collins is ready to take on.
"Now being the center, 'the go-to guy,' I feel like I've got the keys to the offense. I feel like it's my game to call, like I can call it whenever I want to," Collins said. "If I don't call it right, I don't get to put our guys in a position to win. So there's definitely a bigger responsibility. With that said, I'm definitely ready to take it on."
Although this is the first year Collins is starting at center, he's practiced at the position for the past two years, filling in when needed, so it's nothing out of the ordinary for him.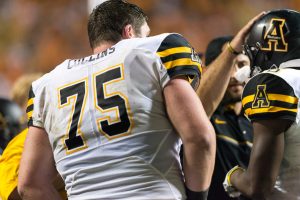 "He's just more focused on it this year and you can tell that he's more centered in," Gossett said
Staying focused is a big key for Collins. He likes to keep his personal goals close to the vest but believes he has what it takes to make it to the NFL.
"It's something that's a lifelong dream and hopefully I can capture that this year but with that said, it's one game at a time," Collins said. "If you don't perform well each week, that opportunity minimizes and I'm going to do everything to maximize that chance."
Maximizing that chance also includes improving on what was a spectacular season for the Mountaineers' offense that finished sixth in the nation and first in the Sun Belt. Collins made it clear that they won't settle for anything less than first in the nation and first in the Sun Belt.
"We don't care who you are, what team you are, what conference you're in, where you're from, this that and the third, we're out there to play every week," Collins said. "We want to go out there and execute our plays, but with respect to the other team. They may be a good team but we're going to go out there and do the best we can."
Story By: Matt Krombach, Sports Reporter
Photos By: Dallas Linger, Photo Editor