From an interim director to new halftime shows featuring music from Queen and "West Side Story," this year is looking different for the Marching Mountaineers as they head into their first performance of the season.
Since the departure of Kevin Richardson, App State's former marching band director, the university has been searching for a new faculty member to take over the program. In the meantime, Donald Peach, former interim associate director, has stepped in to fill the gap. He said he's been welcomed with open arms.
"The leadership has been absolutely phenomenal, they really have," Peach said. "All the leadership group in the band, including the drum majors, have been just incredibly fun and professional to work with. And I can't say enough about how I appreciate their acceptance of me, and wanting to be so cooperative and help with the success of the band–to continue the success of the band."
Peach has more than 30 years of experience in music education and previously worked at Hickory High School as director of bands and music coordinator. He said he considers his experience invaluable and wants to build a positive attitude with the entire team in the music education department.
Abi Trusler, a junior accounting major and administrative assistant for the Marching Mountaineers, said Peach brought some changes to their programming, such as post-game song selection and letter setup on the field–when the band forms a giant "A" while performing.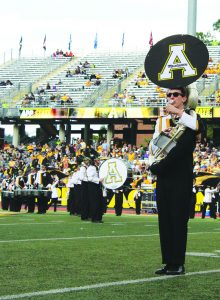 Peach also reintroduced coordinate sheets, which the band uses to arrange field placement for every single performing member–320 people, to be exact.
"He's very old school. He's very military band style, meaning he runs everything right down to a T," Trusler said.
Under Peach's supervision, the band is introducing two new halftime shows this year: A "West Side Story" show and a classic rock-inspired show, based on the music of Queen. There will be more songs than in the past; while most shows have two to three songs each, these new shows will feature up to five.
Michael Haynes, a sophomore music education major and current Marching Mountaineer drum major, said that the new music pieces are some of the most challenging that the band has tackled so far.
"This year we're trying to do harder music, but still keep the complexity of the movements. It started under Dr. Richardson but Mr. Peach kind of kicked it into another gear when he got here," Haynes said. "With the section leaders I see a different attitude than I've seen in the past, which is good. This year there's more of an emphasis on setting a new standard for the Marching Mountaineers."
Peach said he wants to support the university and the football team, and also foster a real desire in the band to participate, excel and do the job that they are asked to do–and do it well.
"I'm not here to make lots of changes, I'm here to improve what might need to be improved on, but I'm more importantly here to maintain the status quo," Peach said. "Dr. Richardson did an outstanding job with the bands, and I feel like my position is to maintain that standard. I'm here to make changes that will improve from whatever the status might be."
Story by: Macon Atkinson, A&E Reporter
Photos by: Mickey Hutchings, Photo Ediotr 
Feature Photo Caption: The percussionist performing in the Marching Mountaineers' halftime show featuring songs from the iconic band Earth, Wind, and Fire at the first home football game of the season.