UNC President Margaret Spellings' recent visit has left some student and faculty leaders encouraged, but many still have deep skepticism about the president's background and recent stances.
Spellings spent part of Monday and Tuesday meeting with various groups around campus to discuss the culture, strengths and challenges of Appalachian State.
Faculty senate chair Paul Gates was part of a faculty group that met with Spellings. Gates found that Spellings was engaged throughout the discussion.
"She was tuned in for the whole hour," Gates said. "I mean there were twelve of us so it was pretty much constant conversation. She was focused on the whole thing the whole time."
Faculty and staff pay was a major issue in the discussion.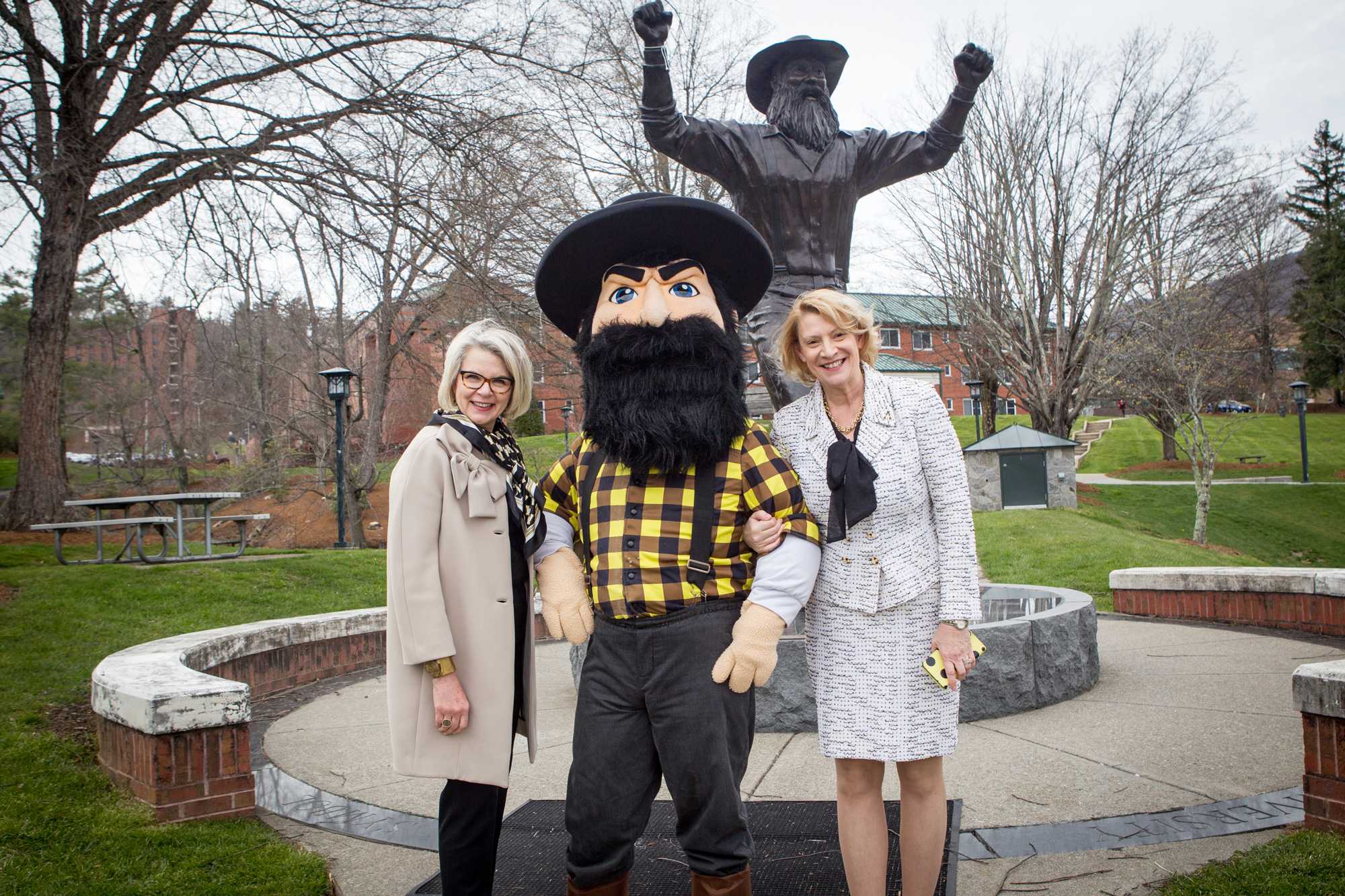 "There hasn't been raises for quite awhile," Gates said. "We're losing people, and that has been underway for awhile because the no raises has been underway for awhile. The departures have been happening and you can't keep doing that."
Spellings cited increases in faculty and staff pay as her primary goal at a press conference on Tuesday.
Gates said he was also encouraged by Spellings' statements on the role of the Board of Governors at campuses.
"When Ross was first fired that came up as something that we were worried about, that this was on the horizon" Gates said. "That the board of governors would get rid of Ross, and now we're going to insert ourselves into the campus affairs. That looked like a serious problem. Well, that's not going to happen now, I don't think."
SGA president Carson Rich was also encouraged by Spellings' directness in discussing issues like university funding.
"Every other time I've brought up the issue of full-time equivalent funding, I've always  been given a beat-around-the-bush answer. I did not get that from Margaret Spellings," Rich said.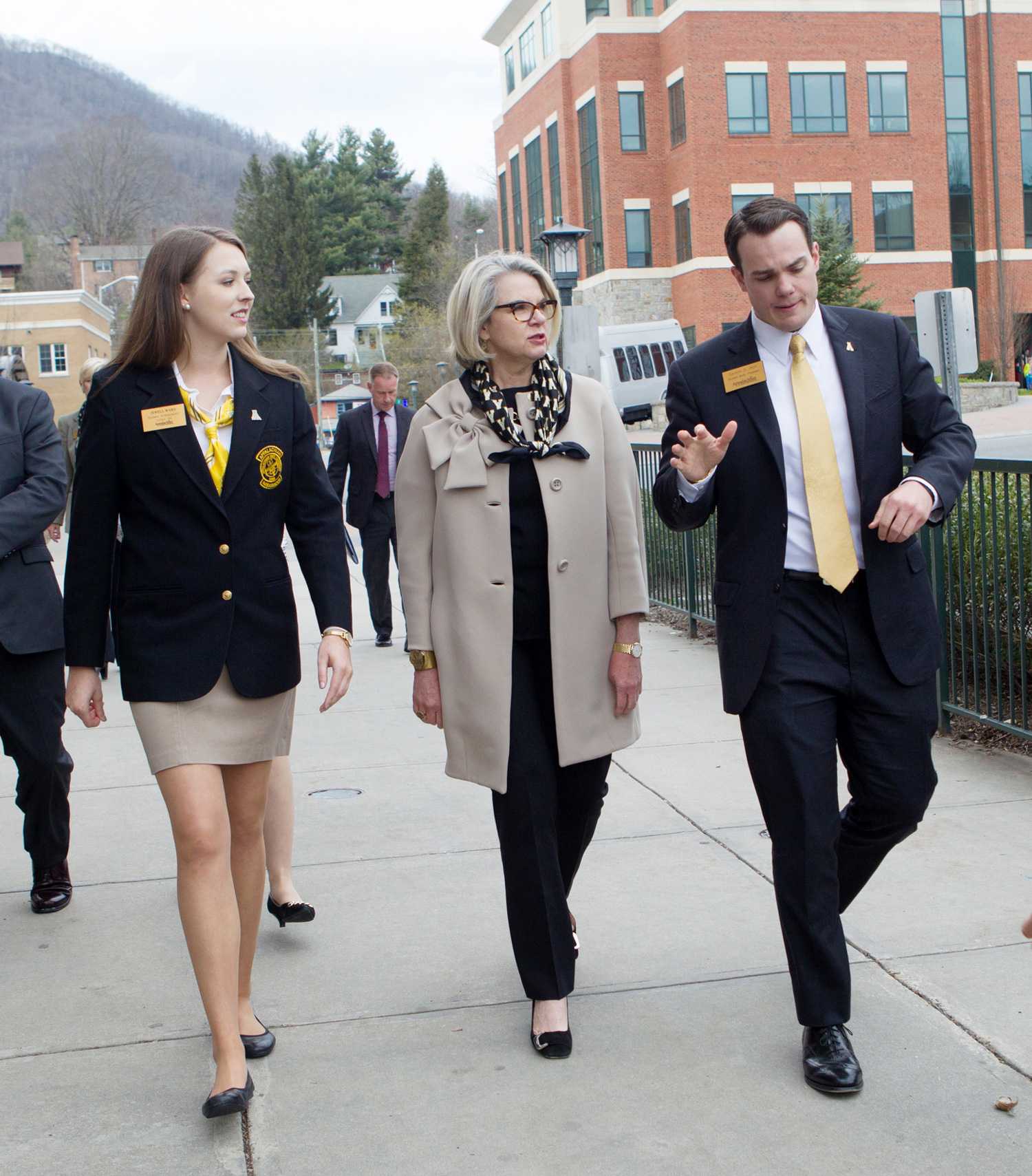 Still, there remains a great deal of concern about the impact Spellings would have on the system raised by her background in for-profit education and previous comments on LGBT rights.
Peter Nance, a junior apparel and merchandising major, participated in a demonstration against Spellings which was held the first day of her visit.
"Margaret Spellings has repeatedly made it clear that she does not have the best interests of the students at heart," Nance said. "If you look at her track record between No Child Left Behind and her positions on various boards, positions she has assumed, she assumed a position on a loan agency. She has profited repeatedly on the failure of students."
Spellings previously served on the advisory board of the loan agency Ceannate Corporation.
Nance, who identifies as queer, is also critical of Spellings' statements on House Bill 2.
"That statement was a joke and a slap-in-the face. It was an appeasement statement," Nance said.
Spellings has received criticism from a variety of corners surrounding her background in for-profit education to the policies she supported as the Secretary of Education under George W. Bush. The Appalachian State faculty senate passed a resolution raising questions about Spellings' background and the process by which was chosen.
Still, Gates believes it is the time to give Spellings a chance.
"We made our statement there at the end of November with our resolution. I knew at that point that that was going to be it," Gates said. "That was how we expressed ourselves, and that was it."
Gates said some students approached him and other faculty members to join in a protest on Spellings' first day, but he declined.
"I think it's only fair, I think and it makes sense, to see what happens. If something goes haywire, we will comment on that, we will say something," Gates said.
Story by: Kevin Griffin, Opinion Editor