Married with classes
Married students balance personal life, school
For most undergraduates in the United States, college is a time to be selfish. Students normally divide their energy between schoolwork, socializing, jobs, extracurriculars and having fun — though not always in this order, and not always successfully.
Though marriage is one of the oldest institutions known to humankind, it is not traditionally done in one's undergraduate years. Thus, married undergraduates have ventured into the traditional at a time when it is considered nontraditional.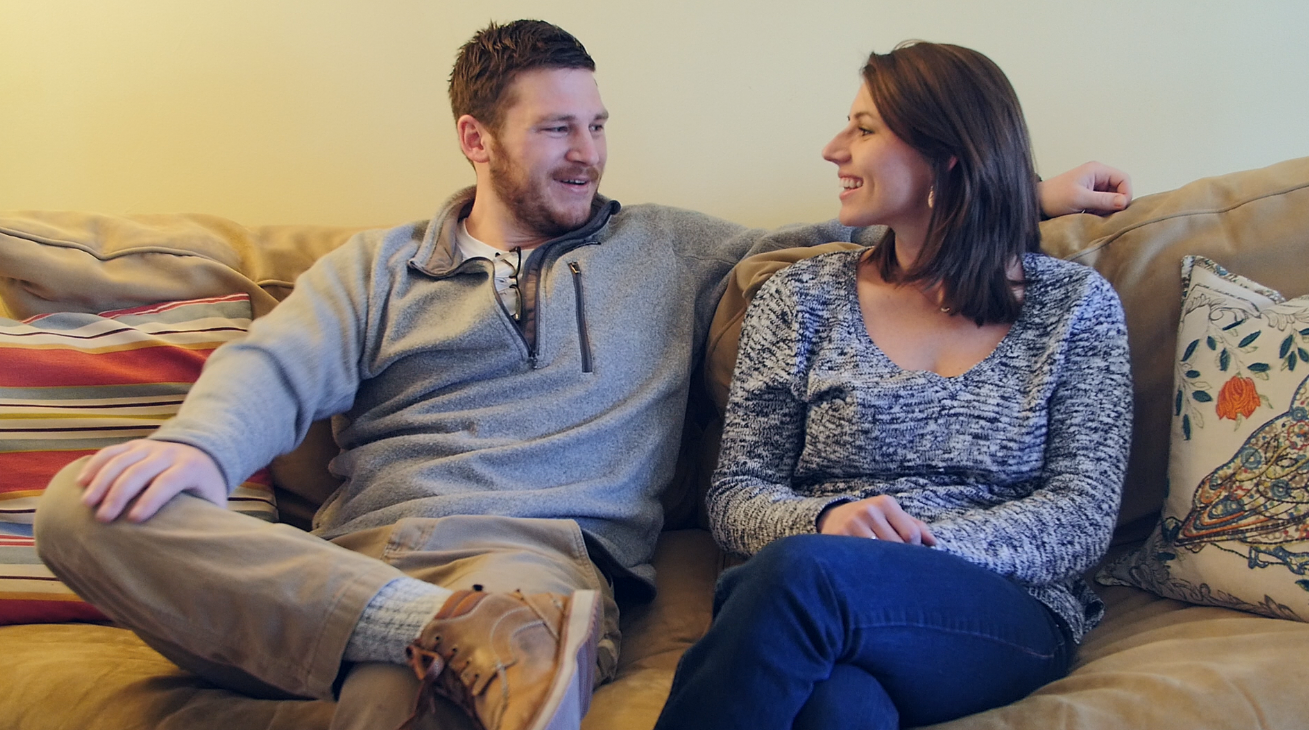 So is the case for Kelly Haugh, an Appalachian State University junior sustainable development major from Weaverville, and James Haugh, a junior fermentation sciences major from Boston, who wed in 2012. Both are 27-years-old and live in a house in the hills of Boone with four chickens and a dog named Calvin while they balance academics, employment and their relationship.
They met in the military while they were stationed in Florida. After about three years of knowing each other, after James "used the old Boston charm on her one day," they started dating. But after they got engaged, they were stationed in different continents: Kelly in Sicily and James in El Salvador.
"We had to plan a wedding 10,000 miles apart," James said.
After their marriage in Weaverville, they embarked on their next adventure in life: college. They chose Appalachian because it fit their interests.
James flocked to the fermentation science degree while Kelly chose a sustainable development major. Better yet, Appalachian is not located in "the frigid Northeast," James said.
Now, the two are both juniors who navigate academic life, working life and home life. Kelly said there are perks to being a married undergraduate.
"One benefit is you always have someone to help you with everything," Kelly said. "We have very different intellectual knowledge. For me, he'll have a lot of theory-type stuff that he'll come to me for. I'll go to him for chemistry or math."
But their married life isn't a walk in the park. In addition to traditional student worries, — class, homework and exams — the couple must work to support themselves financially.
"It's hard working," Kelly said. "It's hard supporting ourselves. We don't rely on our parents anymore. We have to work to pay for our living. We're working and we're in school and we have homework and we have animals to take care of. Sometimes, it gets to be a lot."
James called this the ever-changing balancing act that they face.
"Every semester, you have to re-learn the balance," he said. "[My work schedule] changes every season, and so does our academic work."
It was hard for them to find age-appropriate friends, Kelly said, as the events that the campus provides to meet friends are often awkward because of the age difference.
James said he once asked a classmate to celebrate their birthday at a bar, only to find out the classmate was turning 18.
At the end of the day, both Kelly and James think the benefits of married life outweigh the drawbacks.
"I'm a thousand times a better person with Kelly by my side," James said. "She levels me out. It's easy when you wake up in the morning and you're smiling because of who you're next to."
Brent and Teri Frank, ages 27 and 29, are friends of the Haughs. Living in the surrounding hills, they share a household with one dog named Simcoe and two cats, Layla and Tank.
Like James, Brent, a native of Boone, is a fermentation science major while Teri, a native of Cary, is a criminal justice graduate who now works full time in Boone.
Years ago, the couple met in the house they currently live in. Brent's parents own the apartment, which includes a few rooms they rent out to students. Teri rented from his parents at the same time that Brent lived in the house. They got married right after Teri graduated from Appalachian in 2009.
"It takes a lot of tension out of the classroom setting," Brent said. "I'm not trying to socialize with my classmates, not trying to hit on anybody. The focus is definitely more on the academics, I'm just there to do class and finish the degree."
While they do have to deal with different work schedules, as Teri, who has already earned her degree, is able to leave work at the office, Brent still must complete homework and study for exams at home outside of class.
Chris Wertman, 34, is yet another married fermentation science major. Hailing from Allentown, Pennsylvania, his wife Wendy lives in Augusta, Georgia. They met in Augusta a few years ago, when they were both stationed there for the military.
"We were stationed together in Augusta, Georgia, and interacted together on a professional level, then became friends," Wertman says of his early interaction with his one-day wife.
Then they were deployed together to Bahrain, off the coast of Saudi Arabia. Chris was already there for a year when she joined him in her deployment. The two came back to the U.S. at the same time.
In 2010, they got engaged. Chris recalls the proposal: "We had rented a house in Savannah, Georgia. I made her a nice dinner and threw a ring at her face, basically. I kind of took her off guard."
Chris came to Appalachian in 2013, but Wendy remains in Augusta and will remain in the military for the next ten years. Chris hopes to one day open a craft brewery, but for now, enjoys other perks of being married while in school.
"The major benefit is that I'm not so pressed to work a lot so I can concentrate on school," he said. "[Wendy] can be the breadwinner for this time period. I'm somewhat removed from the stresses of marital life, like raising a kid."
Augusta is a five-hour drive from Boone. Chris said would like to see Wendy's son more often whom he will soon adopt.
"I get to see my son only once every couple weeks," he said. "It's not quite enough."
Like the other couples, Chris said that one of the most difficult things about his experience is being older than most of his classmates.
Having received his first college degree from York College in Pennsylvania, Wertman explains the differences in his second undergraduate experience.
"Being older and also having military experience, I have a certain level of professionalism that I don't observe in the undergraduate classes," he said. "Maybe also a certain sense of diligence. This is my second degree and things are much different than the first time I went to college. People are on their cell phone all the time, people talk while teachers are talking."
A University Housing spokesperson said Appalachian abolished couples' housing because of a lack of demand. It was more advantageous to turn the married student housing into housing for freshmen and sophomores.
Though Appalachian does not offer on-campus housing for couples, none of the couples expressed an active interest in living in such quarters even if they were offered.
"We're fifteen minutes from outside town, if that, and we have beautiful sunrises every morning," James Haugh said. "We get to design our own little world outside the school."
Story: Julia Simcoe, Intern News Reporter
Photo: Chris Deverell, Video Editor