Men's basketball win lone exhibition
App State Men's Basketball kicked off their 2016-17 season campaign beating Methodist University 103-58 in their lone exhibition game.
Getting off to a slow start tied with Methodist 10-10 five minutes into the game, it was a sloppy first half for both teams, with 17 total turnovers between the two programs and nobody showing signs of pulling away, the Mountaineers were able to pull away after a few adjustments and eclipse the 100-point mark to blow out Methodist.
Each team went on multiple scoring droughts in the first half in what was a low scoring affair for the majority of the time, with the App lead sitting at 17 points heading into the locker room.
The play picked up in the second half, led by underclassmen Ronshad Shabazz and Isaac Johnson, App got out to a 30 point lead early in the second half, and then cruised to a 45 point victory over the Monarchs in a game which every player on roster saw more than three minutes of playing time.
"Coach was telling us just play," sophomore guard Ronshad Shabazz said. "We were a little timid, it's the first game, so we had to relax and run our stuff and it got us going."
App started to pick up the defense, holding the monarchs to two for 14 shooting in a three-minute stretch with seven minutes remaining in the first half. The offense finally got it in gear towards the end of the half, ending on a 16- 5 run giving App a 45-28 lead going into the locker room.
Shooting 46.7 percent from the field along with 66.7 percent from the charity stripe, the Mountaineers shot just below their season average from last year, also adding 25 rebounds compared to Methodists' 17. They only shot three for 14 from beyond the arc and had seven turnovers in the first 20 minutes.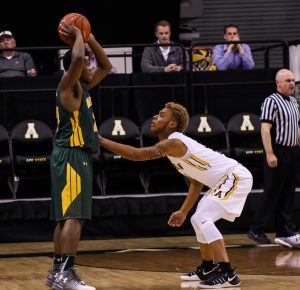 "We told them at halftime, you just gotta relax," head coach Jim Fox said. "Make our own energy and I think they did that better in the second half."
Defense came up big again to start the second half. Methodist was held without a bucket until the 16:23 mark, giving App State a 30-point lead and never looking back. App looked to stick to the game plan and attack the basket and draw fouls, scoring 50 total points in the paint and 30 in the second half.
"I wanted to get fouled," Fox said. "Our game is to attack, get the ball inside and use the dribble to get to the rim. That's something we have to keep getting better at."
Getting to the line was easy for the Mountaineers, but converting those free throws was another story shooting five for 17 in the second half bringing them to 19 of 38 for the game, well off their team average.
"We shoot free throws before and after practice," Shabazz said. "But Thursday I think we're going to shoot a little bit extra."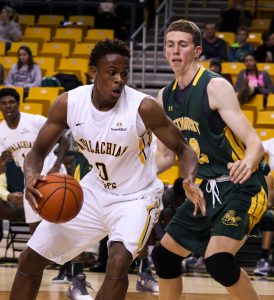 Led by forward Isaac Johnson recording a double-double off the bench with 15 points and 10 rebounds, the Mountaineers group of freshman seemed very confident.
"It was real fun to get out there and actually play a game," Johnson said. " It started with the Italy trip and we just built chemistry together and made it easier for the game today."
App will kick the season off against the Davidson Wildcats, a familiar scene for Fox, who coached there for 13 seasons starting back in 2001.
"They're an outstanding team lead by one of the best players in the country," Fox said. "The biggest thing about Davidson is if you relax for a second they'll make you pay. We have to be consistent with our effort defensively on Saturday."
The two teams will square off on Nov. 12 at John M. Belk Arena at 8 p.m. in Davidson, North Carolina.
Story By: Taylor Story, Sports Reporter