In 1985, Eddy Merle Watson, musician and son of folk music legend Doc Watson, was killed in a tractor accident on the family's farm. Three years after Merle's death, an annual music festival called MerleFest was established in Wilkesboro, North Carolina, in his memory. Thirty years later, MerleFest is still going strong and growing every year, celebrating the "music, moments and memories" of the Watsons and of Appalachia.
Held on the campus of Wilkes Community College over the last weekend in April, MerleFest is a "traditional plus" music festival. Doc Watson, a Deep Gap, North Carolina native, used this term to describe the music that he and Merle played, meaning traditional Appalachian music plus whatever else they were in the mood to play. Those styles of music carried over to the festival, and over the years, MerleFest has hosted a variety of musicians including bluegrass, country, blues, Celtic and roots-rock artists.
This year, MerleFest is celebrating its 30th anniversary from April 27 until April 30. All of the regular festival traditions, such as the Hillside Album Hour, will happen as usual, with some added special features to mark the anniversary, including a MerleFest museum with photos and videos from the festival's three decades of life.
Festival director Ted Hagaman said that MerleFest is always looking for ways to improve the festival experience while maintaining and protecting its original values and traditions.
"Now that we've been around for 30 years, we've had people who grew up going to the festival and are now bringing their kids here," Hagaman said. "We have seen growth, but our number one goal is not necessarily to see how big we can get, but to make sure we maintain the quality of the event."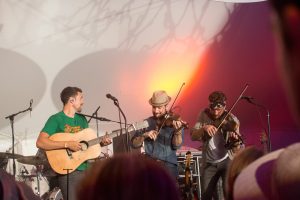 MerleFest now sees more than 75,000 visitors each year, but has a unique atmosphere compared to other music festivals, like Bonnaroo. For one, MerleFest is a very family-friendly festival, with a kids' area and entertainment. In addition, no alcohol is allowed or sold at the festival – something that Doc Watson instilled at the beginning.
"The artists who come here tell us over and over again that they love to come here because people are really focused on the music and not as much on the party," Hagaman said. "They really listen, and the artists really appreciate that."
That's not to say that MerleFest isn't a party. Jam sessions around fires at nearby campsites can last until the early morning, the Dance Tent is packed most nights and people come from all over the country to experience the festival.
Musicians also often walk around the festival grounds, talk with fans, watch other artists' sets and participate in impromptu jams and collaborations with other artists. The Hillside Album Hour, a favorite MerleFest tradition, began as a jam between multiple musicians that went 45 minutes over the set time, Hagaman said. Now, Album Hour happens on Saturday afternoon each year at the Hillside Stage, where huge crowds flock to watch The Waybacks and guest artists perform an album straight through, with the crowd not knowing what the album will be until they start playing. Past Album Hour albums have included Jimi Hendrix's "Are You Experienced" and Crosby, Stills, Nash & Young's "Deja Vu."
"I recommend that first-timers check out the Hillside Stage," Mallory Vannoy, a senior hospitality & tourism management major at Appalachian State, said. "It's easy to miss because it is tucked away in the corner and a little hard to find, but the setting is very intimate and special. People sit on a huge hill with tall trees for shade, and look down on the stage and the rest of campus. Some of the best bands go there, too."
With 13 stages and over 120 artists, MerleFest packs a lot into the festival's four days. Often, the biggest challenge for festival-goers is figuring out who is playing when and who they most want to see, Hagaman said. However, many artists play multiple sets at different stages over the weekend, so people have a greater chance of seeing their favorite bands.
A core group of musicians, including Doc Watson until his death in 2012, Sam Bush and others, play at the festival every year and are integral to its musical style and traditions. However, MerleFest has drawn in hundreds of other artists, from local and regional bands to world-famous acts. This year's lineup includes the Avett Brothers, Zac Brown Band, Mandolin Orange, Mipso and Steep Canyon Rangers.
MerleFest also has "pickin' tents" where festival-goers can bring their instruments and jam with others in their chosen musical style: bluegrass, old time or "anything goes." Several instrument, songwriting and dance workshops are held throughout the weekend as well, often led by MerleFest artists.
The annual Chris Austin Songwriting Contest, named after a musician and songwriter from Boone, offers songwriters the opportunity to perform their original songs for professionals in the music industry during the festival. This year, out of more than 800 entries, two Appalachian State alumni and Appalachia natives were chosen as finalists: musicians Alexa Rose and Shay Martin Lovette.
Lovette, who won second place in the contest in 2010, is originally from Wilkesboro, so MerleFest is his hometown festival and has always been special to him. This year, he'll be performing his song "Bermuda Run" at the competition on April 28.
"The song is about leaving the past behind, living in the moment and running towards your dreams, whatever they may be," Lovette wrote in an email. "The song is special to me because it's one that my brother, Chad, loved to play. He passed away after an extended battle with brain cancer last year."
Lovette said that he and his brother were raised on the music of Doc Watson and the many artists he performed with, so he appreciates the history of Appalachian music that the festival celebrates.
Like Lovette, several people who grew up visiting the festival as fans now find themselves going as performers.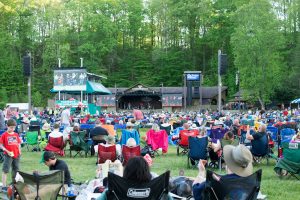 "The Avett Brothers are from North Carolina and came to the festival for years growing up," Steve Johnson, MerleFest's artist relations manager, said. "So it's cool to see them go from being fans to playing headliners here."
Another North Carolina native, James Taylor, will be making an appearance during the Transatlantic Sessions: a collaboration between Irish, Scottish and American artists on Friday night at MerleFest.
Very few festivals have as many stages and artists for the ticket prices that MerleFest charges, Johnson said. However, MerleFest also welcomes over 700 volunteers during the festival weekend. Volunteers have to work a shift on their day, but have the rest of the day to attend the festival for free.
"So there is no reason that anyone can't come to MerleFest," Hagaman said.
Vannoy volunteered at the festival last year, helping to unload equipment and instruments at the main stage, learning how things worked behind the scenes and talking to bands.
"MerleFest celebrates the traditional music of the Appalachian area, but it also encourages all types of music," Vannoy said. "If you are interested in learning more about the area, that is a great place to start. The environment is very welcoming and the people that go to MerleFest are the best around."
Story and Photos By: Adrienne Fouts, A&E Editor