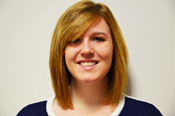 The focus of debates is normally on the candidates, but today I'd like to offer some insight on a different angle of the debate's success.
You might have been focusing on Big Bird and binders, but let's take a moment to recognize how a woman, Candy Crowley, moderated a presidential debate for the first time in 20 years and dominated the stage.
Crowley was far more capable of keeping the candidates rolling onto the next question than Jim Lehrer, in the first debate.
Unlike Lehrer, Crowley kept the debates focused on the issues, organized the responses by clarifying what answer was needed, kept the two candidates to the time limit and ensured that the debates flowed smoothly.
She was both commanding and respectful.
Watching Crowley made it clear to me that women should have a larger role in politics.
She proved that women should be put in these positions more often because they are just as concerned about the political affairs of our nation as male politicians.
Maybe there is something to having a woman moderator that we should be looking more closely at.
All the women in politics these days prove politics can actually be harmonious.
Reule, a junior public relations and journalism major from Charlotte, is an opinion writer.