Monarchs no match for Mountaineers
Coming off a strong performance but heartbreaking loss to ranked No. 9 Tennessee last week in Knoxville, the Mountaineers came out strong in their first home game of the season defeating Old Dominion 31-7 for the second straight year and moving to 64-20-2 all time in home openers.
Led by a three touchdown, 133-yard rushing performance from senior running back Marcus Cox, the Mountaineers (1-1), who faced a lot of controversy for having the school's first ever "White Out," showed fans that they can play in white, black or gold.
"A whiteout never has happened and we always wanted to do this and we finally got a chance," senior linebacker Kennan Gilchrist, who had 12 tackles, said. "It is great for our guys to do something we always wanted to do and actually go out there and win and look good."
Hauling in a 40-yard pass on the first play of the game, senior wide-receiver Jaquil Capel, who finished the day with a career high 82 receiving yards, roughed up the Monarch's (1-1) defense quickly to put App on the Monarch's 32-yard line.
Cox finished off the drive punched in the first score of the game with a one-yard run touchdown to put the Mountaineers up 7-0 just five minutes into the game.
"When we have a successful pass game, teams have to honor it," Cox said. "When teams honor the pass, it opens up running lanes for the guys up front to have opportunities to have single blocks and not having to worry about other guys getting into the box, so that helps out our running game a lot."
Shutting out Old Dominion last season 49-0, the Monarchs hoped to come out stronger offensively with senior David Washington starting at quarterback. Washington was a wide receiver in last year's matchup.
"Since Washington has been playing at QB, they have been a team that could really put a lot of points on the board," head coach Scott Satterfield said. "We knew coming in they would give their best shot, and I am just proud of the way our team played."
However, it was Monarchs junior Ray Lawry who sparked their offense first running for a 42-yard first down. But the Monarchs were unable to score, giving the ball back to the Mountaineers.
App continued to dominate offensively and beat up on the Monarchs through the air and on the ground. Lamb, who finished 14-for-21 with 181 passing yard, was perfect through his first seven passes.
Senior tight end Barrett Burns, who has been known to be a touchdown machine, hauled in a 30-yard pass only three yards away from the end zone leading to another short Cox touchdown run to put App up 14-0. Burns finished the day with a career high 66 receiving yards.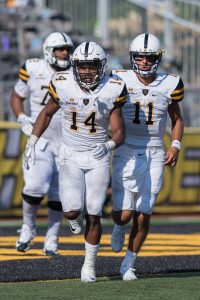 "We got to get that guy involved," junior quarterback Taylor Lamb said about Burns. "He is one of our top receivers out there and he can block. We told him that he usually scores on receptions and he was laughing saying he is not used to catching out in the open, but we are definitely trying to target him."
Entering the second quarter on the Monarch's 3-yard line, redshirt freshman Michael Rubino kicked his first career field goal building a 17-0 App lead.
The Monarch's would not be finished though scoring on a 27-yard touchdown run from Lawry, making it a 17-7 game.
That would be all the offense the Monarch's would get, however. App finished off the first half with a six-play drive leading to Cox's third touchdown of the day and sixth three-touchdown game of his career for a 24-7 Mountaineer halftime lead.
"The guys finished the play. The offensive lineman ran down the field and the tight ends pushed me into the end zone," Cox said. "They didn't give up on the play so I just tip my hat off to them for all the hard work and effort they give on every play."
App's defense set the tone for the second half as true freshman cornerback Clifton Duck intercepted Washington in the end zone for his first career interception, preventing the Monarch's from another score.
"I was expecting to go up and get it. Their receiver's were bigger but I faded back with them and I don't think they saw the ball as well as I did," Duck said. "I had a chance to intercept it and once I saw it I went up for it."
Not having Cox start the second half after having his ankles roughed up at the end of the second quarter, the Mountaineers offense began struggling.
"I think we stalled. We had a great first quarter, but we got two red-zone trips where we got inside the ten or five-yard line and didn't get in," Lamb said. "We have to correct those mistakes because if we would have scored those two touchdowns, they would have changed the whole game."
Both teams struggled to find any type of offensive spark in the second half, leading to backups finally getting playing time.
"I'm always disappointed we don't score more. I think we are always driving to score," Satterfield said. "We were awful on third downs today offensively, for whatever reason. But we did some really good things today and that's why I think the score was 31-7."
Backup quarterback J.P Caruso was able to give the Mountaineers one final score rushing for his first career-rushing touchdown to make it a 31-7 game sealing the whiteout win.
Calling it a good but sloppy win, the Mountaineers can now finally focus on the game that App State fans have been waiting for since it was announced: The Miami Hurricanes visiting "The Rock" next weekend.
"It is definitely going to be an exciting game and having an ACC championship program like that coming here," Cox said. "Its great for our fans and they are excited. Just being able to focus on the game everyone has talked about since they announced it, we can now live in the moment and fans can live in the moment with us. Our guys did a great job on focusing on ODU and now we focus on Miami."
App State will take on No. 25 Miami Sept. 17 at 12 p.m. at Kidd Brewer Stadium in the first ever visit to Boone by an FBS team.
Story By: Jason Huber, Sports Editor 
Photos By: Dallas Linger, Photo Editor