When App State basketball head coach Jim Fox took over the program in 2014, he was looking to change the image of the App State basketball program in more ways than one.
Coming from Davidson College, Fox learned many things on staff under head coach Bob McKillop. Of the many lessons he learned in his 13 years at Davidson, one that quickly made its way into the Mountaineer basketball program was "building bridges" anywhere you can.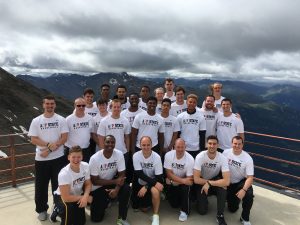 When at Davidson, McKillop stressed the importance of giving players and coaches an experience to play teams from other parts of the world. In his third season as coach of the Mountaineers, Fox took his own team to Europe to face off with foreign competition.
As soon as Fox took the position, he began pitching the idea to then athletic director Charlie Cobb, who gave Fox support in playing abroad. After Cobb left in 2013, Doug Gillin took over as AD, and fully supported and helped organize the trip before this season.
In early August, the Apps traveled to Slovenia and Italy, playing two games in each country. The Mountaineers finished 2-2 on their trip, winning one game in each country they played.
Instead of going through an agency to schedule their games, Fox contacted his own friends that lived in Slovenia and Italy to set up games, where his motto "building bridges" paid off again.
"It is important to hang out with some old friends [in Europe] and talk basketball because they have some amazing basketball minds over there, and it is good for our team because I think our coaching staff got better over there," Fox said. "In terms of our players, it was an incredible experience for them because I want them all to be pros one day."
The Mountaineers faced some of the top talent in Europe, including the Helios Suns from Slovenia and AS Monaco from France Ligue 1. The Suns won the Slovenia League Championship this past year, while AS Monaco is one of the best teams in the top tier of French basketball.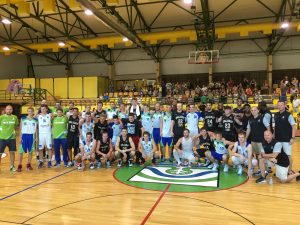 Falling to both teams, the Mountaineers pulled out impressive results over their other two opponents, KK Cerknica, a basketball club in Slovenia and Sondrio All-Stars from Bormio, Italy, winning 117-68 and 97-62 respectively.
A promise that Fox has been offering to some of his recruits paid off, especially to junior guard Jake Babic, who happens to be the only player on the App State team from outside of the United States. Babic grew up in Oakville, Ontario and played high school basketball at The Kiski School.
"The last game we played against Monaco had probably my favorite moments, and they will probably be one of the best teams I play against in my life," Babic said. "So, seeing how true professionals making millions of dollars can go about it everyday is really cool to compare yourself to and see how you can get to where they are as well."
While in Europe, the Apps got to experience much more than just their time on the court. Over the eleven day trip, the Mountaineers took their team name to heart, exploring both the countries they got to visit.
Fox especially remembers two situations on the trip, both of which dealt with crucial teamwork from his players.
In Venice, Italy, Fox and his players had to walk through large crowds of people to find a train station to get to San Marco, and he said his players "leaned on each other" to navigate through town.
When in Bormio, the bus driver took the team to the wrong location near Lake Garda, but Fox's players once again impressed their head coach.
"Our bus driver took us to the wrong spot so I was kind of upset, but our guys found these boats that we could rent and go on the lake and they had the time of their lives," Fox said. "A mistake lead to one of the best times for us on the trip."
On the court, the Mountaineers got early exposure to in-game experience, something a team with only one senior can benefit from.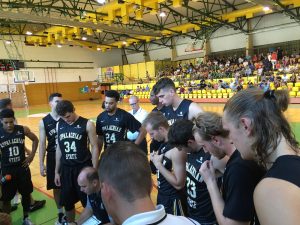 According to NCAA rules, a team can travel overseas every four years. When that team travels overseas, they are allowed 10 additional practices to prepare for the trip.
Having the extra practices was helpful for the Mountaineers, and the in-game experience helped prepare them for late-game situations even before the season started.
While the Apps experienced different cultures in Europe, they also saw some differences on the basketball court.
"They play a much more aggressive style of basketball, and they would foul you in the open court to stop a fast break," Babic said. "They were just so aggressive and playing against those guys even before we had our preseason will really help us in our non-conference and conference schedule."
Fox stressed how the teams they played in Europe showed a lot of versatility. A major difference Fox saw was similar to what his players experienced: the teams they played were so physical, prompting Fox to say that they "fouled the crap out of you."
Through it all, the Mountaineers got to know more about the world, but they also got to know more about each other and also themselves individually.
"College students whether athletes or not should definitely try to experience something like this," sophomore guard Ronshad Shabazz said. "We get to compare our lives and see how blessed we are compared to some other countries, and that is a big reason right there why [it was special]."
Story by: Tyler Hotz, Sports Reporter