Mountaineers look to end losing streak as they face Samford in homecoming duel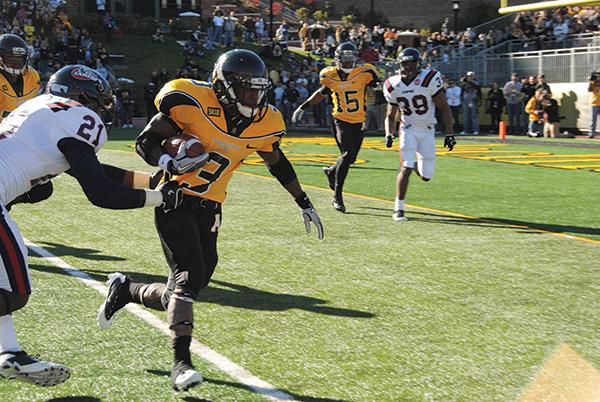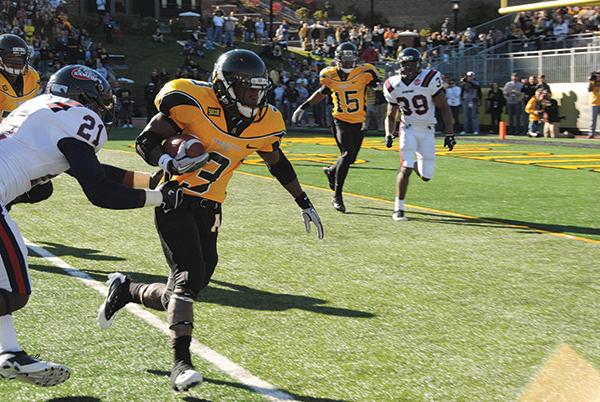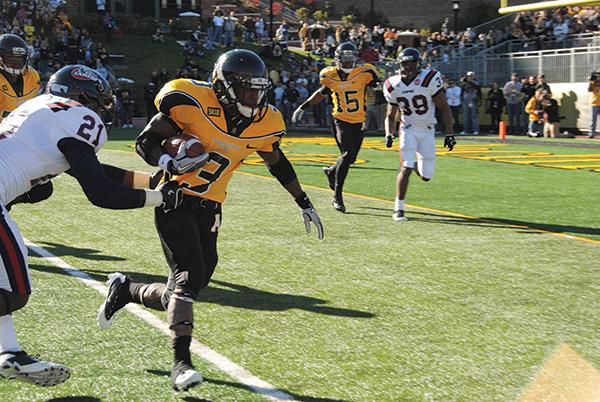 The last three losses for Appalachian's football team have been by a total of nine points.
The bounces are simply not falling the Mountaineers' way. In their most recent defeat, a conference road loss to The Citadel, the offense drove 79 yards with only 1:19 remaining in the game to force overtime. App State received the ball first in the extra period, before starting quarterback Kameron Bryant's pass was intercepted, leading to The Citadel's 31-28 victory.
"It was kind of a wild, crazy play," wide receiver Sean Price said. "I looked up, and I was trying to find the ball. Then I saw the big dude [Citadel lineman Mitchell Jeter] catch it. So it was just kind of a wild play."
The pass ricocheted off a defensive player's shoulder pad, before eventually landing in the mitts of Jeter, App State co-offensive coordinator Dwayne Ledford said. Despite the pick, however, Ledford was very complimentary and supportive of Bryant's play throughout the game.
"I thought that Kam did really well," Ledford said. "I thought he had very good pocket presence, and when something wasn't there, he did a great job of pulling the ball down and scrambling for some big third downs. So what Kam did was he kept the chains moving for us, and that's what you want."
Bryant started for the first time as a Mountaineer and completed 19-23 passes for 214 yards and a touchdown before the interception that was the final play for the App State offense.
Freshman running back Marcus Cox continues to be a staple for the Mountaineer offense, as he amassed 193 all-purpose yards and two touchdowns. Marcus leads the Southern Conference in touchdowns with 10 and receiving yards per game with 83, according to soconsports.com.
Cox was also recently announced as being in the running for the Jerry Rice National Freshman of the Year award.
Although the team is sporting a disappointing record of 1-4 (1-1 SoCon), the Mountaineers prepare for their next opponent, Samford, despite the close losses.
"To me, it's a typical App State team," Samford head coach Pat Sullivan said. "They're one or two plays away from being 4-1 and ranked right up there. We're going to have to play better than we've played all year if we're going to go beat App State at their place."
App's two previous opponents, Charleston Southern and The Citadel, have both featured offense with an option-run attack. The Samford Bulldogs are very different than either of those teams, with a pass-heavy spread offense.
"They have an outstanding quarterback who's having a great year, " App State head coach Scott Satterfied said. "Probably the best wide receiver group, overall, that we will face all year. They're trying to spread you out, and find ways to get the ball to those playmakers."
Samford leads the SoCon with 313 passing yards per game and is second in points per game with 36, according to soconsports.com
Since the Mountaineer defense hasn't seen a ton of passes over the past couple weeks, App State cornerbacks coach Bryan Brown is ecstatic about the opportunities his defensive backs will have Saturday.
"Any time you get a team that passes a lot, that really excites myself and the DBs," he said. "Because now, they get a lot of action. I think these guys are really excited, and they're ready for the challenge."
Brown also added that, overall, he was pleased with his defensive backs over the course of the young season. Brown said his defensive backs have not given up a big play since the season opener, a road loss at Montana.
Appalachian State will play host to the Samford Bulldogs this Saturday at 3:30 p.m. at Kidd Brewer Stadium for the annual homecoming game.
Story: NICK JOYNER, Sports Reporter
Photo: OLIVIA WILKES, Staff Photographer