Mountaineers lose 31-10 to Georgia in mistake-riddled game.
Opening up the 2017 season for the second straight year on the road against an SEC Top 25 team, the Mountaineers struggled to find any momentum against the No. 15 Georgia Bulldogs (1-0) in a 31-10 loss Saturday evening.
Penalties, missed play calls and inconsistency on both sides of the ball after a strong defensive first quarter put the Mountaineers (0-1) in a 21-0 deficit at halftime. Nearly being shut out for the first time since 2005, the Mountaineers had two fourth quarter interceptions to finally get on the board.
"I think Georgia is a really fine football team," head coach Scott Satterfield said. "They are obviously very talented. Senior leadership on their team really showed tonight. They have played a lot of football in the SEC and that really showed against us tonight."
The Mountaineers picked up 11 penalties for a loss of 105 yards throughout the game due to mistakes on offense and defense, and Georgia took advantage with their proficiency. Georgia led the Mountaineers 368 to 284 in total yardage.
It looked as though it would be a similar defensive battle to App State's opening game at Tennessee last season that went to overtime when both teams exchanged three-and-out drives.
The Mountaineers found momentum first on offense, having three true freshmen starting on offense with starting receivers Shaedon Meadors and Darrynton Evans scratched late from the lineups due to injury.
Senior quarterback Taylor Lamb broke away for a 32-yard rush to the Georgia 41-yard line to briefly silence the Bulldog fans.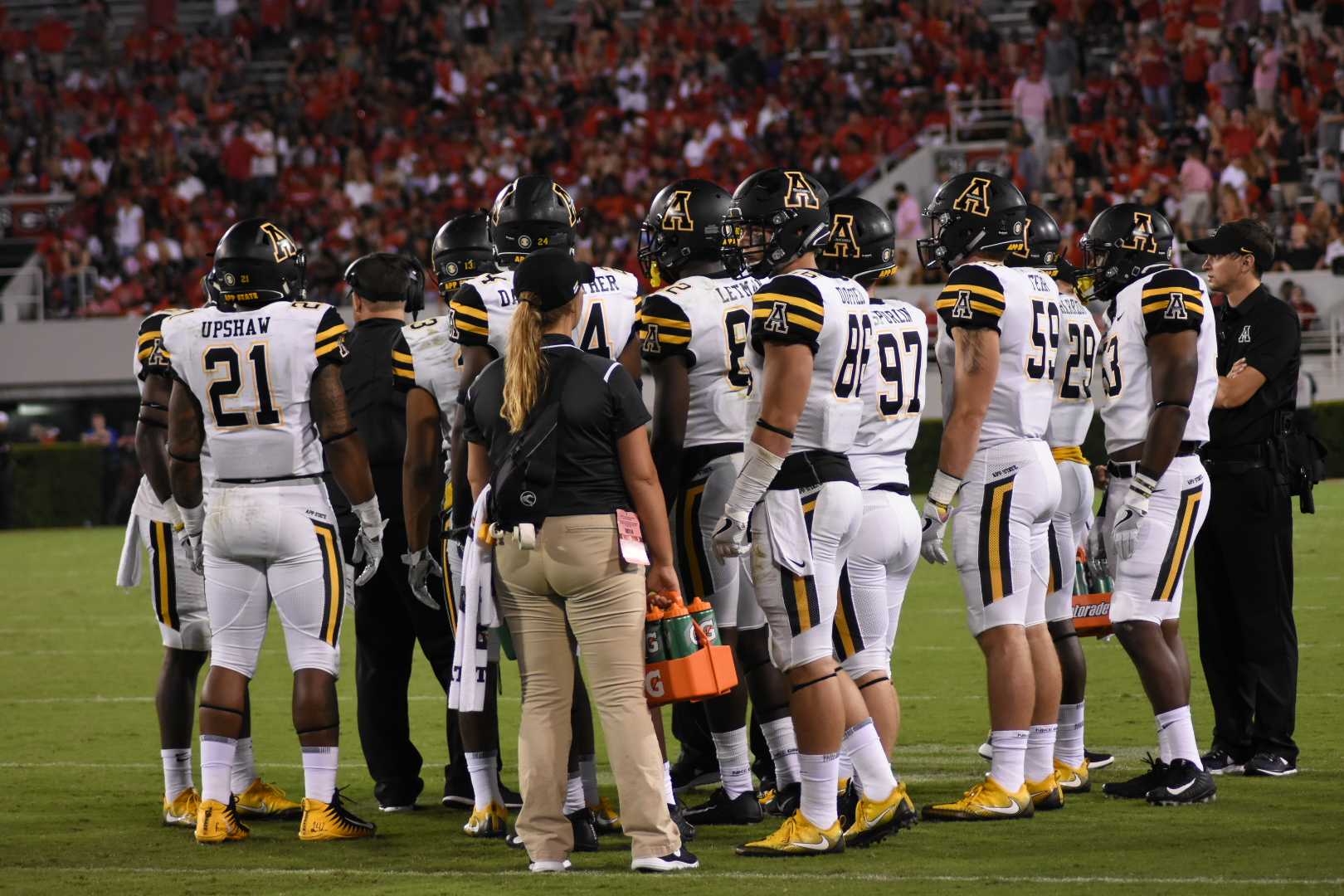 Right when it looked as the Mountaineers could cause the Bulldogs to sweat a bit, Lamb stepped back looking for a deep ball pass but was sacked for a loss of nine yards making the possession third-and-30.
"I was rolling out trying to get a deep shot and they took it away and I took it underneath and guy snuck up on me when I was trying to get the ball," Lamb said. "I have to get away in a situation like that and throw it out of bounds."
With 6:30 remaining in the first quarter still tied 0-0, Georgia sophomore quarterback Jacob Eason went down with a knee injury after a late hit by App State junior nose-tackle Myquon Stout.
Completing only one of his three passes, Eason stayed out for the remainder of the game giving true freshman Jake Fromm the nod at quarterback. Fromm immediately completed two eight-yard first down passes and brought life into the Bulldog's offense.
"Fromm executed a lot better when he got in," Satterfield said. "He is a fine football player. We heard in the spring that Fromm possibly outplayed Eason. When Fromm comes in, he completed two in a row and played exceptionally well for a freshman getting in the game like that."
Fromm led the Bulldogs down the field the next two drives and found senior wide receiver Javon Wims for a 25-yard touchdown pass leading to a short touchdown by senior running back Nick Chubb to put Georgia on the board first 7-0.
"The big plays were tough," senior defensive back A.J. Howard, who led the team with 11 tackles, said. "The penalties didn't help at all. We were stopping them the first couple of drives but they got momentum and we have to find a way to get it back."
Georgia found offensive momentum, but the Mountaineers' defense held senior running back duo Chubb and Sony Michel to only 14-yards on their first 11 rushing attempts.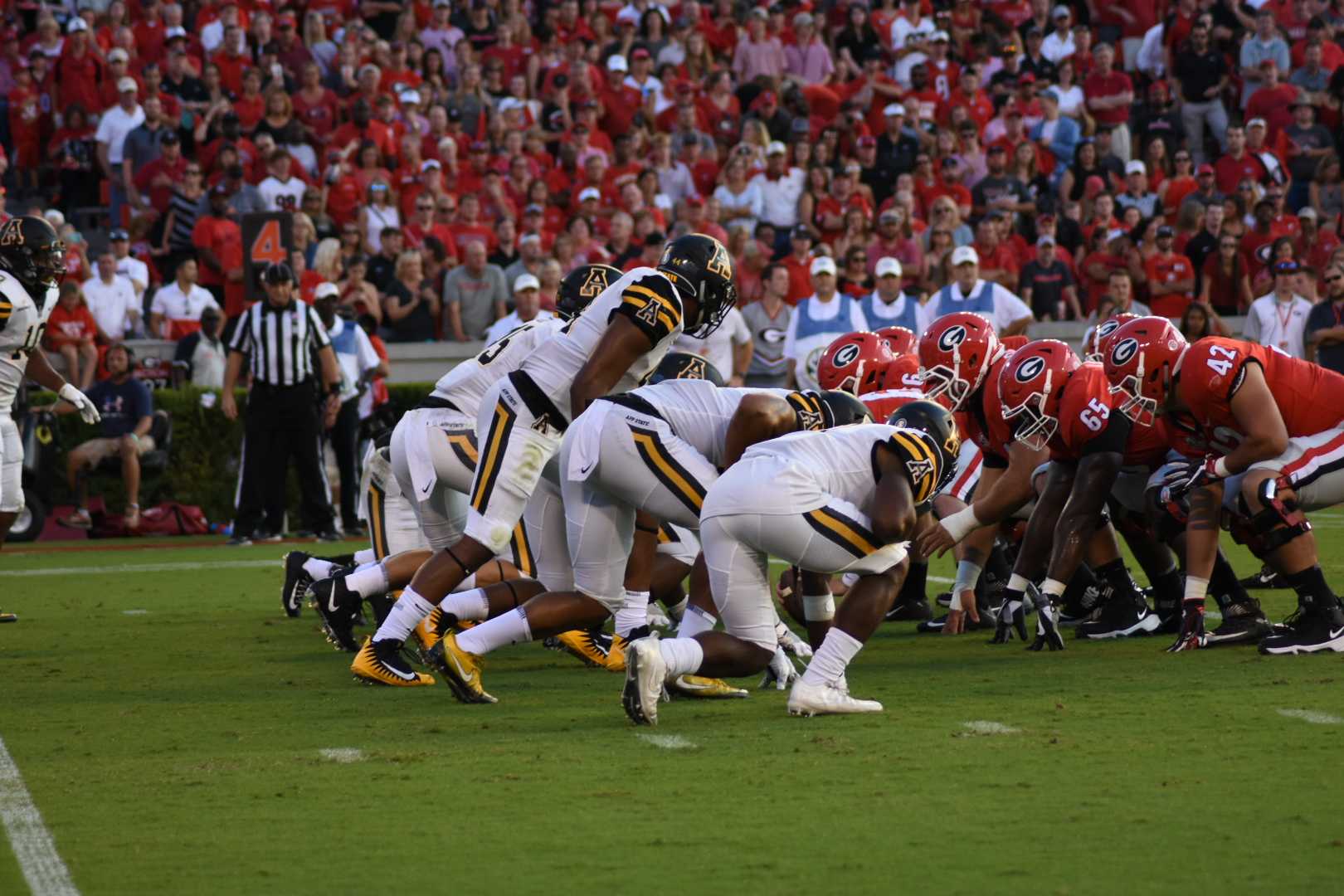 Keeping the run game under control also kept the Mountaineers in the game, but Michel turned on the switch first, breaking away for a 44-yard run that led to Fromm throwing a 34-yard touchdown pass to Wims for a 14-0 lead.
"I think we played well at times but the penalties were tough and we were behind on the sticks," Lamb said. "Our offense is based off staying in the front of the sticks so we have to fix those things and get back to it next week."
App State was unable to work their way into the red zone in the first half as they found themselves trailing 21-0 at the half.
"We made too many mistakes," Satterfield said. "You can't do that against an average football team and expect to do well especially against a caliber team like Georgia. Early on, defensively we were playing well and we had a big play but then we shot ourselves in the foot with either a penalty or even with Taylor's fumble and sack."
Entering the third quarter, more of the same continued for the Mountaineers. Georgia extended their lead 31-0 thanks to Chubb scoring his second touchdown of the game and Michel having strong runs.
"Guys weren't in their gaps and responsibility is what it comes down to," senior linebacker Eric Boggs said. "We had a couple guys who didn't fit in right spot and that is what happens."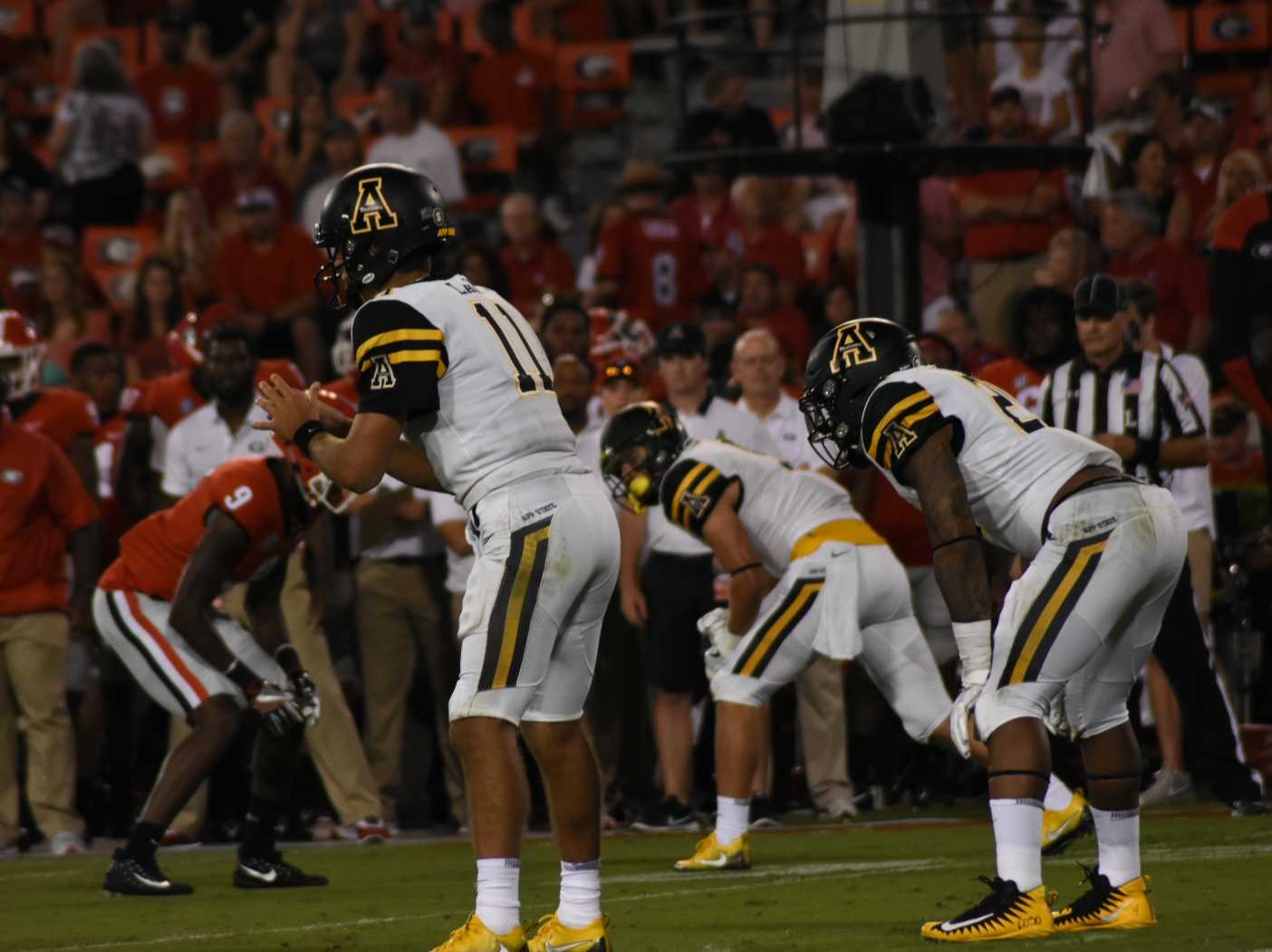 The Bulldogs began to put in reserves in the fourth quarter, but the Mountaineers did not lie down and sophomore Desmond Franklin and Jordan Fehr caught their first career interceptions leading to a Lamb 20-yard rushing touchdown and a 43-yard field goal from sophomore Michael Rubino to bring the final score to 31-10.
"The way we finished the fourth quarter is Appalachian State football," Satterfield said. "We will never quit, and to put 10 points on the board in the fourth quarter for us will springboard us to next week. We have to keep positive and have no pointing fingers. Our team will rally together and every time you lose, you can't wait to get back on the field. The good thing about football is we have another game next week and we will get back on the field stronger."
The Mountaineers will now head back to Boone as they prepare to face Savannah State in their home opener at Kidd Brewer Stadium on Sept. 9 at 3:30 p.m.
Story By: Jason Huber, Sports Editor
Photos By: Lindsay Vaughn, Senior Staff Photographer