Mountaineers silence the Panthers
On a beautiful Saturday afternoon at Kidd Brewer Stadium, the Appalachian State Mountaineers defeated the Georgia State Panthers in a defensive battle by a score of 17-3. App State has now outscored the Panthers 98-6 in the three team matchups that began in 2014.
The Mountaineers (3-2, 1-0 Sun Belt) started the game off strong as junior linebacker Eric Boggs picked off a pass from Panthers (0-4, 0-1 Sun Belt) quarterback Conner Manning on the first drive of the game. The trend of good defense continued for the remainder of the first half, as both teams struggled to travel past mid-field.
Two weeks removed from giving up 45 points to then No.25 Miami and a week removed from giving up 38 points to Akron, Boggs said the defense had something to prove this week.
"We knew we could do it,"  Boggs said. "We just weren't playing to the best of our abilities. We knew what we had to do coming into the game."
Head coach Scott Satterfield was proud of the strong play of his defense and said that injuries at the skill positions had an impact on the Mountaineer offense's ability to throw the ball downfield.
"In order for us to be the kind of offense we want, we have to take some of those shots and hit those down the field," Satterfield said. "That's the one thing that was missing today."
App State's punting game was critical early on, as senior punter Bentlee Critcher pinned Georgia State inside their own 20-yard line three times in the first 15 minutes of play.
Critcher, who also kicks off for the Mountaineers, did not allow a kick return or a punt return all day, and finished with four punts downed inside the 20, averaging 42.7 yards per punt.
Also playing the field position game as well, the Panthers pinned the Mountaineers on their own 1-yard line midway through the second quarter.
App State went on to have their best drive of the game up to that point. A juggling 21-yard catch by senior tight end Barrett Burns, a timely defensive pass interference call and a reception by junior wide receiver Shaedon Meadors had the Mountaineers threatening inside their opponent's territory for the first time.
"You have to give credit to Georgia State," Satterfield said. "They had two weeks to get ready for us and I thought they had a really good game plan, especially defensively."
However, a critical third down sack pushed App State backward, and they had to settle for a 52-yard field goal attempt by redshirt freshman kicker Michael Rubino, which wasn't even close.
"As a field goal kicker you have to have a really short memory, regardless of if you make or miss it," Rubino said. "You're only as good as your next kick."
Heading into halftime the score was still the same as it was when the teams entered the field: 0-0. It was the first time that Appalachian State had been shut out in the first half since the team faced Clemson last season.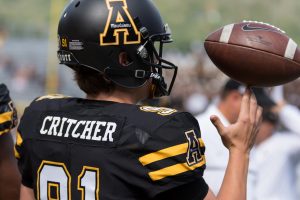 "It reminded me of the old school Appalachian, back in the day when I was playing," Satterfield said. "It was one of those kind of days. In modern football, you don't get that many defenses that play that well like they did in the first half."
After the offense's sub-par first half play, the Mountaineers came out firing on the first drive of the second half. In just four plays, the offense put up their first touchdown of the day, with sophomore running back Jalin Moore scoring a 45-yard touchdown run. Moore totaled 159 yards on 28 carries.
Strong defense caused the teams to trade punts and missed field goals for the rest of the third quarter. Senior defensive back Alex Gray nabbed his first interception of the season right before the quarter ended to give Rubino his third field goal attempt of the afternoon, all from beyond 40 yards.
Rubino, who finished the day 1/3 on field goals, converted on the 42-yard attempt and put the Mountaineers up by 10.
"I'm comfortable knowing my coaches have confidence in me, make or miss," Rubino said. "Knowing your coaches have confidence in you makes you more confident. You just have to go out and execute."
Satterfield said that Rubino has to keep that confidence every time he heads out on the field.
"We obviously have to count on him throughout this run that we're going to make in the Sun Belt," Satterfield said.
Georgia State would later add a field goal to close the gap to seven points. On the next drive, App State started from their own 15 yard line and led a 14-play drive that took 5:57 off of the clock, culminating in a 12-yard touchdown from junior quarterback Taylor Lamb to Meadors.
In the final minutes, senior defensive back Mondo Williams and junior defensive back Brandon Pinckney each nabbed interceptions on the final two drives to preserve the 17-3 victory. The Mountaineers finished with four interceptions and won the turnover battle by a 4-1 margin.
"Knowing that our offense wasn't really hitting, we knew that we just had to give them time," senior linebacker John Law, who finished with eight tackles, said. "There's going to be some tough games. There's going to be some times where we have to stay in there and fight it out and we knew that, if we gave them enough time, the offense would come through for us.
The Mountaineers will have a bye week this coming week before playing at UL Lafayette on Wednesday, Oct. 12, their second Sun Belt game of the season.
Story By: Colin Tate, Sports Reporter
Photos By: Dallas Linger, Photo Editor and Monique Rivera, Photographer