Mountaineers win the weekend
Game 1
App State baseball (9-25, 4-12) hosted a nationally ranked team for the first time since 2013, when Sun Belt Conference foe South Alabama visited Boone for a three game weekend series. South Alabama came into game one undefeated in Sun Belt conference play this season at 15-0 while being ranked No. 23 by Baseball America.
Looking to make a statement against one of the nation's best, App State found magic in the ninth inning to put the Jaguars away in game one.
The Mountaineers found themselves in a 3-1 hole in the bottom of the ninth inning. The Jaguars put in senior relief pitcher Shane McKinley as starter Kevin Hill finished the night with eight innings pitched. Senior infielder Grayson Atwood, first up in the order for the Mountaineers, was walked by McKinley.
Freshman infielder Jason Curtis was brought out to run for Atwood. McKinley then went on to walk sophomore catcher Chandler Seagle to put the tying run on the base. Sophomore infielder Drake Zupcic was brought on by Mountaineer head coach Billy Jones for the next at bat in which Zupcic laid down a well-executed sacrifice bunt down the first base line to advance Curtis and Seagle to second and third respectively.
Junior shortstop Matt Vernon then came up big with a hit to center field for a single that brought in both Curtis and Seagle to knot the game up at three runs apiece, which brought life back into the Mountaineer dugout. McKinley then proceeded to help App State's cause, walking junior right-fielder Brian Bauk and sophomore first baseman Connor Leonard to load the bases with only one out.
Sophomore left-fielder Tyler Stroup struck out to bring freshman second baseman Beau Myers up to bat with two outs, bases loaded and a chance to complete the come-from-behind upset. McKinley, struggling to throw strikes, walked Myers, bringing in Vernon to score, giving the Mountaineers the 4-3 come-from-behind win against the favored Jaguars.
"It was great for our confidence to get a win over a team that's 23rd in the country," Vernon said.
App State was first on the board as Myers bounded off a hit and was thrown out at first. This brought in Leonard to score after he hit a single up the middle earlier to give App State an early 1-0 lead in the second.
The Jaguars regained the lead in the top of the seventh as senior first baseman Danny Martinez smacked a two-run home run over the right field wall with two outs in the inning that put South Alabama up 2-1. South Alabama gained their third run in the top of the eighth.
App State freshman southpaw Bobby Hampton got the start for the Mountaineers and out-dueled potential All-American Hill for the majority of the game as he pitched seven solid innings only giving up two runs on three hits, two walks and four strikeouts on the night.
"Hampton settled in and attacked him," Jones said. "He is a true freshman who was going up against a veteran today. He was outstanding and did a good job tonight."
Sophomore relief pitcher Reed Howell came in to pitch in the eighth and ended up with the win pitching two shutout innings to improve to 3-1 on the year.
Hill for South Alabama pitched eight innings on the night giving up six hits, one run, three walks and struck out eight batters. His three walks give him only 14 walks on the year and most surrendered in a game this season.
Leonard went 3-for-4 batting on the night scoring one run. Vernon and Myers each had two runs-batted-in for the Mountaineers.
The win was the first over a top-25 team since the Apps beat Maryland during the 2015 season and gave South Alabama (26-9, 15-1) their first conference loss of the season.
"Our confidence level throughout the team is really going up right now," Myers said. "I didn't want Hill to come off the mound tonight. I was ready to go back out and face him again."
Game 2
Taking game one of their series against ranked conference rival South Alabama (27-9. 16-1) in a walk-off win on Friday night, the Mountaineers (9-26, 4-13) were unable to get their offense going on Saturday, falling in the second game 8-1 to the Jaguars.
A beautiful day for baseball, freshman pitcher Breydan Gorham took the mound for the Mountaineers knowing that South Alabama would be determined to make up for their loss the night prior.
"The confidence was high but at the same time as a ranked team, they are still pretty solid so we had to do as best as we can," Gorham said.
Gorham and opposing pitcher Hunter Soleymani both started off strong through the first three innings giving up zero runs.
In the top of fourth, Gorham hit Jaguars' Drew LaBounty, getting him on first. This led to an error, giving South Alabama a double and LaBounty drove all the way home for an unearned run and a 1-0 lead.
"There was no fear coming out, but I knew they could hit and I expected that," Gorham said.
Things became a little shaky for Gorham in the fifth inning as he gave up two runs to give the Jaguars a 3-0 lead.
"We came out a little slow today and were kind of lethargic," Leonard said. "We had the big win and wanted to come out and get it today, but it just wasn't our day."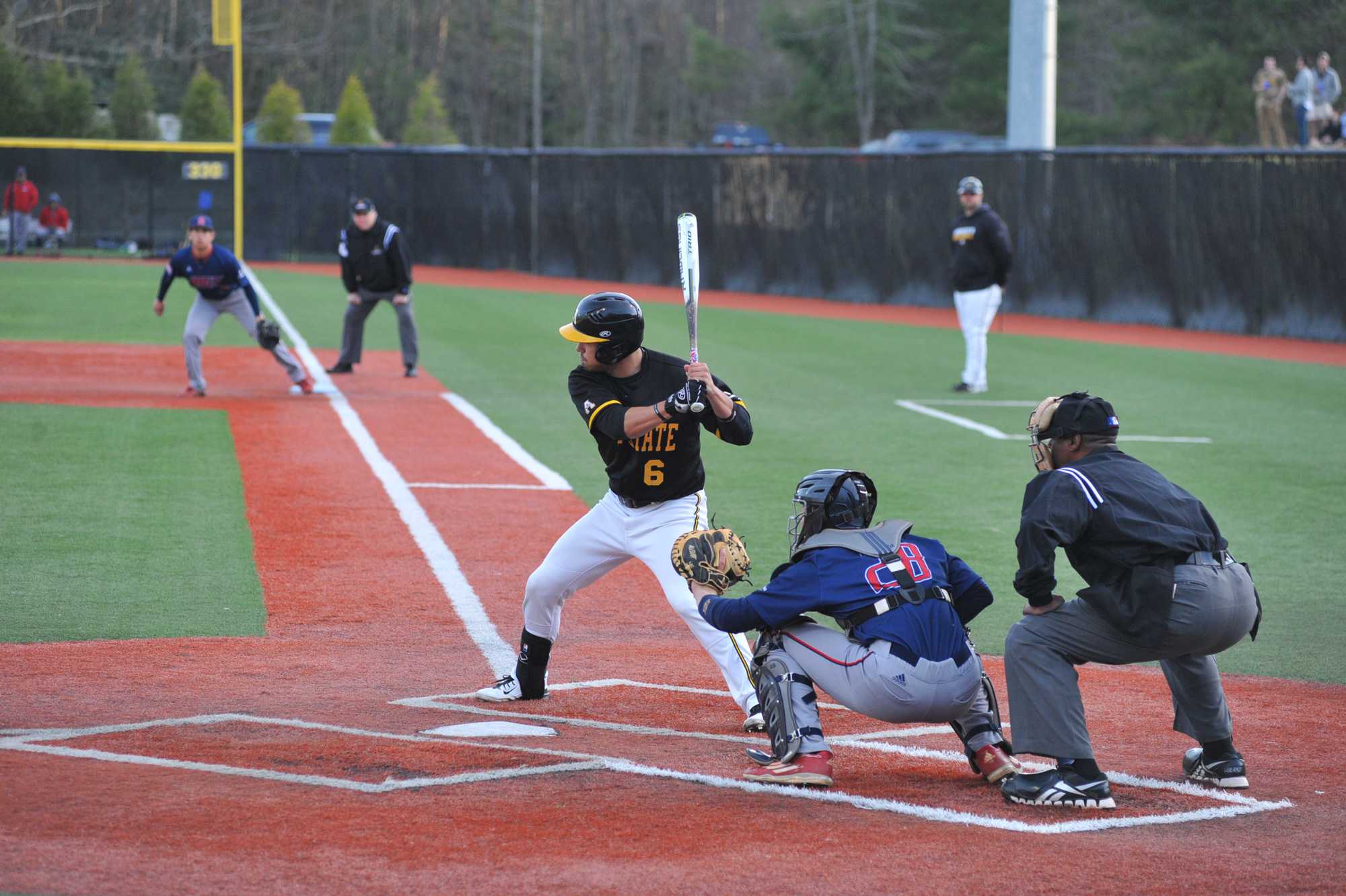 The Mountaineers had a chance to get back in it in the bottom of the fifth, loading the bases with two outs, but just weren't able to execute.
"I think we had a chance there and it was 3-0 when we loaded the bases. We just needed to get one there and we needed a big knock," Jones said.
Infielder Atwood almost gave the Mountaineers the big knock they needed, hitting a long ball towards left field, which for a brief moment seemed like it would be a three-run homer but barely went foul.
"We had a few chances to get back in the game to get the momentum back, but we weren't able to execute it," Jones said.
Unable to execute, Gorham's day came to an end in the sixth inning when he gave up two more runs. He finished the day with 5.2 innings pitched, two strikeouts, and four earned runs.
"We made a few defensive miscues for about two innings in a row and he got off his game," Jones said. "When Breydan pitches we know we can handle the baseball and be able to make the plays we got to make, we just have to help him offensively."
App would get on the board in the eighth inning when Atwood hit his first homerun of the season and first homer for the Mountaineers at home this season to make it 8-1, but that would be all the damage App State could do.
Soleymani was the big story for the day though, throwing 102 pitches in a complete game giving up only four hits and one run.
"He had a good breaking ball and his fastball was a little overpowering, but we just couldn't hit today," Leonard said.
"He did a good job. He kept us off balance and was able to change his high and fastballs. He pitched his game," Jones said.
South Alabama had 11 hits on the night to the Mountaineers four and tied the three game weekend series 1-1.
"The sun is going to come out and we will get to play a new game of baseball," Jones said.
Game 3
App State faced No. 23 South Alabama in the rubber match of the series, winning the third game by the same score they won the first game of the series at 4-3. The series clinching win gave App State only their second series win over a top-25 team in school history. The last series win was in 2012 when the Mountaineers took two of three from nationally ranked Louisiana State University.
"It's a big series win for us, hats off to my guys," Jones said. "We were fortunate to take away two of three from these guys. We beat a top-25 team, it is what it is, I hope we can build off of it."
Just like in the first game of the series, the Mountaineers put the first run on the board for either team. In the bottom of the first inning South Alabama senior starting pitcher Austin Bembnowski walked left-fielder Stroup. Bembnowski then struck out junior shortstop Vernon to bring right-fielder Bauk up to the plate. Bauk singled to right field to move Stroup to second base. Leonard singled to left field to reach base for his 15th straight game.
With bases loaded, freshman centerfielder Tanner Mann-Fix hit one to second base that brought in Stroup to score and put the Apps up 1-0 early on.
App State added more runs in the next inning. With two outs and senior second baseman Caleb McCann on base, Stroup launched his third home run of the season over the right field bull-pin to score two runs and put App up 3-0.
Starting pitcher for App State, freshman Colin Schmid found himself in trouble in the top of the third inning. With bases loaded and no outs South Alabama's junior left-fielder Adam Wolfe hit a single to shortstop that was mishandled bring in one run for the Jaguars and make it 3-1.
The defensive play of the weekend came during the play of the inning for the Mountaineers as USA's senior third baseman Ben Gann flied out to deep centerfield and App State's Mann-Fix launched the ball directly to catcher Seagle who was tackled by USA's catcher Jared Barnes who was attempting to score on the play. Seagle held onto the ball and got the tag for the second out in the inning and brought momentum back to the Mountaineer defense.
"Tanner is always going to make a play on the ball in the outfield," Seagle said. "I knew he was going to put a good throw on the ball and give me a chance to make the tag."
In the sixth inning McCann picked up an RBI smacking a hit off the left field wall for a double that brought in Seagle who had a double during the first at bat of the inning to put App back up by three runs at 4-1.
USA fired back in the eighth inning as Wolfe was walked by App State sophomore relief pitcher Reed Howell with one out. USA freshman third baseman Brendan Donovan was brought in to hit during the eighth inning for Gann. Donovan came in at the right time as he hit two run homer over the right-field wall to cut the deficit down to one run at 4-3.
Jones moved Bauk to the pitching mound in the ninth inning, where Bauk excelled in the late game situation striking out an unusual four batters in the inning. Seagle dropped one of the strikeouts that allowed a runner to advance to first base. Bauk came up with the save despite defensive miscues by the Mountaineer defense in the ninth inning
Schmid excelled in the rubber match as the starting pitcher. Schmid pitched seven innings, gave up only one run off six hits, and struck out nine batters while only giving up one walk in his first career win at App State. His nine strikeouts were also a career high for Schmid.
"It feels really good to get up there and only give one run," Schmid said. "I think this is the best I've thrown. There were a lot of really good hitters up there. I just wanted to attack hitters and not look timid and make it look like I'm not a freshman."
App State improved to (10-26, 5-13) with the win, while South Alabama fell to (27-10, 16-2) in their second series loss of the season.