Mr.Yosef dies from brain cancer
Gerald Adams, better known to the Appalachian community as Mr. Yosef, died Wednesday morning at his home at 10:33 after been diagnosed with two inoperable aggressive stage four brain tumors according to a Facebook post from Gerald's wife Julia.
Based on the diagnosis, doctors said that it would not be advisable to pursue treatment. He received palliative care treatment and returned home on Tuesday.
Adams played football for the Mountaineers from 1950 to 1953 before graduating in 1954. He returned to complete his Master's Degree in 1962, before moving on to work for the school system in Pittsylvania County, VA.  
Upon retirement Adams returned to the university in 1991 and served as the Yosef Club Director for 25 years, retiring just a little over a month ago.
Adams is known for his love of Appalachian, especially for App State athletics. Before his health issues arose, Adams had not missed an App State football game since the 1984 season.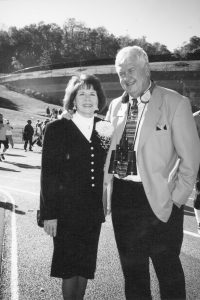 Adams was honored at App State's football game against Georgia State last month for his 66 years of dedication to the university.
The Appalachian wrote a story on his legacy before his retirement: theappalachianonline.com/2016/09/29/story-mr-yosef/