Music from the heart: Us The Duo
Break out the holiday music and crank up the volume, music lovers, because Us The Duo is coming to Boone.
Us The Duo is a soulful pop duo consisting of husband and wife Michael and Carissa Alvarado. Us The Duo exploded onto the social media scene in 2014 with their #6SecondCovers on Vine.
According to their press release, the married duo released their major label debut, accumulated more than 10 million fans across social platforms and crossed 14 million streams for "No Matter Where You Are" featured in the film "The Book of Life." They also landed a spot on Oprah Winfrey's The Life You Want Weekend tour, crossed 34 million Spotify streams for their single "Better Together" and went on tour with Pentatonix. Before their global success, Michael and Carissa Alvarado were two individual people on a journey to reach their dream.
Michael Alvarado attended Appalachian State, which he believes was a very pivotal part of his growing as a musician and as a person in general.
"It was really nice to find a school that did have a music business program because that was really rare, especially when I was applying to college," Michael Alvarado said.
Michael Alvarado was initially interested in the recording program, but as he got more involved, he realized he was more passionate about the marketing side of business versus the scientific side of recording.
"So I switched my major about a year and a half in to music business from recording. It was really a lovely time. I met a lot of good people. There was a lot to do as far as around campus," Michael Alvarado said.
Michael Alvarado joined some a cappella groups, played piano in a gospel choir for all four years and was in jazz vocal ensemble as well as some other volunteer work around campus.
"Overall, I was always busy, but I have very fond memories of App every time it comes to my mind," Michael Alvarado said.
Before getting involved in music, Carissa Alvarado actually started off in dance. She danced from age 5 to 18.
"At a very young age, my parents have always been supportive of me pursuing the entertainment industry," Carissa Alvarado said. "Then, I figured that I wanted to actually get involved in music and take that seriously."
Carissa Alvarado grew up in going to church, with her family basically making up the whole choir. She was in children's choir and loved to sing.
"I've just been surrounded by it. I've just been really lucky to have a family that supports me and my passion. I'm very blessed to have them," Carissa Alvarado said.
Carissa and Michael Alvarado met by chance as extras on the set of a music video. Michael Alvarado's roommate, Dan, always had a passion for acting. When Dan graduated, he wanted to move to Los Angeles to become an actor, but his mom wanted him to have a road trip partner.
"I gladly volunteered. I thought it would be a fun adventure," Michael Alvarado said.
Michael Alvarado and Dan left from Raleigh, North Carolina and drove all the way to Los Angeles, which took about five days.
"Somehow, on the second night I was there, I ended up at a music video shoot as an extra. Carissa was also an extra at the same music video. And it was definitely love at first sight," Michael Alvarado said. "I saw her from across the room and our eyes locked. Who is this beautiful creature that God has created just for me? I went insane and basically wrote a million songs about her and tried to make her fall in love with me over social media, and I was back in North Carolina. And it worked."
Their relationship continued to flourish as they later went on tour with Pentatonix in 2016.
"Being an opening act is a lot harder because you have to gain the audience's interest," Carissa Alvarado said. "You have to work for their attention, which is something that was actually a good exercise for us as performers."
Us The Duo grew and learned a lot from being on tour with Pentatonix.
"Even just watching them from side stage was amazing to see because they are all freaks of nature. They have the best voices ever," Carissa Alvarado said.
Going on tour with Pentatonix gained even more fans for Us The Duo and taught them how to be even better performers. Now, Us The Duo is on their own tour.
"As for our shows, they are usually a little more intimate. We prefer playing for crowds that you can interact with and build connections with, whether it is a seated theatre or a smaller venue," Carissa Alvarado said.
Us The Duo will be performing at the Schaefer Center for the Performing Arts on Friday at 7 p.m. Enharmonix, an a cappella group on campus, will be opening for Us The Duo; they earned the opportunity after winning best overall a cappella group at Acappellageddon on Saturday.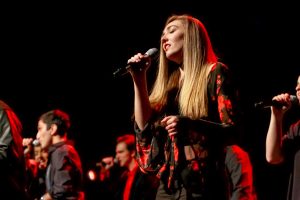 "Our main focus right now is our upcoming Christmas album. So we are going to play just a few holiday songs to show our friends at App that we have something coming," Michael Alvarado said. "We are going to do a hybrid of some new songs that we wrote as well as a few holiday tracks."
Us The Duo's new holiday album, called "Our Favorite Time of Year," is available for pre-order right now exclusively on Amazon Music. "Our Favorite Time of Year" comes out on Friday, the day of their show at the Schaefer Center for the Performing Arts.
Michael Alvarado said that playing with his wife in the place where his journey began makes him feel really weird.
"I haven't been back to Boone since I graduated. So I am a little nervous to see how much it has changed. I have such a pleasant memory in my head and I just hope it still has that nostalgia," Michael Alvarado said. "But, I am also really excited to walk through the same halls I did and remember how I got to where I am now with my wife. So I am really excited about the whole thing. We are honored that Appalachian asked us to come back."
For anyone with a dream, Michael and Carissa Alvarado's advice is to follow through.
"It's really easy to come up with a lot of ideas that are creative and good, but ideas are nothing without execution. You have to follow through and following through is the hardest part," Michael Alvarado said. "It is the most work intensive and requires the most effort mentally. So whatever the dream is, make sure that you stop at nothing to make it happen."
Story By: Julianne Blaylock, A&E Reporter
Photo by Christian Bocchino, Intern Photographer
Featured image (courtesy photo): The album cover for Us The Duo's upcoming release titled "Our Favorite Time of the Year." The album's release date is Nov. 17, the same day Us The Duo is performing at the Schaefer Center.