'Neers knock off rival Georgia Southern to officially become bowl eligible
On a chilly Thursday night under the lights at The Rock, Appalachian State (6-4, 5-1 Sun Belt) football was able to come out on top in one of the schools most storied and historic rivalries, knocking off Sun Belt foe Georgia Southern (0-9, 0-5 Sun Belt) by a final score of 27-6.
The Mountaineers came into the matchup fresh off dropping both games in a two-game road trip, including their first loss in Sun Belt play last week at UL-Monroe. Picking up a win over a bitter rival at home on national television was key for App State to get out of a rare slump and stay in the mix for a chance at their second Sun Belt conference championship in as many years.
"[We] were really focused this week, had a great week of practice, just a mental type of practice all week and that paid dividends tonight because I thought our guys played fresh and they played hard," head coach Scott Satterfield said. "I'm really proud of our defense and how they bounced back. Probably one of the worst performances in the past three years was last week, and they came back tonight and really played excellent."
The Mountaineer defense locked up a Georgia Southern team that, despite being 0-9 on the year, is known for their run game. They are first in the Sun Belt with a 235.2 rushing yards per game, and the App State defense held them to a meager 111.
"They have athletes. We watched film all week and we were nervous. The quarterback could really run. Some of their best plays were when he dropped back, then took off running and [got] first downs running that way," Satterfield said. "I was really proud of [our defense], particularly coming off last week and what we did defensively, to be able to hold them to 111 yards rushing [was] incredible. If you can stop them from running the football you have a great chance of winning."
Rushing for a 23-yard gain on a fake punt, 241-pound senior defensive end Caleb Fuller said,
"We knew they were going to come out and we'd get their best shot. They've always played hard whether they're undefeated or haven't won a game. We had to get a feel for the game and then after that we just communicated and executed and it worked out."
Although Appalachian relied heavily on the run game, rushing 46 times for 253 yards while only attempting 14 passes, the few times they did throw the football were effective. Senior quarterback Taylor Lamb finished with seven completions for 161 yards and two touchdowns en route to a strong 208.6 passer rating. Lamb also racked up 62 rushing yards on just five attempts.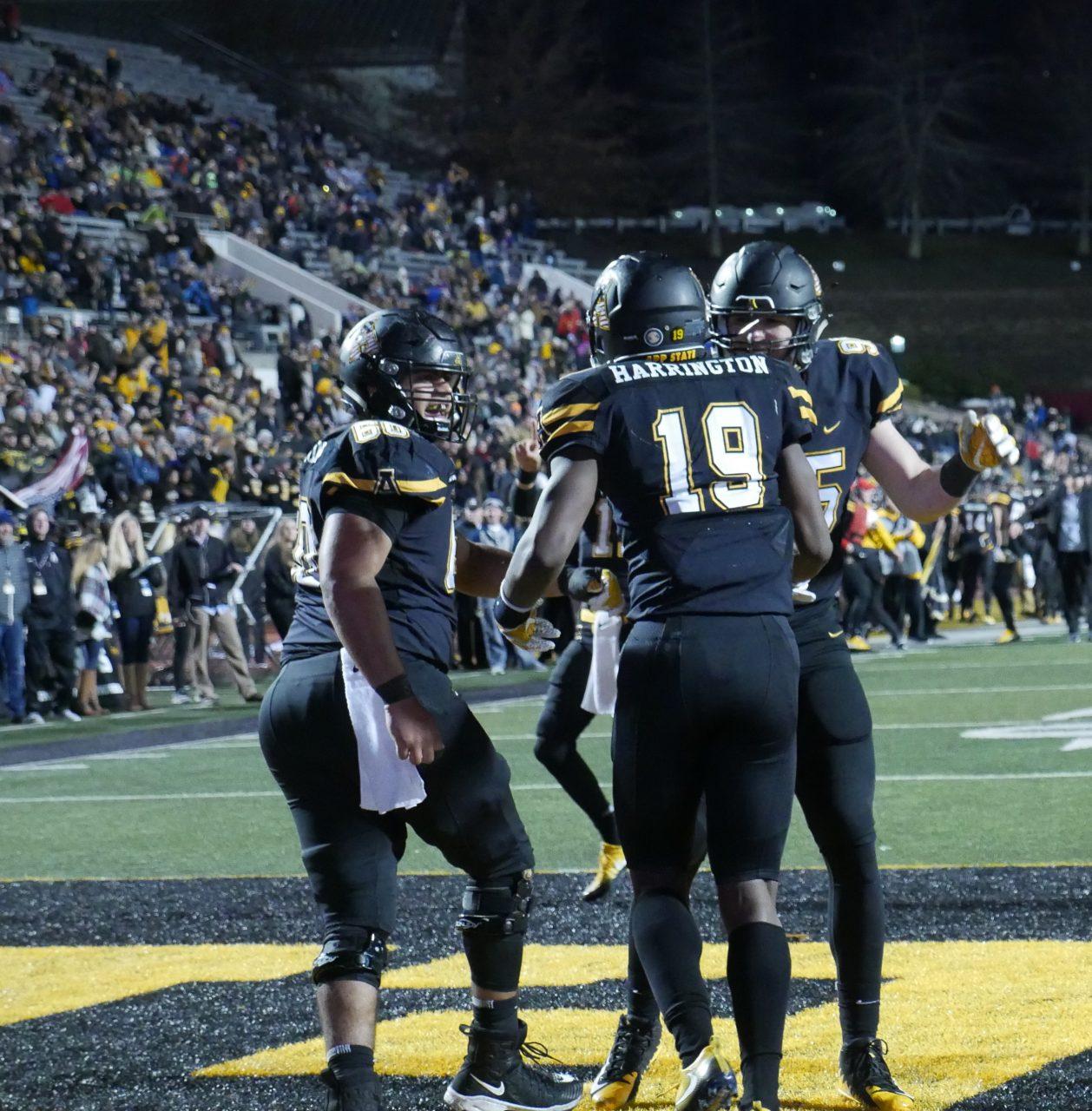 Redshirt freshman running back Marcus Williams was the lead back for the Mountaineers while junior Jalin Moore was out with an injury, and he finished with a career high 130 yards on 28 attempts.  
After a sluggish first quarter and start to the game overall, midway through the second quarter the Mountaineers were finally able to break through, put a solid drive together and score their first points of the game. The touchdown came on a 23-yard connection from Lamb to sophomore tight end Collin Reed which gave App State a 7-3 lead, and their first lead of the night. They would not look back.
The only other scoring of the first half came on a 53-yard field goal by redshirt freshman kicker Chandler Staton as time expired and the Mountaineers took a 10-3 lead into the locker room.
Lamb set the stage for the career long kick by Staton on the previous play, when the quarterback scrambled out of the pocket and broke free for a 44-yard gain all the way to the Georgia State 35 yard line, leaving just three seconds remaining in the half. The kick ranks as the sixth longest field goal in App State history, and the longest since 2007.
"Chandler (Staton) has come in and done a phenomenal job. That was awesome, [him] hitting that 53-yarder in the first half giving us momentum right there," Satterfield said. "He's a guy that doesn't let things bother him. In practice if he misses one, it doesn't faze him. He gets right back up and kicks it in there. I like that about him. He doesn't let things bother him and as a kicker you have to be that way."
At the 10:38 mark in the third quarter, Staton nailed another field goal from 28 yards out to put Appalachian up by two possessions, 13-3. Staton now has a perfect 5/5 mark on field goals and 13-13 on extra points since taking over the starting role late in the win against Coastal Carolina on Oct. 21. A successful fake punt conversion earlier this drive led to to the 28-yarder. The 241-pound Fuller cut off the snap and rushed for 23 yards before eventually being brought down at the Georgia Southern 27 yard line.
"We've been practicing that [fake] for a couple weeks in a row and I've been waiting on a home game to run it and an opportunity presented itself and coach trusted me to get it done," Fuller said. "I tried to score, but it didn't work out like that."
With 4 minutes, 24 seconds to go in the third, Georgia Southern added another three points on a 44-yard field goal to make the score 13-6, but the Eagles failed to put any more points on the board for the remainder of the game.
The Mountaineers scored a pair of touchdowns in the fourth quarter to ultimately win the game by a final score of 27-6 and improved to 6-4 on the season and 5-1 in the Sun Belt. The first score of the fourth came just five seconds into the quarter when Lamb found top-target, senior wide receiver Ike Lewis for a 20-yard touchdown. Lewis proved to be the deep ball threat he has been all season, finishing with 67 yards on only three receptions.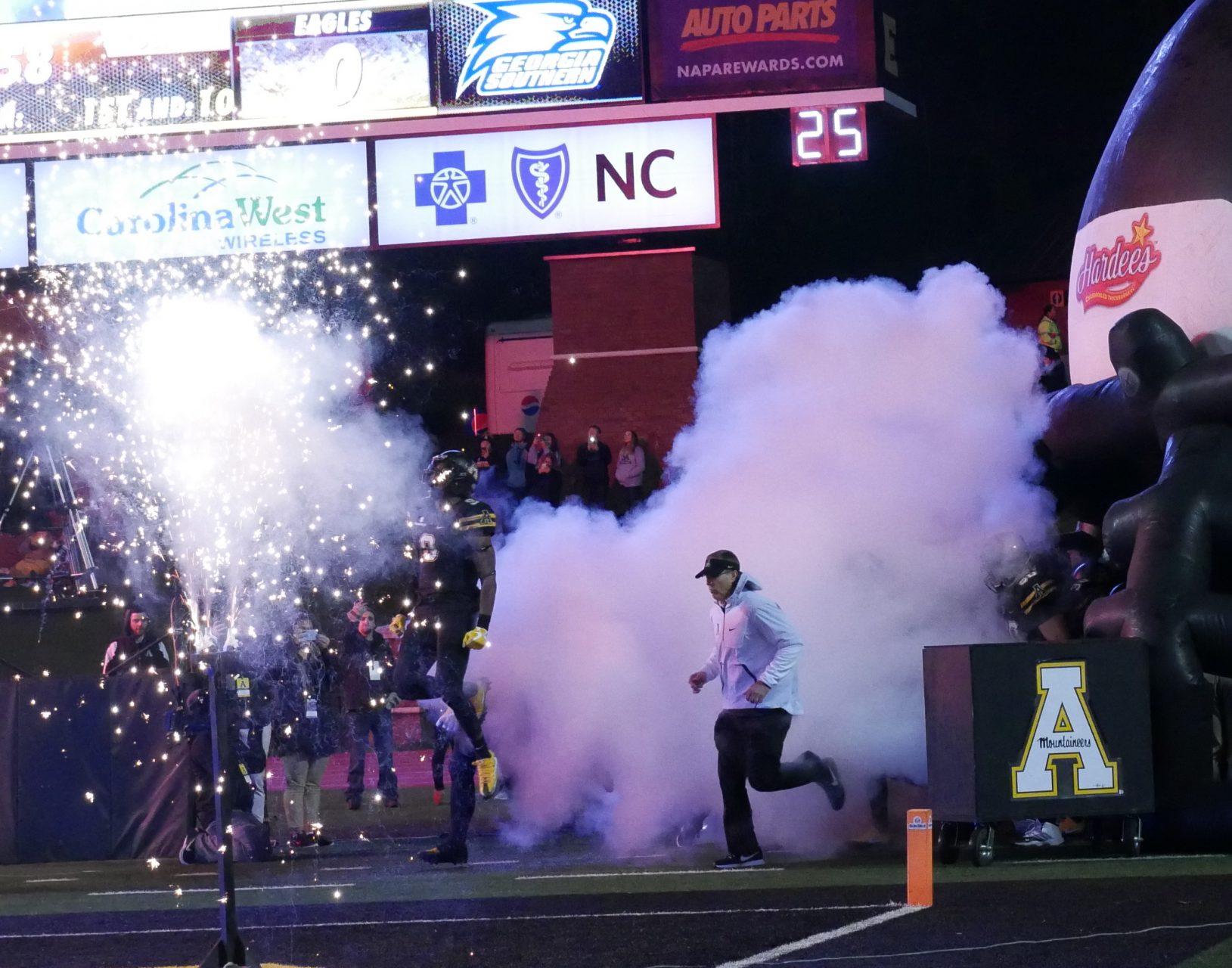 "We've got it down pat," Lamb said. "They go one-on-one with him, and that's what we're looking for. [Lewis] has been the underneath and deep threat guy for us this year. We can put him in different places and that's what makes him so versatile."
The second score of the quarter came at 9 minutes, 40 seconds when true freshman running back Daetrich Harrington punched the touchdown in from 3 yards out for his first career touchdown. Harrington finished with 41 yards on 11 attempts.
With the win, the Mountaineers became bowl eligible for the third time out of three years as full FBS members. Last year after their second consecutive Camellia Bowl win, App became the first team in FBS history to win a bowl game in each of its first two seasons at the FBS level and will look to make it a perfect three-for-three at the conclusion of this season.
Following a bye week, the Mountaineers' next game is Nov. 25 in Atlanta as they will take on the Panthers of Georgia State University (5-3, 4-1 Sun Belt).
Story By: Silas Albright, Sports Reporter
Photos By: Julianne Blaylock