Nerd Network hosts seventh annual cake competition and buffet
The members of The Appalachian Nerd Network spent Sunday night piping bags of frosting, aligning candy decorations  and carefully carrying almost a dozen cakes to the fourth floor of the student union, readying their cakes to be judged by the public in Nerd Network's seventh annual cake competition and buffet.
The competitors made Halloween-themed cakes which were judged by Nerd Network officers and then by the public before winners were declared in six categories: best zombie-themed cake, most colorful cake, nerdiest cake, best tasting cake, best "trick or eat" candy themed cake and best cake overall.
The event was open to all students, and many came just to sample the cakes in what the club referred to as a "cake buffet." Students mounded paper plates over with samplings of a variety of cakes, from a gluten-free pumpkin patch cake to a bundt cake decorated like a jack-o'- lantern, overflowing with candy.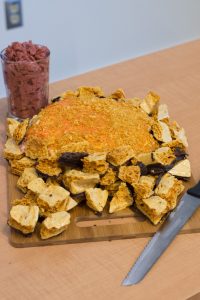 Winners were awarded with a selection of posters and nerdy aprons featuring logos from popular video games, with junior English major Madison Howell taking the titles of best tasting cake and best cake overall.
Howell had intended to serve a spooky, Halloween-themed mirror glaze cake, but kitchen complications left the cake looking differently than she'd hoped. Not expecting to win, Howell only hoped that people would like her cake.
"I was super surprised that I'd won," Howell said. "I hadn't gotten a chance to taste it beforehand, so I just hoped it would go well. Once I tasted it, I felt really satisfied with what I was able to make."
Howell's "Zombie Dinner" cake featured white chocolate mousse and strawberry jam her family had made this past summer, complete with homemade toffee bones and raspberry jello brains on the side.
Other notable winners included senior English major Collin Townsend and his "Overwatch"-themed cake, and sophomore communication major Caitlin Hallee's "Gothic Surprise," whose dark exterior, black with red frosting blood and gray fondant roses, revealed a multi-layered rainbow cake when cut.
Vice president and senior sociology major Helen Koeval said that the cake competition is simply a fun way to bring Nerd Network together, and hopefully attract new members as well. Advertising free cake, Koeval said, would hopefully sweeten the pot and get interested participants involved with the club.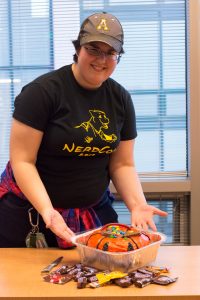 The competition chooses a different theme every year, from anime to video games to this year's Halloween-themed feast, seeking to attract a variety of people each year and encouraging members with different interests to compete.
"It's fun just to see what people can do," Koeval said. "People put so much effort into these cakes and work so hard making and decorating them, and it's really cool to see the fruits of their labor come to fruition."
The cake buffet is just the first of multiple large events Nerd Network hosts each year. On top of its biweekly meetings and game nights, Nerd Network also holds the cake buffet, a Fall Bash in November and NerdCon, the club's largest event by far, which occurs each April.
"NerdCon is a huge convention," Koeval said. "We rent out most of the student union. We have vendors, panels and cosplay contests, and it's absolutely free."
Appalachian State graduate Ashton LeBlanc appreciates the connection the club's events provide. Nerd Network hosts its many events in an attempt to bring self-proclaimed "nerds" together over anythi ng from movies and cartoons to video games and manga.
"We are a networking club," LeBlanc said. "We get nerds together and share interests."
LeBlanc and Howell both said that "nerd" is not an exclusive term, however. The club embraces a large number of interests and welcomes anyone who is passionate about their hobbies to come and share.
"I feel like a lot of people have a nerdy side," LeBlanc said.
Although LeBlanc graduated in 2015, she was a member through her entire college career and upon graduating decided to stick around to help her boyfriend, an officer at Nerd Network, coordinate events.
Koeval, too, said she stays with the club not just for the free cake, but to enjoy the sense of connection it brings. Koeval has been in the club for three years now and has made many of her friends through Nerd Network's meetings and events.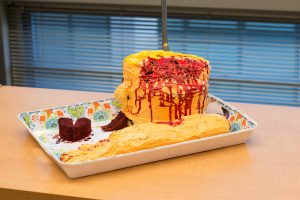 "Clubs like this are a chance to make friends. When I was a freshman, Nerd Network was how I made my really close friends, and I'm still friends with a lot of those people now."
Koeval said she hopes that Nerd Network can bring other nerds together as well, and that friendship and connection is ultimately the goal of the club.
"I just hope that people will be able to come to our club and connect with people who have similar interests," Koeval said, "and that they'll be able to create lasting friendships through us."
Nerd Network meets every other Wednesday at 6:45 p.m. in the student union's MacRae Peak Room.
Story By: Ashley Goodman, Associate A&E Editor
Photos By: Lindsay Vaughn, Senior Photographer