New climbing gym hosts grand opening
Music is bouncing through the air while people test their upper body strength on the new rock wall at the Center 45 climbing and fitness center.
The grand opening was on Friday and brought local bands, beer and coffee together for a celebration that lasted most of the day.
Chris Grasinger, one of the owners and a Blowing Rock native, said he was inspired to open up a space for bouldering because doing it helped him conquer back problems that he had been struggling with.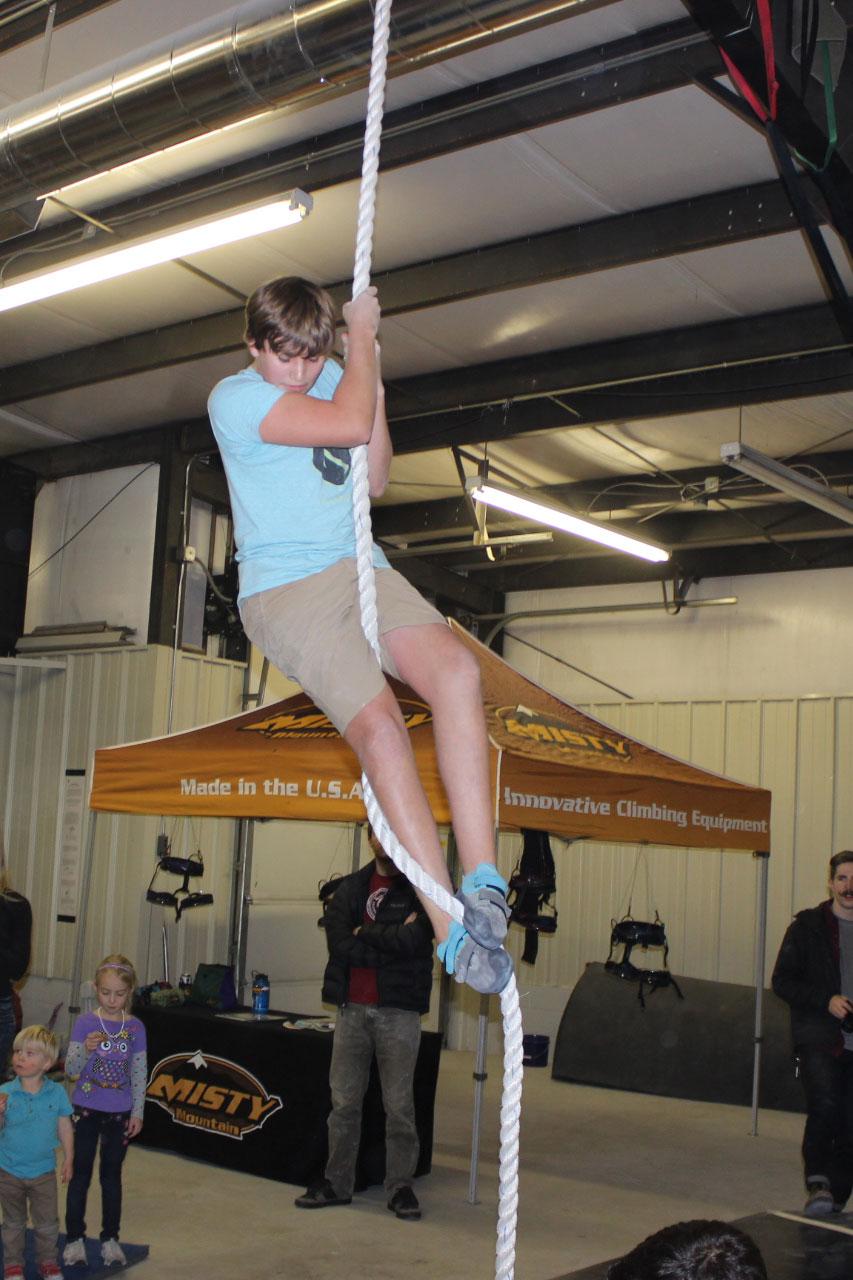 Grasinger said bouldering is a kind of rock climbing that doesn't require any line because of a padded surface designed to break your fall and it is a less dizzying and dangerous height to climb.
Grasinger said he hopes to foster a sense of environmental stewardship and encourage people to get out and climb responsibly in the area, which is one of the best in the region for bouldering.
Center 45 also offers yoga and massage as well as training sessions for those interested in improving their climbing.
Lindsay Carroll, who teaches yoga at the gym, said that she is attempting to expand the services offered to be more holistic and of interest to more than just climbing devotees.
The celebration also had several local businesses and organizations present including Appalachian Mountain Brewery, Blue Ridge Women in Agriculture and Footsloggers.
"I heard that Appalachian Cookie Company was coming, I heard that Hatchett [Coffee] was coming so I thought I'd check out the new wall," Will Asciutto, a computer science major at Appalachian, said.
Danny Wilcox, director of retail operations for Appalachian Mountain Brewery, said he came out to help support recreational activities in the area.
"I'm all about building community, bringing people out," Wilcox said.
Grasinger said that there are also plans to host shows with local bands at the gym and the kickoff featured Alexa Rose and Foggy along with other local artists.
Jeremy Bollman, of local startup Hatchet Coffee, said they decided to team up with Center 45 because it gave them an opportunity to get their business started and build up a customer base.
"It's a good incubator for us to get on our feet," Bollman said.
Mike Lavarnway, operations manager of Misty Mountain Threadworks and longtime climber, said he appreciates spots like Center 45 because it helps connect climbing enthusiasts.
"If you climb outside you may not see anyone else besides you and your group, but when you climb indoors you get a community," Lavarnway said.
Grasinger said that the gym was a product of working with two other partners over the course of around two years and Kickstarter and Indiegogo campaigns, which he says were instrumental in learning to market effectively.
"It still is the best marketing we've ever had, it got the word out," Grassinger said.
Story by Sammy Hanf, News Reporter