New era for volleyball
Taking a commanding 2-0 lead against the Arkansas State Red Wolves in the 2015 Sun Belt Conference tournament championships game, the Appalachian State volleyball team dropped the following two sets to head into a fifth and final set.
Later falling to the Red Wolves and coming up short of their goal at becoming the Sun Belt Conference champions, the Mountaineers were just beginning a year of hard times in rebuilding.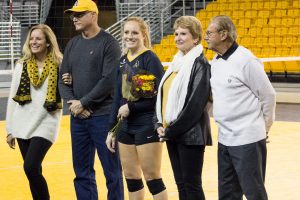 This season, the Black and Gold, having lost their star players and relying on key freshman, followed a similar path, only not in the positive way they would have hoped.
The 2015 Mountaineers finished their season at 22-8 overall and 13-3 in the Sun Belt and finished nearly the exact opposite at 4-25 overall and 2-14 Sun Belt, including multiple long losing streaks this year.
One drastic change in between seasons is the loss of four incredibly valuable seniors who all made dents in the Appalachian record books.
Setter Paige Brown will undoubtedly go down as the best setter App State volleyball has seen, claiming the title of career assist leader notching a grand total of 4,478 career assists. Outside hitters Emily Corrigan and Jess Keller are also monumental losses to the program as Corrigan now sits at number two in all-time career kills at 1,399 and Keller at No. 10 with 1,210.  The final senior is libero Meghan Mahoney who ended her career second all-time in career digs at 1,855.
Going beyond the issue of losing their four key seniors, the Mountaineers have been plagued by injuries this season.  Seniors this year have battled through most of the adversity all throughout their careers.
"The amount of injuries we've been dealing with absolutely is a factor," head coach Matt Ginipro said. "But that's not the reason we're losing."
Early on this season, the Mountaineers lost their libero in Kati Stammen to her second concussion, the first of which came during her sophomore year. Outside hitter Sloan Evans previously went through shoulder surgery and fought through her pain throughout the season.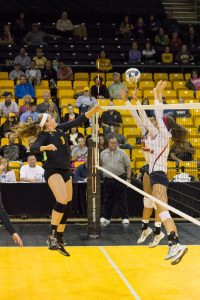 Ginipro jokingly described senior Olivia Reed as having a "90-year-old body" while she has fought through constant back and knee problems. Middle-blocker Ashton Gregory, who transferred from Furman after her sophomore year, tore her meniscus last spring and had to have surgery to repair it. In the summer, Gregory slipped and tore the same ligament again and had to have the same surgery within seven months of the first.
"It's not in my control and really not in anybodys control," Gregory said.
Gregory had to miss a little more than a quarter of the season because of her surgery.
Uncomparable to the Mountaineer squad from last season that led the conference in almost every category, the Mountaineers finished the season fifth in digs, sixth in assists, eighth in kills, ninth in hitting percentage and last in opponent hitting percentage, blocks and service aces out of the 12 team Sun Belt conference
"We just don't have a winning mentality," Ginipro said.
That mentality Ginipro is talking about is in relation to the 13 five-set matches they put themselves in this year, all of which they lost. In his career as head coach at Appalachian State, that is the most five-set matches that a team of his has lost since his first year with the program in 2007 when they dropped seven.
"It's not that it's an overall mentality issue, it's at the right time," Evans said.  "We're making errors at crucial moments and that's what's hurting us."
Out of the 13 matches, the Mountaineers have led either 2-0 or 2-1 in nine of them before falling every time.
However, the team does not feel their record is truly representational of who they are. The fact of the matter is that although they resulted in losses, nearly half of all their games were five-set matches.
Ginipro sees nothing but promise for the spring and next season.
Adding four student-athletes who signed with Appalachian State this fall, Ginipro is ready to see the team bounce back. Emma Reilly, libero, Kara Spicer, middle blocker, Alexis Kohut, outside hitter, and Jenna Pitzer, middle hitter are all extremely valuable recruits for the program and show incredible promise for the coming seasons.
"This is a great class for App State volleyball and we're excited to get them in the gym in August," Ginipro said in a press release. "All four will fill some holes that we had this year and work to help us get back on track towards a conference championship."
Current freshman Emma Longley, who had a remarkable start to the season and led the team is multiple categories, is just as confident for the offseason.
"Were going to get a lot stronger and a lot faster and I think that's going to carry over into the fall and next year," Longley said.
As the Sun Belt Conference tournament begins, the Mountaineers will take a short break. When it is finally time to get back to business, Appalachian volleyball will be back and ready.
Story By: Noah Gerringer, Sports Reporter