A new start for the Mountaineers' softball team
The 2018 season of softball at Appalachian State marks a new beginning for the softball community with Shelly Hoerner beginning her position as the new head coach.
Hoerner came from Georgia Tech and has over 500 career wins under her belt and 18 years of coaching experience. Starting her softball coaching career at Barry University in Miami, Hoerner served as an assistant coach from 1996-1999.
Getting her first nod as a head coach in 2000 at Valdosta State, Hoerner quickly returned to Barry University for the head coaching job. Staying for five years, she helped the team win back-to-back conference championships in 2002 and 2003, earning her the conference's coach of the year award in both campaigns.
Moving on to coach at the College of Charleston, Hoerner led her team to a 254-206 record, including a 37-20 season in 2007. Following her time there, she continued to climb the coaching ladder, accepting the job at Georgia Tech.
Transitioning to the Mountaineers, who had a previous overall season record of 14-34, Hoerner looks to transform the culture surrounding the struggling App State program.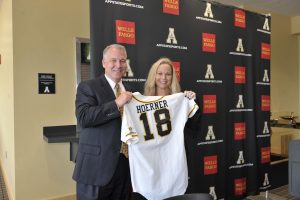 "The whole community has just welcomed myself and my family," Hoerner said. "It has been a pretty cool environment and everyone has just made us feel like we have been here for longer than a few months."
Coming into a new atmosphere, Hoerner and the rest of the softball community immediately found a way to create a sense of family behind their program.
The Appalachian State softball team gave back to the community of Boone, where they held a free softball clinic and shared their specialty with over 100 girls from the area.
"Our team did a great job and I have to give them a lot of credit with just the interaction that they had with all the campers," Hoerner said. "If we want the community to support us, we have to support them."
Bringing in aspects of a community to unite the team is part of the mindset Hoerner wants to instill into her team and pushing them to be the best they can be in all aspects of life.
Coming from Georgia Tech, Hoerner's team had the highest GPA across the athletic department for the 2016 and 2017 seasons, averaging an impressive 3.2 over her four-year tenure in Atlanta.
"You can be successful in the classroom, in life and on the field," Hoerner said. "When you are able to take that all in and make sure that you are being able to prioritize your life, you become a more well-rounded, successful person. When you get to the field, be in the moment of the field. When you are in the classroom, be in the moment of the classroom."
This attentiveness to all aspects of coaching is creating a strong morale for the softball team. This morale transfers to the team and has helped them find a drive to make this season one of their best yet.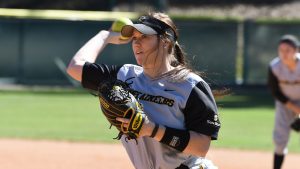 "I want us to move up in the conference, as in not being last but being top three," sophomore third baseman Keri White said. "We are all a lot closer with our coaches and each other compared to last year which is going to help us a lot."
The refreshing new faces seen in the Appalachian softball community means some positive news for the upcoming season. With a new sense of drive behind the team, the softball community is ready for a big season.
"I believe that the team has done a great job buying into myself and our coaching staff," Hoerner said. "It has been a blessing just to be here and I feel that the team has been very responsive. They want to be out there; they want to win."
There is no doubt that the Mountaineers have been putting in the hours during the fall, looking to use a group of upperclassmen to lead them to a successful season. 
Returning eight juniors and a pair of seniors, App's veterans are helping create a smooth transition, hoping to have their first winning season since 2013.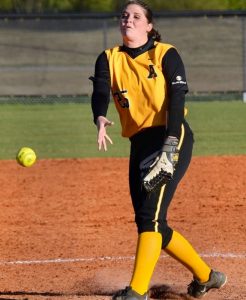 "We want a winning season," junior pitcher Katie Williford said. "So far the fall has been great and we want to keep energy in us and keep moving forward".
Looking forward to a new season with a new coach, the Mountaineers are ready to take on any upcoming challenges. The work is definitely not done, but the team is off to a desired start.
"We have to work to get out of the bottom of the Sun Belt, and that is not a secret," Hoerner said. "But by what they are putting in time wise in the weight room, conditioning, putting in extra work, it shows a lot. Good things will happen when you continue to work."
Overall, the Appalachian State community is in for a good season from the Mountaineers. Coach Hoerner's brings years of expertise and the team brings a plenty of passion to the field. Their season will begin in the spring of 2018 with a fresh start for the App State softball team.
Story By: Grayson Rice, Intern Sports Reporter
Courtesy Photos By: Mike Slade, Todd Drexler and John Crouch