The Office of Sustainability kicked off its celebration of Earth Month with its first ever No Impact Week, focusing on six themes of sustainability and inviting students to examine their everyday lives and adopt sustainable habits.
Events ran from April 3 through 8, Each day of the week had a different theme, from conserving water and energy to buying less and buying local when you do.
The Office of Sustainability held events such as a local foods spotlight with Food Services, a zero waste lunch on Durham Park, and unique takes on shopping with a local goods fair and a free "road show" market. The week culminated in a campus-wide cleanup last Saturday morning.
The local goods fair, held last Wednesday, encouraged students to "choose local and organic." Jewelry, metalwork, pottery and homemade chocolate were sold in Durham Park, raising awareness of some of the community's own artists and creators.
Melissa Needham, an intern with the Zero Waste Initiative and senior sustainable development major, said they feel awareness about local businesses is important for the university and the community.
"Not only does it create community and sustain those connections that we have with our community, but it also localizes the economy," Needham said. "It improves the socioeconomic status of everyone in the community. Prices are lower, the market is stronger and our well-being is improved."
Needham said that buying from local craftspeople highlights creativity in Boone and provides a living for those who create homemade goods while bringing awareness to what people are consuming and where they are getting it from.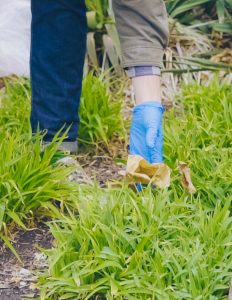 "No Impact week is important because it gives people the chance to reevaluate their choices and actions and what effects they have, not only on our environment but on our community in general," Needham said.
Leila Jackson, Communications Specialist with the Office of Sustainability, said local business fairs and farmers markets are very valuable to local artisans.
"If I can exchange my money for a product that someone in my community has made, and know that that's going to support them and allow them to buy food, that makes it such a better value to me," Jackson said.
The Office of Sustainability also organized a free store road show, an event in which students could get access to free clothes, shoes and food. Multiple students passing the event offered to bring clothes of their own.
Juan Diego Aguilar, a Zero Waste intern helping orchestrate the event, said that he hoped the opportunity to "shop" without spending money would change visitors' definition of consumption.
"The purpose of this event is to show the feasibility of an alternative community, the fact that you do not have to purchase anything," Aguilar said.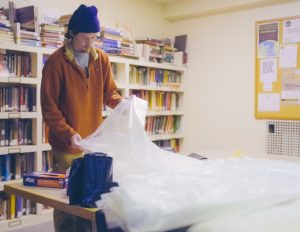 University Sustainability Program Specialist Jennifer Maxwell said that, as a coordinator, free markets were one of her favorite programs to orchestrate.
"It is trying to get back to that sense of community," Maxwell said. "As people, we used to be a lot more sharing and willing to share resources."
Jackson said the goal is to normalize reusing items that people already have, rather than buying a new one.
The event also brought attention to the office's year-round free store, maintained in the basement of East Hall, where the Office of Sustainability resides.
Story by; Ashley Goodman, news reporter